Texas Promised to Track Oilfield Waste in Aquifers. It Didn't.
Texas regulators have allowed energy companies in recent years to inject toxic materials into at least a "handful" of underground sources of drinking water, records show.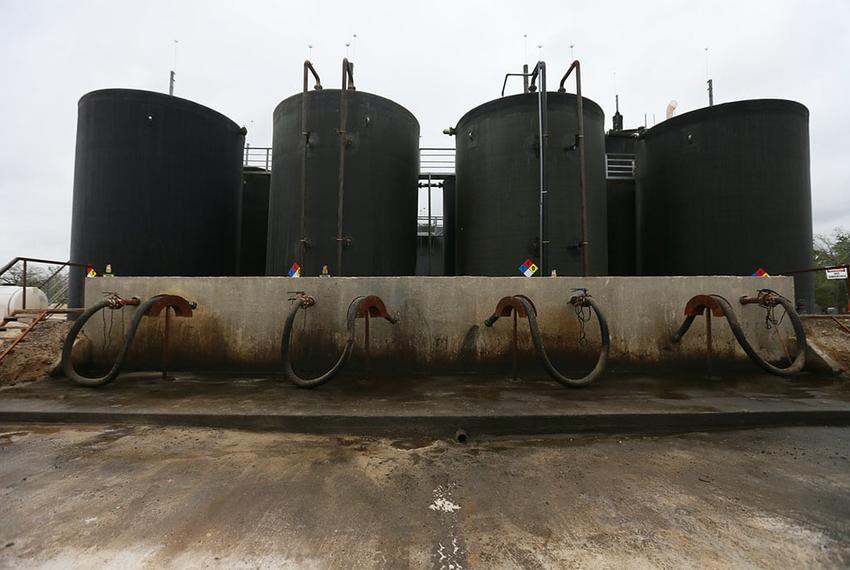 Have oil and gas companies injected toxic materials into Texas groundwater sources?
State regulators don't know, even though they agreed in 1982 to track injections into zones that could hold underground sources of drinking water, according to records obtained by The Texas Tribune.

Only now are Texas officials combing through thousands of permits issued since then in an effort to account for these injections — a revelation that has stirred concerns among environmentalists and groundwater managers.
The Railroad Commission, the state's oil and gas regulator, acknowledges in a letter that it permitted injections into at least a "handful" of zones fitting the broad legal definition of drinking water sources, but it does not know how many times that has happened over the past decades. Federal regulators have no record of approving exemptions for these injections, and in a report issued this month they instructed the Railroad Commission to prioritize gathering the data.
Both the EPA and Railroad Commission call the injections they know of low-risk, and they say they have no evidence pointing to fouled water supplies.
But environmental watchdogs say revelations — found in agency emails, letters, reports and other documents — show disorganization at the Railroad Commission, raising questions about its ability to protect groundwater from pollution inside thousands of disposal and injection wells dotting Texas oilfields.
"The Railroad Commission has no information," said David Foster, Texas director of Clean Water Action, an environmental advocacy group headquartered in Washington, D.C. "It's a black hole."

Bureaucrats call these sites Class II injection wells. Plunging deep underground, they hold often-hazardous industrial byproducts. The Railroad Commission has permitted more than 56,000 of these wells, which take various forms: Some hold liquid leftovers from petroleum drilling and fracking (disposal wells), while others involve naturally toxic fluids — drawn from the ground — that enhance oil production (broadly called injection wells).
No other state has more Class II wells than Texas, home to a third of those in the country.
Texas groundwater districts and landowners have closely scrutinized these wells, whose numbers surged amid a yearslong oil boom that stalled in late 2014. Their concerns are particularly acute in drought-prone regions eyeing brackish groundwater — not clean enough to tap now — that desalination technology could one day make usable.
"One of these days, we're going to need that water," said Hugh Fitzsimons, a bison rancher and member of the Wintergarden Groundwater Conservation District in South Texas. His district has been eyeing the Glen Rose aquifer, trying to figure out where its usable water begins and ends.
Wintergarden has protested several applications to inject oilfield waste into the Glen Rose, but its experts sometimes encounter problems: a lack of records at the commission. "They don't know. They just flat-out don't know," Fitzsimons said.
The records void surfaces at an awkward time for the Railroad Commission. It faces scrutiny from the Sunset Advisory Commission, a legislative body that periodically studies the effectiveness of state agencies. Among the reviewers' findings: The Railroad Commission "continues to struggle to provide reliable data to show the effectiveness of its efforts."
For its part, the hulking agency says its "highest priority is protecting the public and the state's natural resources." Spokesman Rich Parsons told the Tribune the agency does this "by continuing to ensure we have strong rules, permitting procedures and enforcement processes in place to protect the state's drinking water." He pointed to recent EPA praise for other parts of its disposal well program and said "the whole process is designed to protect our groundwater resources."
Defining drinking water
Federal law defines underground drinking water broadly: sources containing fewer than 10,000 milligrams per liter of "Total Dissolved Solids." Water with more than 500 TDS is typically considered unfit for human consumption. The broader threshold is meant to include waters that could be used after intense treatment. The U.S. Safe Drinking Water Act affords these aquifers protections. It bars direct injections into them and adds requirements for wells drilled through them.
Not all qualifying drinking water aquifers are protected. Some may be exempt if they are not "reasonably expected to supply a public water system." That could mean their waters are too deep or polluted.
When the EPA delegated injection well authority to the Railroad Commission in 1982, the agencies agreed on criteria for aquifer exemptions.
The agreement automatically exempted zones industry had already tapped, unless residents were drawing water from them. The Commission agreed to give the EPA a map of these exempt areas and seek EPA approval before expanding those zones or adding new fields.
But the Texas agency cannot produce such a map, or records on individual exemptions.
Foster discovered this after asking for a slew of records, and received this email from a staffer:
"The Railroad Commission does not have any information responsive to your December 9, 2015, request for information."
The commission acknowledges it has allowed injection into zones that could qualify for drinking water protections. But it has not tallied these instances, nor has it specified where the aquifers lie.

The Commission this year received federal funds to hire a geologist to scour state records for examples of such injections.

A 2015 letter from William Honker, a regional water quality director for the EPA, summarizes a conversation suggesting the Railroad Commission had permitted injections into "very few" drinking water aquifers in Texas — fewer than 10.
In a report issued this month, the EPA told Texas officials it "recommends continued high prioritization" of the effort to account for those injections. It applauded the commission's monitoring and enforcement of injection wells at large, but criticized other areas — such as the agency's public stance on earthquake risks.
The EPA is downplaying public health concerns related to aquifer exemptions, as is the Railroad Commission.
The U.S. agency "does not believe these operations will pollute any water wells in the area based on the permit restrictions," regional spokesman David Gray told the Tribune.
Exempting aquifers
Long a little-known part of injection well programs, aquifer exemptions have gained some attention in recent years, particularly as watchdogs discover that state and federal regulators are poorly tracking them.

In 2012, ProPublica reported that federal regulators had issued more than 1,500 exemptions on parts of at least 100 drinking water aquifers nationwide. Though many exemptions covered areas with low-quality water that may never be used, some circumvented protections for waters that would need minimal filtration to become drinkable, the news site reported.
More recently, California discovered it had allowed thousands of injections into nonexempt aquifers.
"Californians expect their water is not being polluted by oil producers," a regional administrator for the EPA told the Associated Press last year. "This poses that very real danger."
In July of 2015, California regulators said they were closely examining risks from 24 of those wells.
This year, U.S. Government Accountability Office report blamed poor record keeping at the EPA for some of the confusion.
"The agency is missing information on exemption decisions made when state programs were granted primacy in the 1980s because the supporting documentation is not readily accessible or was damaged while in storage," the report said.
Despite the attention, the exemption program remains far from common knowledge in Texas.
"Now why in the hell would they do that?" Ty Edwards, assistant general manager for the Middle Pecos Groundwater Conservation District, said when a reporter described the exemption program to him.
Apparently, some Railroad Commission officials were unfamiliar with exemptions until recently.
Now, the commission is hiring a geologist to inventory all injections into drinking water zones, a task that involves combing through roughly 10,000 permits issued since 1982, according the state's grant application.
Downplaying health concerns
Despite the lack of information, regulators are downplaying any concerns about drinking water pollution.
That's in part, they say, because few oilfields in Texas and its neighboring states operate in drinking water zones compared to other states. It's why the EPA didn't scrutinize the Railroad Commission's scant record-keeping sooner, Gray said.
"EPA therefore devoted its oversight resources to areas of the program that posed more of a risk to human health and the environment."
Additionally, both agencies highlight extra controls for some injection wells — those used for bolster production rather than disposing of fracking waste — meant to ensure that operators don't inject any more water naturally contaminated water than comes out during production. This would keep pressures low and limit the spread of contaminants.
The Railroad Commission says it examines each well individually to determine where any nearby drinking water might lie.
Critics say those assurances fall short, at least until the agencies compile more data on injections and analyze which aquifers could yield future water supplies.
"The burden should be on the operators to prove that they are not harming resources that shouldn't be harmed," said John Noel, who oversees oil and gas issues for Clean Water Action.
Read more of the Tribune's related coverage:
The Railroad Commission sided with Marathon Oil Company's bid to dismiss a groundwater conservation district's protest of its application to inject waste into part of South Texas' Carrizo-Wilcox aquifer.

As oilfield waste disposal wells proliferate in Texas, groundwater managers are keenly interested in where they're going and how carefully they construct them. And they're

asking the industry and regulators

for further help.
Disclosure: Hugh Fitzsimons has been a financial supporter of The Texas Tribune. A complete list of Tribune donors and sponsors can be viewed here.
Texans need truth. Help us report it.
Our Fall Member Drive is underway, and we need your support. The Texas Tribune is a critical source of truth and information for Texans across the state and beyond — and our community of members, the readers who donate, make our work possible. Will you join as a member with a tax-deductible donation of any amount?
Yes, I'll donate today
---
Information about the authors
Explore related story topics