Railroad Commission Sides With Driller on Well Protest
UPDATED: The Railroad Commission on Thursday sided with Marathon Oil Company's bid to dismiss a groundwater conservation district's protest of its application to inject waste into part of South Texas' Carrizo-Wilcox aquifer.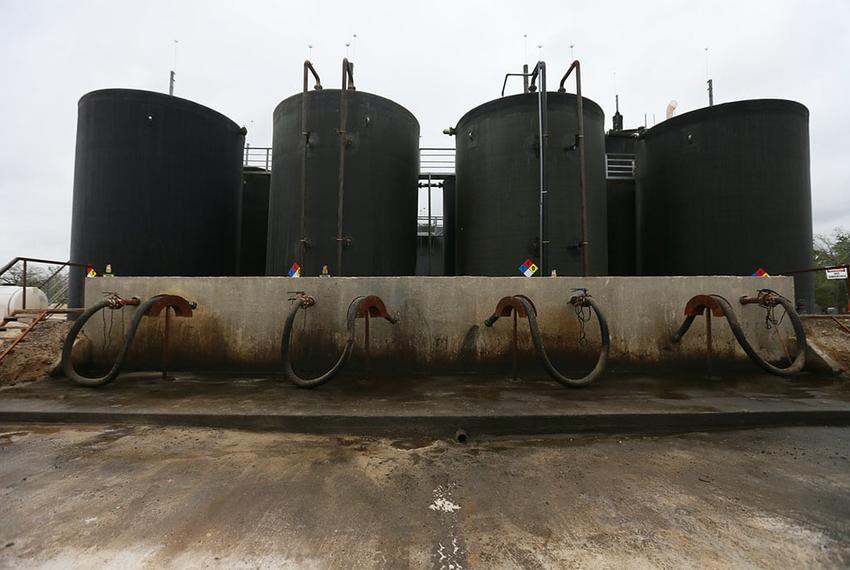 Updated, May 22, 12:30 p.m.:
The Railroad Commission on Thursday sided with Marathon Oil Company's bid to dismiss a groundwater conservation district's protest of its application to inject waste into part of South Texas' Carrizo-Wilcox aquifer. But the three-person commission did not address the driller's broader argument that no groundwater district has standing to protest a disposal well application.
The Gonzales County Underground Water Conservation District, concerned about potential impacts on its water resources, had challenged Marathon's plans to convert a well — that had been drawing brackish water for oil and gas production — into a resting place for drilling waste. Marathon asked the commission to dismiss the protest, citing the well's location — it sits four miles outside the district's boundaries — and arguing that no groundwater district should have standing to protest a disposal well, because such moves created regulatory uncertainty.
The commissioners voted unanimously to dismiss the protest, but only because the well sits outside of the district.
"I'm not sure this is the case to make law on," Railroad Commission Chairman Barry Smitherman said.
If the well were in the groundwater district, Commissioner Christi Craddick said, "we'd be having a different conversation."
A hearing examiner for the Railroad Commission had previously rejected Marathon's argument, and Marathon appealed.
John Hicks, an attorney representing Marathon, testified Thursday that Marathon is dedicated to responsible environmental stewardship but also that the Railroad Commission is solely responsible for protecting groundwater in such cases.
Greg Ellis, a water lawyer and former general manager of the Edwards Aquifer Authority, told the Tribune that he was glad that the commission limited the decision, but wished that the groundwater district would have had the chance to present evidence at a contested-case hearing that showed how its supplies could be impacted. For instance, he said, a waste plume from the well could migrate underground into the district's jurisdiction.
(A case recently heard by the Texas Supreme Court touches on this issue, and whether a landowner can sue a waste well operator for underground trespassing.)
J.D. Head, an Austin-based attorney who represents the Wintergarden Groundwater Conservation District and testified in support of Gonzales' protest, told the Tribune that the clash over disposal wells won't be resolved any time soon — even if the Railroad Commission makes a broader ruling.
"This thing's going to come before the Legislature," he said.
Original story, May 21, 2014:
In the heart of Texas' mineral-rich Eagle Ford Shale, freshwater isn't the only precious resource for both oil companies and local communities. Brackish groundwater aquifers are also becoming increasingly valuable — as potential drinking water supplies, and also as locations for disposing wastewater from drilling and hydraulic fracturing.
The tug-of-war between the two interests could come to a head Thursday. That's when Marathon Oil Company — backed by its industry peers — will argue in front of the Railroad Commission of Texas that groundwater conservation districts should not be allowed to challenge disposal well permits.

Marathon says that the districts have no such authority under Texas law and are creating regulatory uncertainty. Districts say they fear that losing their ability to protest would mean less scrutiny for wastewater wells that could contaminate future drinking water supplies. Thousands of such disposal wells exist in Texas today, and they are proliferating; in 2013, the Railroad Commission approved 668 permits for disposal wells, doubling the number of approvals in 2009. Groundwater district managers have long worried about the potential impact of those wells on both brackish and freshwater aquifers.
"This is potentially a big issue because it could be precedent-setting," said state Sen. Troy Fraser, R-Horseshoe Bay, the chairman of the Senate Natural Resources Committee. Fraser criticized Marathon's position, saying that state law does give groundwater districts authority to challenge well applications through contested-case hearings – drawn-out processes resembling trials, which are held before an administrative law judge.
The case has its roots in Gonzales County, which sits atop the Carrizo-Wilcox aquifer, a long-stretching source of fresh and brackish water that folks in South Texas covet.
"We've got a bull's eye on us," said Greg Sengelmann, general manager of the Gonzales County Underground Water Conservation District. "Everybody wants water from our district." Now that cities like San Antonio are pulling water out of the Carrizo-Wilcox's brackish portion and treating it to potable standards, Sengelmann said it's important that the district make sure its brackish portion is protected along with the freshwater portion.
So the district, along with many others in South Texas, is protesting nearly every permit for a new wastewater well in front of the Railroad Commission unless companies agree to install them more safely. The idea is not to end their construction altogether, Sengelmann said, but to seek safeguards beyond what the Railroad Commission currently requires, including better cement casing to prevent wastewater from migrating into drinking water supplies.

That's what the district sought for Marathon's well. But the parties failed to reach a compromise, and Marathon asked the Railroad Commission to throw out the complaint, alleging that the district did not meet the threshold of being a person or a local government "affected" by the well.
That's partly, the driller said, because the well lies four miles outside of the district's boundaries. But Marathon also argues that no groundwater district meets the threshold, because the Railroad Commission alone has the authority to protect groundwater from potential contamination from oil and gas activities. The ability of groundwater districts to protest wells undermines the Railroad Commission's rules, "creating uncertainty and added costs for applicants," Marathon argues.
A hearing examiner for the Railroad Commission rejected Marathon's argument. It said the groundwater district was not interfering with the application but "merely trying to be heard at the commission." The company appealed, and on Thursday morning, the three railroad commissioners will take up the issue.
Groundwater districts say that a vote in favor of Marathon could put water supplies at risk.
"There's so damn many of these things, particularly in the Eagle Ford Shale," said J.D. Head, an Austin-based attorney who represents the Wintergarden Groundwater Conservation District, which encompasses Dimmit, Zavala and LaSalle counties.

"And [the Railroad Commission doesn't] have a huge staff. There's a potential for applications that get rubber-stamped but have problems with them, because they're not being vetted." The district has filed a brief to the Railroad Commission in support of the Gonzales County district.
Wintergarden hired Head six months ago to contest wastewater disposal wells, and he said the district has since managed to win more safeguards for wells.
The Gonzales County district also believes it has prevented potential contamination issues. Sengelmann said that in a separate case, a Railroad Commission hearing examiner actually threw out a disposal well application after the district showed it could impact brackish water supplies that San Antonio plans to use.
Oil and gas industry groups say water districts' fears are overblown, and that state regulators do enough to protect groundwater from contamination. The Railroad Commission recently proposed rules that, among other provisions, would strengthen requirements for disposal well casings.
"The Railroad Commission does a good job of taking care of what they're supposed to take care of," said Kenny Jordan, executive director of the Houston-based Association of Energy Service Companies. The group is one of several in the industry — including the powerful Texas Oil and Gas Association — that have filed briefs in support of Marathon's position.
On the other hand, Sengelmann, the general manager of the Gonzales district, only wishes his district had started protesting wells earlier than 2013, when efforts began in earnest.
"There was a lot of [wells] that had slipped past; I look back at some of the permits, and it was like, 'Man, I wish I had gotten to that one, or that one,'" he said.
Your New Year's resolution list isn't complete without …
… supporting the Tribune. This new year, resolve to do your part to sustain trusted journalism in Texas. Join thousands of readers who power The Texas Tribune's nonprofit newsroom.
Donate now