5 Things to Watch For in the Primary Runoffs
Tuesday's primary runoffs will determine the party nominees for key seats in the Texas Legislature, on the Texas Railroad Commission and on the State Board of Education. Here are five things to watch for on election night.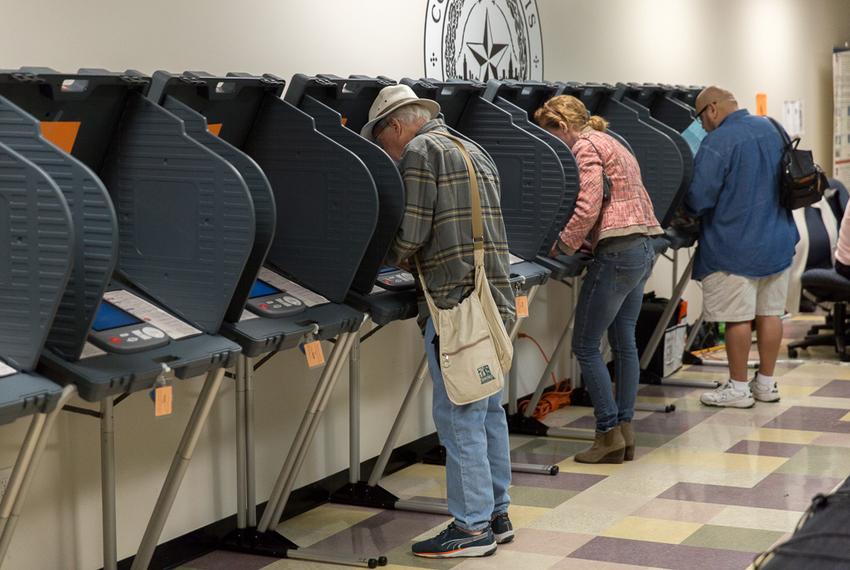 *Correction appended
Hardcore political junkies, campaign staffers and candidates' parents: They're the only ones certain to go to the polls for Tuesday's primary runoff, a routinely low-turnout election that will determine party nominees for key seats in the Texas Legislature, on the Texas Railroad Commission and on the State Board of Education.
But that doesn't mean the races aren't important. Here are five things to watch for on election night.
1. Will East Texans vote for a State Board of Education candidate who believes President Obama was once a gay prostitute?
Mary Lou Bruner, 69, has made headlines for posting on Facebook that the president worked as a prostitute in his youth to raise money for drugs. She has also questioned whether the Democratic Party was behind the assassination of John F. Kennedy. In March, the former schoolteacher from Mineola narrowly missed winning the Republican primary outright in the race to represent Northeast Texas on the state education board, which adopts textbooks and sets curriculum for Texas public schools. During her campaign, she has suggested that schoolchildren currently favor socialism and that the state should focus on teaching cursive, phonics and multiplication tables instead.
Her opponent, Keven Ellis, has accused her of fearmongering. He is a chiropractor from Lufkin who has served for three years on the local school board. His platform includes narrowing the state's curriculum and overhauling the standardized testing system.
The winner will be a big favorite in the general election race against Democrat Amanda Rudolph.
Read MoreAllegations of Fearmongering in Education Board Runoff
2. Will any Texas House incumbents fall?
There aren't enough races on the runoff ballot to seriously shake up either chamber of the Texas Legislature. But three members of the Texas House are fighting to keep their jobs, and their contests have turned heated.
Rep. Wayne Smith, R-Baytown, barely made it into a runoff against challenger Briscoe Cain, who received 48 percent of the vote in the three-person March primary. Lately, attention in the race has turned to a political flyer that — with no evidence — questioned Cain's sexuality. The flyer generated complaints of dirty politics from Cain, an attorney from Deer Park, even though it's unclear whether it was even distributed to voters in the district. Smith, meanwhile, said he had never seen the flyer.
Read MoreAfter Primary Night Surprise, State Rep Tries to Fend Off Challenger
Meanwhile, Kyle Biedermann, the candidate challenging Rep. Doug Miller, R-New Braunfels, has faced questions about a 16-year-old custody battle with his ex-wife, during which she received a court order requiring him to stay at least 100 yards away from his daughters. Biedermann has produced statements from his ex-wife and children condemning Miller for raising the custody battle as a campaign issue, saying the issue was misrepresented during the legal fight.
Read MoreRunoff For Texas House Seat Turns Ugly in Final Days
We do know that one Republican state representative will lose his job. That's because two are vying to replace Tyler Republican Kevin Eltife in the Senate. Rep. Bryan Hughes of Mineola and Rep. David Simpson of Longview are facing off in that race. Hughes is the favorite after receiving 48 percent of the vote in March. Simpson sneaked into the runoff by defeating third-place finisher James "Red" Brown by 13 votes.
Read MoreDavid Simpson Secures Runoff Spot in Senate Race By 13 Votes
On the Democratic side, Rep. Ron Reynolds, an attorney from Missouri City, had his law license suspended after being convicted last year of five counts of illegal solicitation of legal clients. And last month he was ordered to pay more than $500,000 to a former client after a judge found that he kept her share of a settlement he helped her win in a 2010 lawsuit. Reynolds, still eligible for re-election while his conviction is under appeal, faces Angelique Bartholomew, a 46-year-old Alabama transplant who has never run for elected office and drew 24 percent of the primary vote.
Read MoreConvictions, Lawsuits Don't Slow Re-Election Bid
3. Will the mudslinging work?
The political attacks haven't been limited to the Texas House. In the Republican race to represent Senate District 24, which stretches from northwest of San Antonio to Abilene, ophthalmologist Dawn Buckingham made news for mailing out flyers suggesting that her opponent, State Rep. Susan King, "opened Texas' doors" to "dangerous refugees." The flyer included a picture of a woman wearing a hijab.
Meanwhile, in the testy race for a seat on the Texas Railroad Commission, former state Rep. Wayne Christian has called his opponent Gary Gates a "slumlord," citing a nearly decade-old case in which the city of Houston sought to close an apartment that Gates owned. Christian has also brought up an old case in which Child Protective Services pulled 13 children from Gates' house, claiming the kids were in danger. The kids, 11 of whom were adopted, were returned and the case was eventually dropped. Gates has said the attacks against him are "dirty politics" coming from a "career politician."
Read MoreGary Gates, Wayne Christian Advance to Railroad Commission Runoff
4. A win for Scott Walker?
Scott Walker, the failed presidential candidate and Wisconsin governor, isn't on the ballot. But Dallas-based criminal defense attorney Scott Walker is vying for a seat on the Texas Court of Criminal Appeals. The Republican barely campaigned before the March primary. His opponents weren't even sure he was running, and he didn't give any interviews. But he still dominated the first round of voting, winning 41 percent in the four-person race. Many credit that to his recognizable name; voters who make it that far down the ballot sometimes pick a name that sounds familiar. But Walker sees it differently. He told The Texas Tribune this month that he spent "a lot of time praying about this election."
"I believe God heard my prayers," he said.
Now, he's in a runoff with Brent Webster, a former prosecutor in Williamson County. Webster has endorsements from the conservative group Empower Texans and the Combined Law Enforcement Associations of Texas. Walker still isn't campaigning much but has picked up endorsements from The Dallas Morning News and the Houston Chronicle. The winner will be an overwhelming favorite against Democrat Betsy Johnson in November.
In the other competitive Republican runoff on the state's highest criminal court, Mary Lou Keel and Ray Wheless are squaring off. Keel is arguing she's the best candidate because Wheless, a district judge from Collin County, isn't board certified in criminal law. Wheless is arguing that Keel, a district judge from Harris County, might be a secret Democrat.
Read MoreTwo Contentious GOP Runoffs for Top Criminal Court
5. Who will show up?
With a competitive race for president on the ballot, Texas had record turnout in the March primaries. More than 2.8 million Texans voted in the Republican primary, while 1.4 million voted on the Democratic side. On Tuesday, it would be a shocker if more than 1 million people showed up at the polls. During early voting for the runoffs, a total of 194,000 cast ballots in person or through the mail in the state's 15 most populous counties.
That sharp decline in participation, and the lack of a Ted Cruz or a Donald Trump on the ballot, could make for an unpredictable night. Who convinces voters to show up will in most cases determine who wins.
*Correction: An earlier version of this story described Senate candidate Dawn Buckingham as an optometrist. She is an ophthalmologist.
---
Information about the authors
Quality journalism doesn't come free
Perhaps it goes without saying — but producing quality journalism isn't cheap. At a time when newsroom resources and revenue across the country are declining, The Texas Tribune remains committed to sustaining our mission: creating a more engaged and informed Texas with every story we cover, every event we convene and every newsletter we send. As a nonprofit newsroom, we rely on members to help keep our stories free and our events open to the public. Do you value our journalism? Show us with your support.
Yes, I'll donate today