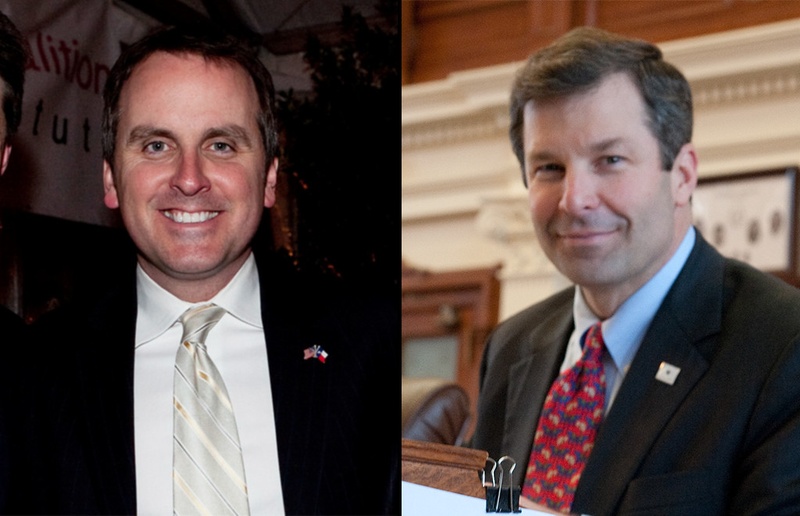 Two state representatives are set to face off for an open seat in the Texas senate after the third place candidate said Monday he will not request a recount.
After days of uncertainty with a razor thin margin separating the two candidates, a finalized canvass of the vote in the Senate District 1 Republican primary confirmed that state Rep. David Simpson, R-Longview, had secured the second-place runoff spot over James "Red" Brown, a former army general.
"We are ready to move forward and excited about debating the issues," Simpson said on Tyler's CBS 19 on Monday night.
Brown's campaign remained optimistic after election night due to outstanding provisional and military ballots. But after all were counted, each candidate gained 107 votes, putting Simpson at 28,395 to Brown's 28,382 and leaving the margin of 13 votes unchanged.
The Texas Tribune thanks its sponsors. Become one.
Simpson will face state Rep. Bryan Hughes, R-Mineola, in the runoff to replace retiring state Sen. Kevin Eltife, R-Tyler, on May 24. Hughes drew more than 60,000 votes in the primary, falling just short of the majority he needed to avoid a runoff.
Brown's campaign consultant, Todd Olsen, described the race as the "closest election in recent memory."
"General Brown ran a great campaign that surprised everyone outside of East Texas, because it was driven by issues purely East Texas," Olsen said in an email.
Hughes has kept his attention focused on the runoff, as he had previously said he would continue to run his "issue-oriented" campaign regardless of the opponent.
"Since March 1st, even more local conservative leaders -- mayors, sheriffs, small business owners -- are supporting Bryan and his campaign to secure our border and stop Obama's liberal agenda for our state," said Jordan Berry, Hughes' campaign consultant, in a statement.
The fourth-place finisher in the race, retired Navy hovercraft pilot Mike Lee, has endorsed Simpson in the runoff.