Some Voters to Weigh in Twice This Month on Empty House Seats
Both this Saturday and then two weeks later, voters in San Antonio and Houston will weigh in on the future of their representation in the Texas House.
Voters in Houston and San Antonio will weigh in on their future representation in the Texas House this Saturday. Two weeks later, they're expected to come back and do it again — with a largely different slate of candidates.
The convoluted scrambles happening in District 120 in east San Antonio and District 139 in northwest Houston began after two longtime Democratic representatives stepped down before their terms were over. Both Ruth Jones McClendon and Sylvester Turner resigned from their seats in January — in Turner's case, the day before he was sworn in as Mayor of Houston.
That set the scene for special elections this Saturday, when voters will elect people to serve for the duration of Turner's and McClendon's unfinished terms, which end Jan. 10.
Later this month, voters in both districts will be asked to go to the polls again to vote in Democratic primary election runoffs for the candidates who will represent the districts for the next full two-year term. No Republican filed to run in either seat.
Adding to the confusion, of the nine candidates running for the two seats, only one — Houston entrepreneur Jarvis Johnson — is on the ballot to fill both an unexpired term and the subsequent full term. The other eight candidates have picked one or the other, complicating voter outreach.
"We've gotten a lot of calls — so many people have said, 'What's going on, what is all this about?'" Johnson said. "What we've told our constituents is, 'Any time you see Jarvis Johnson's name, just vote.'"
House District 120
The confusion for District 120 started back in September, when McClendon announced she would not be seeking re-election. The race to fill her seat quickly turned into a seven-candidate free-for-all. Two of those candidates, Barbara Gervin-Hawkins and Mario Salas, will be in the Democratic primary runoff on May 24. Both moved into the district so recently that they won't become eligible to represent it until the end of the year. In other words, they couldn't legally run in Saturday's special election to fill McClendon's unexpired term.
In January, when McClendon announced she would be stepping down earlier than planned to focus on her health, four candidates filed for the special election to finish out her term: LaTronda Darnell, Chris Dawkins, Lou Miller and Laura Thompson. Two of those candidates — Darnell and Miller — also ran for the seat in the Democratic primary but fell short of the runoff.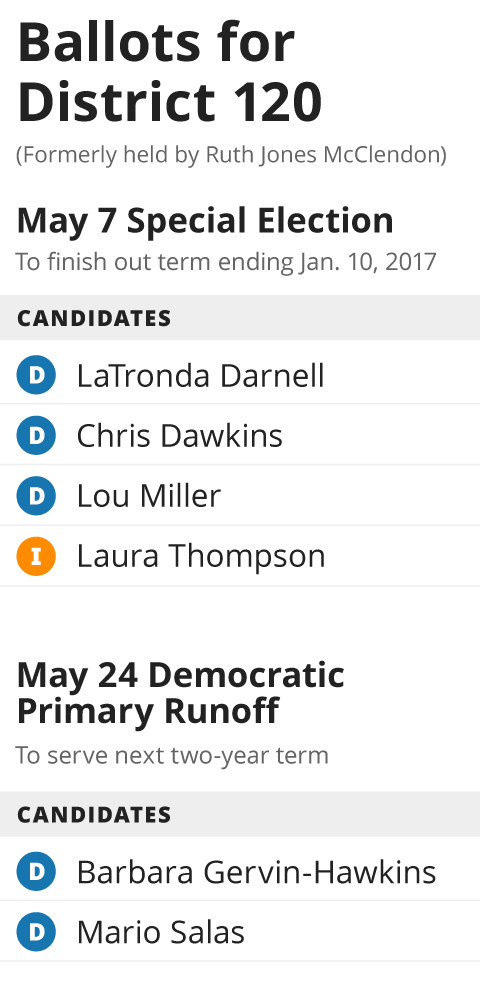 Dawkins, a San Antonio marketer, said he wants to start gathering information about community needs so that no matter who represents the district in the 85th legislative session, they'll be able to hit the ground running.
"It's basically setting the table for those people who will be holding the office," he told the Tribune.
Unless Gov. Greg Abbott calls a special session, the main duties for those serving the unexpired terms for Turner or McClendon will be limited. House Speaker Joe Straus will appoint them to serve on House committees. They will also be expected to address constituent issues. Texas House members are paid $7,200 a year.
Dawkins said he's not sure the special election is necessary. Although he's a Democrat in a heavily Democratic district, he thinks it might have been more fiscally responsible for Abbott to appoint someone to fill McClendon's unexpired term, even though Abbott would have likely picked a Republican.
"The appointment is probably better than spending $100,000 so someone can serve for three or four months for an election that isn't really going to amount to anything," he said. "The fact of the matter is that none of us who are running are ever going to sit in a session in Austin. So the question is, what can we really do?"
"We've got to figure out a better way to do this," he added.
One of Dawkins' opponents, Darnell, a consultant, said that there's a lot a representative can get done between legislative sessions, particularly making sure people in the district can access constituent services.
"San Antonio is a military city," Darnell said. "We have a high level of homelessness. We have a high level of those who are old war veterans. They need senior services, they have issues with taxes and issues with sending their children to college under the Hazelwood Act."
"They need a better understanding of how to get those benefits," she added. "And the things we can't help with, we'll do what we can to refer them to the right offices."
Another candidate, writer Laura Thompson, said she agreed that the seat needs to be filled by an elected representative, even if that representative only serves for a short time.
"A lot can happen in six months," she said.
Along with running in the special election, Thompson said she plans to run for the seat again in the general election in November as an independent candidate.
"This special election will help me to build some traction," she said. "Every time I have the opportunity to explain the difference between the two elections, I do."
The fourth candidate in Saturday's special election, insurance agent Lou Miller, did not respond to requests for comment. Early voting continues through May 3.
House District 139
In Houston, House District 139 found itself with a seat to fill when Turner successfully ran for mayor. He resigned from the House on Jan. 1, prompting Abbott to order a special election.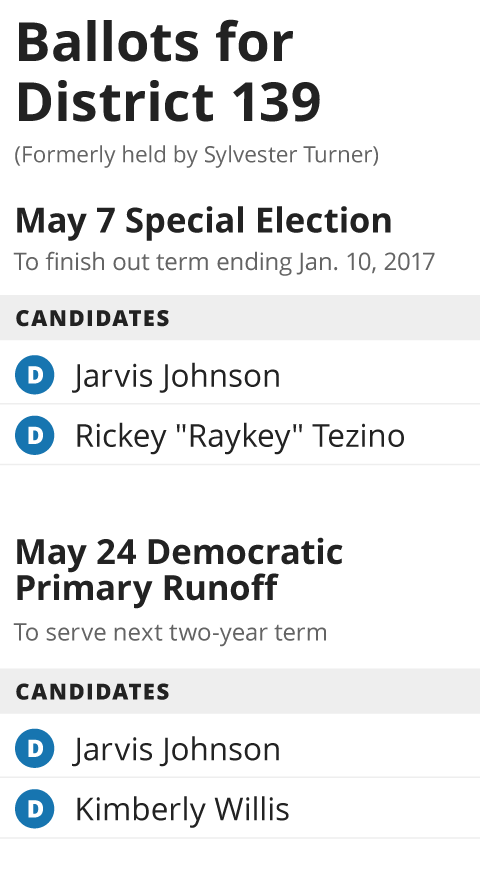 Four candidates filed for the Democratic primary to fill Turner's seat, and two — Johnson, the entrepreneur, and Kimberly Willis, a social worker and activist — earned a spot in the May 24 runoff. Johnson decided to simultaneously run for the unexpired term. Willis did not.
"It's difficult to get voters out for a runoff election," Willis said. "It's not likely that there will be a special session. It's only for about five months. So we decided to maximize our resources, and maximize voter turnout for May 24."
If she wins the runoff, Willis said she'll still spend the months before the start of the legislative session focusing on community needs in Houston.
Johnson decided to take the opposite approach.
"In the event the governor calls a special session, District 139 needs to have proper representation," he said, adding that "seniority over the incoming freshmen" would also be a nice perk.
"It gives me a running start," he said. "It would give me an opportunity to get down to the statehouse, get to know the surroundings — the lay of the land."
Johnson will compete against Rickey "Raykey" Tezino, a Houston teacher, for the May 7 special election to fill Turner's unexpired term seat. Tezino did not respond to requests for comment.
Texans need truth. Help us report it.
Independent Texas reporting needs your support. The Texas Tribune delivers fact-based journalism for Texans, by Texans — and our community of members, the readers who donate, make our work possible. Help us bring you and millions of others in-depth news and information. Will you support our nonprofit newsroom with a donation of any amount?
Yes, I'll donate today
---
Information about the authors
Explore related story topics