Money Pours into Texas Politicians' Campaign Accounts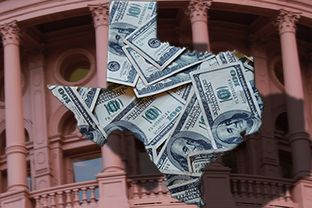 Enlarge
Illustration by John Jordan
* Editor's note: This story has been updated throughout.
The first significant campaign finance disclosures of this primary election season were due at midnight Friday, and candidate reports trickled into the Texas Ethics Commission's online system over the weekend. Here's a first look at some significant reports.
Top state officials
Most of the top statewide offices are not on the ballot this year, but officeholders still have to file, and the most prominent ones reported stunning numbers.
Gov. Greg Abbott had $22.5 million in his campaign accounts at the end of 2015, having raised $7.1 million in the last six months of the year.
Lt. Gov. Dan Patrick had $7.6 million in his campaign accounts; he raised $2.1 million during the last six months of the year.
Unlike those two, House Speaker Joe Straus, R-San Antonio, is on the ballot this year and has two primary challengers. He has $8.89 million in the bank after raising $2.5 million during the last six months of 2015 and spending just under $2 million. His spending included more than $500,000 in television, billboard, radio and direct mail advertising.
Attorney General Ken Paxton, whose first year in office has been hampered by criminal indictments and investigations, raised just $271,097 during the last six months but reached the year's end with $2.5 million in the bank.
Comptroller Glenn Hegar brought in $556,350 and ended with $3.2 million in cash. Land Commissioner George P. Bush raised $516,332 and had $3 million at year-end. Agriculture Commissioner Sid Miller had just $20,825 on Dec. 31 after raising $119,600.
The state's three Railroad Commissioners showed some big totals, too. David Porter, who decided not to seek another term, raised $435,431 and had $1.2 million in the bank. Christi Craddick raised $463,650 in the last six months and had $1.3 million. And Ryan Sitton raised $510,941, bringing his year end cash to $378,488.
Even former officeholders file notable reports: Former Gov. Rick Perry spent $563,981 during the last six months of the year — most of it on lawyers — and ended 2015 with $718,241 on hand.
Railroad Commission
The Republican primary for a seat on the Texas Railroad Commission, the state's energy regulator, hasn't attracted many contributors. Some of the campaign accounts would be disappointing in a small-town school board race.
Republican Gary Gates loaned $2 million to his campaign and ended the year with just under $1.8 million for his bid. Attorney John Greytok raised $101,731, borrowed $25,000, and had $49,229 left. Ron Hale had $299 on hand. Lance Christian raised no money and had none on hand; he spent $3,750 of his own money to file for office, the only financial activity he recorded last year. The same was true for Weston Martinez and for former state Rep. and former commission candidate Wayne Christian, who got into the current race, suspended his campaign, and then restarted it: One expenditure, no money on hand. Doug Jeffrey had $1,200 on hand.
Former state Rep. Lon Burnam, the best-known Democrat in the contest, raised $3,310 and still had it in the bank. Cody Garrett raised $6,270 and had $2,948 on hand. Grady Yarbrough raised nothing and had nothing.
Supreme Court
Texas Supreme Court Justice Debra Lehrmann raised $322,618, spent $192,292 and had $300,570 on hand at year-end. She's being challenged by Houston Judge Michael Massengale, who raised $353,471 (including a transfer of $106,240 from another campaign account), spent $61,596 and had $377,639 left. In a separate report, he detailed spending of $233,922 — most of that going to the first account.
In the "green" race for the court, featuring Justice Paul Green and his challenger, former state Rep. Rick Green, the incumbent has a financial advantage. Paul Green raised $114,158, spent $150,460 and had $210,851 left. Rick Green raised $126,942, spent $11,635 and had $78,806 left.
Justice Eva Guzman, who also faces a primary challenger, raised $191,240, spent $191,388 and ended with $387,704 in the bank. Joe Pool Jr. raised $2,500, borrowed $5,000 and had $2,500 left at the end of the year.
Texas Senate
A couple of open primaries for state Senate seats are already carrying higher price tags than statewide races.
In the Republican primary contest to replace retiring Sen. Kevin Eltife, R-Tyler, in Senate District 1, state Rep. Bryan Hughes, R-Mineola, raised $499,451, spent $127,285, and had $508,584 on hand to start 2016. State Rep. David Simpson, R-Longview, raised $99,564, spent $362,602 and had $57,661 left. James "Red" Brown ended with $103,458 on hand, having raised $184,282 and spent $80,813. Mike Lee raised no money and had none on hand.
The GOP primary race to replace Troy Fraser, R-Horseshoe Bay, is also expensive — and crowded, too, with six candidates.
Dawn Buckingham raised $313,206 and spent $361,483, ending the year with outstanding loans of $772,825 (made by the candidate herself) and a cash balance of $731,273. State Rep. Susan King, R-Abilene, raised $10,640 and spent $161,732, but ended with $520,000 in debt —a loan attributed to the candidate's husband — and $853,893 in her campaign account. Ryan Downton raised $68,835 and spend $236,380; he had $332,064 at year-end, along with loan balances of $560,250. Reed Williams had $133,202 on hand as the new year began, along with $140,000 in debt; he raised $79,250 during the last six months of the year and spent $91,602. Brent Mayes loaned his campaign $250,000, raised $3,983, spent $144,353 and ended the year with no cash on hand. Jon Cobb raised $272.515, spent $207,681 and ended with $592,193 in the bank and $500,000 in campaign debt.
A couple of incumbent state senators on the Democratic side — both in San Antonio — face challengers.
In SD-19, state Sen. Carlos Uresti raised $164,763, spent $180,113 and had $92,476 on hand at the end of 2015. Helen Madla was far behind financially: She raised $8,515, spent 6,206 and had only 2,308 left.
In SD-26, state Sen. José Menéndez raised $319,938, spent $121,315 and had $290,659 on hand. State Rep. Trey Martinez Fischer raised $297,944, spent $137,925 and ended with $416,217 in the bank.
Texas House
Each of the 150 seats in the Texas House is on the ballot. Sixteen members who served in the 2015 session aren't seeking reelection, and many of the returning incumbents have either no primary opponents, no general election opponents, or no major party opponents at all. Here are the numbers from a handful of key races.
In HD-8, Byron Cook, R-Corsicana, raised $352,654, spent $348,115 and ended the year with $699,883 on hand. Thomas McNutt raised $164,399, spent $79,778 and ended with $148, 832 left to spend.
In HD-55, Molly White, R-Belton, raised $156,342, spent $60,723 and had $72,371 on the last day of the year. Hugh Shine, a former state representative, raised $47,995, spent $68,714 and ended up with $145,657 on hand and $30,000 in campaign debt.
In HD-84, John Frullo, R-Lubbock, raised $143,782, spent $83,387 and had $291,975 on hand. Jim Landtroop, also a former state representative, raised $38,321, spent $2,885 and had $34,834 at year-end.
In HD-92, Jonathan Stickland, R-Bedford, raised $320,652, spent $149,913 and ended with $184,430 in the bank. Scott Fisher raised $94,475, spent $66,183 and ended with $28,753.
In HD-94, Tony Tinderholt, R-Arlington, brought in $191,651, spent $84,496 and ended up with $113,483 and campaign debts of $18,733. Andrew Piel raised $41,505, spent $22,915 and ended with $2,379 in campaign debt and $20,302 cash on hand.
In HD-99, Charlie Geren, R-Fort Worth, raised $429,883, spent $248,391 and ended with $955,808 in the bank. Richard "Bo" French raised $158,167, spent 94,847 and ended with $136,092 in cash and $24,620 in outstanding loans.
In HD-114, Jason Villalba, R-Dallas, raised $144,563, spent $260,327 and had $76,867 on hand at the end of the year. Dan Morenoff raised $50,932, spent $18,195 and had $50,933 on hand when the year ended.
In HD-115, Matt Rinaldi, R-Irving, collected $105,496 in contributions, spent $256,146 and ended the year with $14,407 in outstanding loans and $122,604 in cash on hand. Bennett Ratliff, who previously held the seat, raised $92,785, spent $157,968 and ended with $80,000 in debt and $37,035 in cash.