Analysis: For Politicians, There's No Statute of Limitations on Comments
All of us have to watch our mouths — particularly politicians. State Rep. Jonathan Stickland is under political fire for past online comments. He's apologized, but time is the enemy here for the Bedford Republican, who's facing a primary challenge.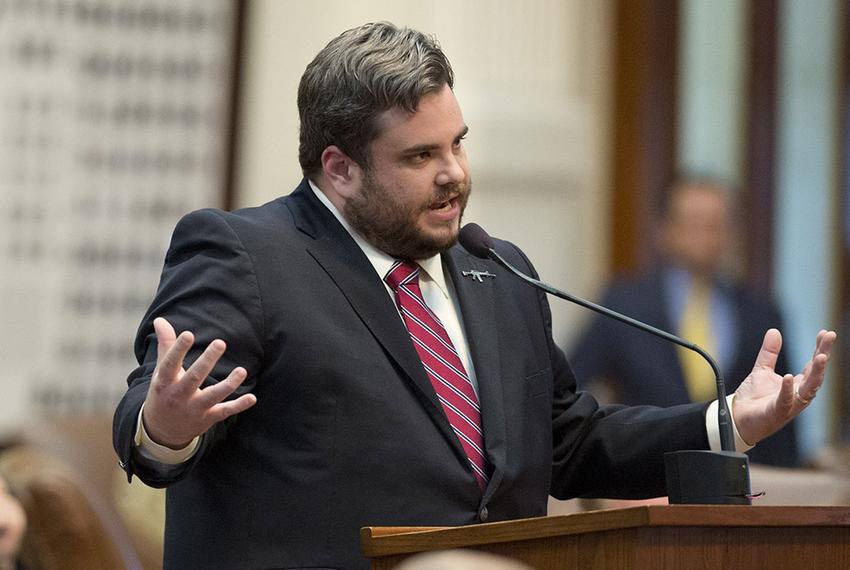 Editor's note: If you'd like an email notice whenever we publish Ross Ramsey's column, click here.
Politicians don't have to eat all of their words, but they do have to eat their blurts. Popping off can be dangerous, as pols like Jonathan Stickland to Sid Miller have learned.
But timing is everything.
All of us have to watch our mouths sometimes, but politicians either have to watch their mouths all of the time or develop thick hides.
Over the holidays, Stickland, a Republican state representative from Bedford, came under political fire for comments about pot and rape.
The first comment is old — from 2001. "Howdy from Texas all. Was wondering if anyone lived in the Dallas Fort Worth area and loved to smoke da green. Looking for a smoke buddy..... If you fit this criteria please contact me. Thanks ~stick."
Stickland is 32 years old. When you read that, keep in mind that you're looking over the shoulder of a teenager.
After his posting got into the news last month, Stickland said that he, like Ted Cruz and Jeb Bush, had smoked marijuana.
Clever, right? Those are good boys!
He said he smoked pot "regularly in high school and in my early collegiate years." And he added this in a written statement: "Let me even go a step further and say throughout my teens and twenties I have said and done things I wish I hadn't. But by the Grace of God my past sins are forgiven."
Another comment lifted from his online life could cause him more political trouble than that one. It was also plucked by his opponent's campaign, this time from a 2008 post on an online fantasy football site, and reported by the Quorum Report: "Rape is non existent in marriage, take what you want my friend! ~STICK"
He apologized for that one, too, telling the Texas Observer, "I can only repent and ask for forgiveness from the people it offended and hurt. Rape is serious and should never be joked about the way that I did regardless of my age."
Time is his enemy here. Stickland, unlike the recklessly and relentlessly outspoken Sid Miller — the state's agriculture commissioner — is on the ballot. The primary election is in eight weeks. Early voting starts in six weeks. The danger for Stickland is that voters might be thinking about his remarks when they go vote.
His opponent clearly thinks so — that's why a campaign would put something like this in the hands of the news organization that initially reported it.
And before you shoot the messenger, ask yourself a question: Would you want to know about this before you voted, or should the media have decided not to tell you?
That's politics. Elections are ugly things.
The political stylings of Yosemite Sid offer a different take on the blurt and its political impact. Miller has popped off several times in his first year as an elected statewide official.
He's made news with his actions, like when he told school districts they could bring back the deep fryers they abandoned during a previous commissioner's campaign for healthy eating. He posted pictures of Syrian refugees and rattlesnakes side by side on Facebook and captioned it, "Can you tell me which of these rattlers won't bite you?" Earlier, he repeated someone else's post of a picture of an atomic bomb blast that included this text: "Japan has been at peace with the US since August 9, 1945" and "It's time we made peace with the Muslim world."
Watch: Miller might be in the process of inoculating himself against future outbreaks of Sid Miller. It's shocking and alarming when someone in public life says something outrageous — unless they are known for it.
As long as he doesn't go too far from the normal limits of political behavior — given that this is Texas and that he has one of the few public jobs where it's not entirely ridiculous to wear a cowboy hat inside an office building — Miller can probably get away with some bloopers.
It's expected. That's why he's Yosemite Sid.
Time is on his side, too. Miller's term runs for another three years. He might run for re-election there, run for something else or retire. It's even possible that Texas voters will, like news reporters, start looking forward to his latest pronouncements. What will he say next? What can he get away with?
Stickland is noisy, but he is also in that critical period when he is reacquainting himself with some of his voters. Turnout in the GOP primary is likely to swell this year because of the competitive presidential race. His regular supporters will be joined by people who don't always vote.
He shares a knack for outspokenness with Miller. He has built his early political career around a particular kind of misbehavior that enrages his opponents and delights his supporters.
Maybe that will carry the day for Stickland, and maybe Miller can stay on his current glide path. But here's betting that almost everybody else is going to be a little less colorful and a little more careful. Elections, after all, are ugly things.
Texans need truth. Help us report it.
Independent Texas reporting needs your support. The Texas Tribune delivers fact-based journalism for Texans, by Texans — and our community of members, the readers who donate, make our work possible. Help us bring you and millions of others in-depth news and information. Will you support our nonprofit newsroom with a donation of any amount?
Yes, I'll donate today
---
Information about the authors
Explore related story topics