Cruz Heads Back to Iowa as Frontrunner and Target
Republican presidential candidate Ted Cruz is returning to Iowa for the final month before the caucuses as both a frontrunner in the state and a bigger target than ever for his GOP rivals.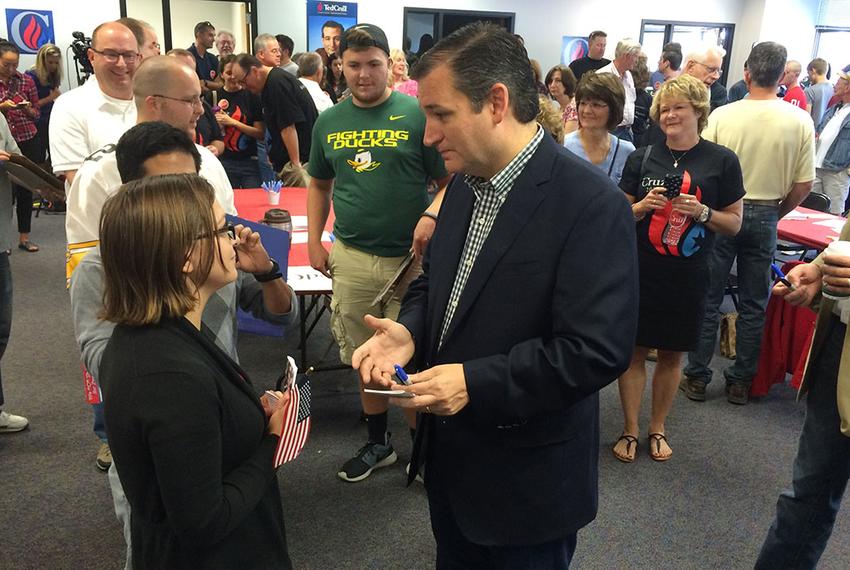 The last time Ted Cruz campaigned in Iowa, about a month ago, things were looking up: A recent poll had shown him rocketing to second place in the Republican presidential race there. Everywhere he went, he was greeted by crowds eager to see a candidate on the rise.
While there have been no signs since then that Cruz's momentum in Iowa has slowed, he will head back to the Hawkeye State on Monday facing a new reality: life as a bona fide frontrunner and all the scrutiny — fair and unfair — that comes with it.
Cruz's return to Iowa will be marked by perhaps the most intensive round of campaigning there by a GOP candidate during the 2016 campaign: a six-day, 28-county bus tour across the state, which holds its caucuses on Feb. 1. His campaign had originally announced a more ambitious 36-county blitz, but it scaled back as it gauged potential turnout for the barnstorming.
The tour will bring Cruz significantly closer to fulfilling his promise to visit all of Iowa's 99 counties — a tradition known as the "full Grassley," named after the state's senior U.S. senator. It will also signal Cruz is not taking his lead for granted in Iowa, where polling shows he has eclipsed billionaire Donald Trump as the top candidate in recent weeks.
"The schedule for next week is just the start of our efforts in January in Iowa," said Bryan English, Cruz's Iowa state director. "We have always intended to finish strong, and what you're seeing is a culmination of the plan to work Iowa from the Mississippi to Missouri rivers."

An Iowa victory is still anything but guaranteed for an ascendant Cruz, who is bracing for a flurry of attacks in the lead-up to the caucuses. In the Hawkeye State, Cruz has already fallen in the crosshairs of the ethanol lobby and outside groups with ties to at least two of his GOP rivals.
On a conference call Thursday, he warned volunteers that his rivals could spend potentially tens of millions of dollars against him in January alone.
"I want to tell everyone to get ready, strap on the full armor of God. Get ready for the attacks that are coming," Cruz said. "Come the month of January, we ain't seen nothing yet."
Iowa Republicans have already watched two of Cruz's fellow GOP contenders, Ben Carson and Scott Walker, fall from the top tier in Iowa, only to have their overall campaigns go into decline afterward. Now all eyes are on how the frontrunner dynamic is navigated by Cruz, who has insisted his campaign is the most durable in the Republican field.
"I do think at this point in time, you've got 30 days until caucus night, and he is definitely in position to take the poll position in Iowa," said John Stineman, a Republican strategist in Iowa who led Steve Forbes' presidential campaign there in 2000. "I think the question is, 'Can he hold on for that period of time or does he ebb?'"
"If he does continue to build, then I think you're looking at potentially, 'Is he the guy who can put together the same kind of Huckabee numbers like in '08?'" Stineman added, referring to Huckabee's nine-point victory over Mitt Romney eight years ago in the Hawkeye State.
Cruz's allies are taking notice of the stakes. Two super PACs supporting the Texas senator announced plans last week to boost him on Iowa TV to the tune of almost $3 million combined — advertising that could provide him some cover as he increasingly comes under fire there.
Cruz's campaign, meanwhile, is focusing on putting the final touches on an Iowa organization that it touts as the envy of other GOP candidates. It has campaign chairs in every county, it has recruited a supportive pastor in almost every county and it is rotating Texas-based volunteers in and out of a dorm-like headquarters in Des Moines. The campaign recently announced it had rented a second building, set to open this month, to keep up with the influx of volunteers wanting to help out in the lead-up to Feb. 1.
The Cruz campaign's TV effort is also in full swing in the Hawkeye State. Its most recent spot, titled "Victories," highlight wins Cruz scored during his legal career in Texas, including his defense of the Ten Commandments monument on the Texas Capitol grounds.
As the homestretch to Iowa gets underway, Cruz's campaign is one of only a few that appear to be going all in in the state. Even Donald Trump, the billionaire who led the GOP field there for months, recently sought to manage expectations, saying it would not be a "terrible defeat" if he came in second by 2 points.
English said he was "a little bit" surprised few other candidates seem to be competing as hard for Iowa as Cruz is. Then again, English added, "it surprises me that there aren't other campaigns that have done what we've done to similarly play hard for the nomination," building an organization that stretches far beyond the first few early voting states.
Among those also planning a big footprint this month in Iowa is former Arkansas Gov. Mike Huckabee, the 2008 caucus winner who has suggested it's the Hawkeye State or bust this time around for him. Huckabee's campaign announced Friday he will hold 150 events in Iowa throughout January, beginning Sunday with a six-day, 25-stop swing through the state.
In a statement on the final push, Huckabee took a fresh swipe at Cruz, whom he had criticized a week earlier for reportedly responding no when asked at a fundraiser if fighting gay marriage is a "top-three priority." At the fundraiser, Cruz went on to cite a broader goal upon taking office: "defending the Constitution."
"Conservatives are being asked to 'coalesce' around a corporately-funded candidate with no record of accomplishment and abandon their principles, but I will continue my fight to put Americans first," the former Arkansas governor said in the statement. "It all boils down to Iowa and the people of Iowa are not for sale."
Huckabee's allies have already singled out Cruz in mailboxes and on the radio in Iowa, seeking to undercut his claim to being the purest conservative in the GOP field. A pro-Huckabee super PAC is planning to keep up the offensive through the day of the caucuses in what it is describing as a six-figure effort.
Also not planning to let up on Cruz is the ethanol lobby, which spent most of December hammering the Texas senator over his opposition to the Renewable Fuel Standard. The pro-ethanol group America's Renewable Future is planning to rev up the attack machine again Monday to coincide with the start of Cruz's bus tour.
That is all on top of ongoing efforts by a nonprofit group to paint Cruz as weak on national security. The outfit, American Encore, is most prominently behind a TV ad airing in Iowa that claims Cruz "voted to weaken America's ability to identify and hunt down terrorists." The group is helmed by a supporter of U.S. Sen. Marco Rubio of Florida, who has been hitting Cruz for weeks over his vote last year in favor of the USA Freedom Act.
Cruz's campaign hopes that voters will see through the anti-Cruz onslaught as the air wars heat up. As he crisscrossed the state during his last trip there, the candidate himself apologized often to Iowans on behalf of the GOP field for the inundation of ads they will experience in the homestretch to the caucuses.
"Iowans in general get subjected to more of that kind of advertising than probably anybody ever cares to and more than most folks in the rest of the country just because of the first-in-the-nation status," English said. As a result, English added, Iowans "have a unique ability to cut through the noise."
---
Information about the authors
Quality journalism doesn't come free
Perhaps it goes without saying — but producing quality journalism isn't cheap. At a time when newsroom resources and revenue across the country are declining, The Texas Tribune remains committed to sustaining our mission: creating a more engaged and informed Texas with every story we cover, every event we convene and every newsletter we send. As a nonprofit newsroom, we rely on members to help keep our stories free and our events open to the public. Do you value our journalism? Show us with your support.
Yes, I'll donate today