Analysis: Debating the Legislature's Grades
The Texas Legislature left Austin last week after a regular session considered conservative by nearly everyone involved. So why is it getting bad grades from so many conservatives?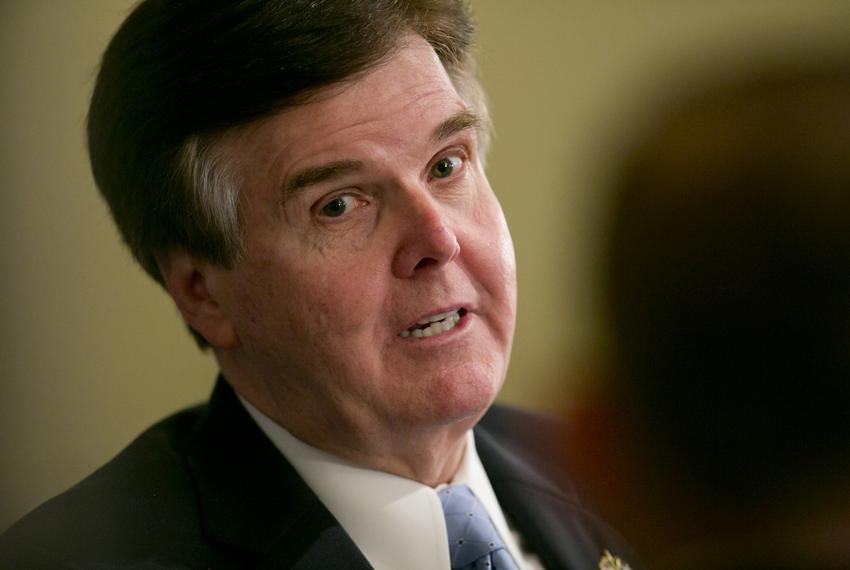 Lt. Gov. Dan Patrick gives it an A-. Dallas Reps. Roberto Alonzo and Jason Villalba, a Democrat and a Republican, give it a B+. Even Rep. Jonathan Stickland, R-Bedford, says the 84th legislative session was a productive one, and that's coming from a guy who was poked and jabbed by his political opponents for the first five months of the year.
But the partisans who were watching this legislative session from outside — particularly those on the conservative end of the Republican Party — are generous with their scorn.
It's not hard to spot the difference: The people who were there — the actors in this just-completed biennial exercise — are setting out to boast of their accomplishments. The complainers have different goals in mind, namely to get more of their partisans elected next year so that they can have an even more conservative House and Senate in place when the gavels come down in 2017. Many Republican lawmakers have the same goal, but don't want to get sideswiped as their own supporters attack the entire Legislature.
Cathie Adams, president of the Texas Eagle Forum and a former chairwoman of the Republican Party of Texas, was one of 14 conservatives signing a letter asking the governor to call lawmakers back for a special session to block county officials from issuing marriage licenses to same-sex couples.
A special session seems unlikely, since the state's voters have already put a "traditional marriage" provision in the state's constitution. But the letter illuminates the transition that's underway: State officeholders are talking about their work, and the groups outside are talking about their politics.
It's the difference between "keep me in office" and "we need to make some changes around here." What makes it peculiar is that a lot of these people are from the same political factions.
Patrick was elected last year after a bruising Republican primary that he won by convincing voters he was the most conservative candidate.
He started his post-session sales pitch with a visit to the Rio Grande Valley last week, where he touted the achievements of this Legislature and said descriptions of this as a workaday session with no landmark accomplishments were selling lawmakers short. He said as much in an interview with The Texas Tribune's Evan Smith before that tour began.
Smith asked about the lousy grades some conservative groups have given the Legislature, including some people on Patrick's own informal citizen advisory board.
Some have been markedly disappointed, often complaining about the Legislature without making a distinction between what passed the Senate and what passed the House. And it leaves people like the lieutenant governor defending the entire process.
"I can't please 100 percent of the people 100 percent of the time," Patrick said. Told that one group gave the Senate a C and the House an F, he said he grades on the curve and that that meant an A for the Senate and a C for the House.
"I realize you found two or three bills of the 25 [on Patrick's list] that didn't pass," Patrick told Smith.
He dismissed other criticisms, like one from conservatives saying the Legislature didn't do enough to defend the institution of marriage. "You can't write a bill that trumps our constitution; our constitution says marriage is between a man and a woman. Period." Patrick said.
Some things that conservatives wanted didn't have the support they needed for consideration in the Senate, which requires consent of 60 percent of the senators. Repealing in-state college tuition for undocumented immigrants who graduate from Texas high schools was a vote short, Patrick said. Sanctuary cities legislation — which would require local police to enforce federal immigration laws — was two or three votes shy, he said.
And he said he was able to block some things conservatives didn't want, like ethics legislation that would have required political nonprofits to disclose the names of their donors and the amounts they donated. Approved by the full House, that provision never made it to the full Senate for a vote. "I disagree with the dark money issue," Patrick said. "I get the first veto."
The political voices will dominate the conversation before long. Political challengers have to file and line up early support and money by the end of the year, and they'll be talking about what has not been done. Incumbents will talk about their records.
All the voters have to do is figure out which report cards to read, and which grades to believe.
Support public-service journalism that gets the context right
Your donations make our reporting possible and keep it free for all to access. Support our nonprofit newsroom by May 11, and your gift will help us unlock $25,000 in matching funds from our partners at Tito's Handmade Vodka, the Bernard & Audre Rapoport Foundation and the Suzanne Deal Booth Charitable Trust.
Yes, I'll donate today