Effort to Tighten Spending Cap Dies With House, Senate Far Apart
The state's constitutional spending cap will remain untouched this session, and House and Senate leaders are blaming each other for the lack of action on the arcane but politically important measure.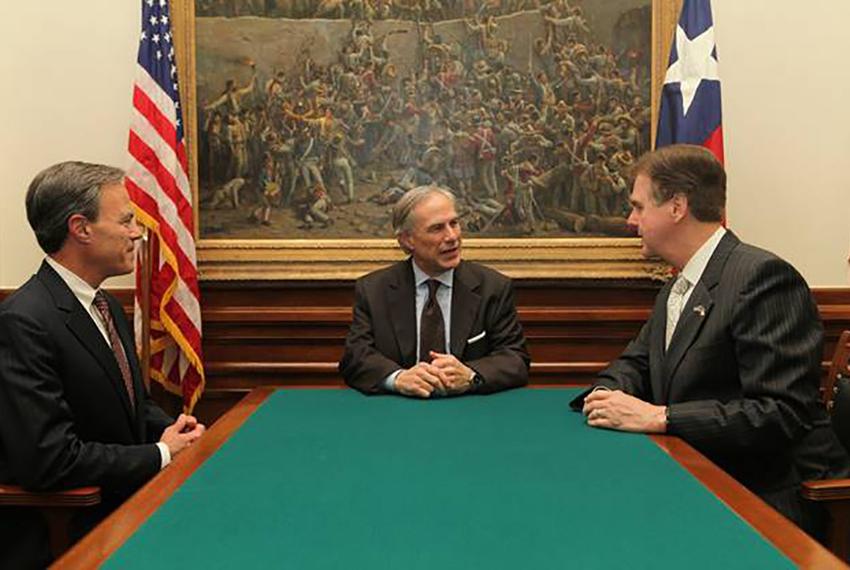 The state's constitutional spending cap will remain untouched this session, and House and Senate leaders are blaming each other for the lack of action on the arcane but politically important measure.
Senate Republicans had sought to tighten the rules that guide how much future state budgets can grow, but House and Senate negotiators said in interviews Sunday that talks between the chambers fell apart late Saturday on Senate Bill 9, the last bill standing on the matter.

"The Senate passed the people's priorities, the Governor's priorities and my priorities on the spending cap and ethics reform during this legislative session," Lt. Gov. Dan Patrick said in a statement Sunday. "The House chose to ignore these very important bills."
House Speaker Joe Straus argued it was the Senate that was intractable on an issue that defied simple answers.
"The House passed responsible, well-thought-out language that recognizes the spending limit is a complicated issue, not a sound byte," Straus said in a statement Sunday. "The Senate rejected this approach."
Under the Texas Constitution, state spending cannot grow faster than the state's economy. Ahead of each legislative session, state leaders set a growth rate for state spending based on the estimated rate of growth in Texans' personal income over the next two years. (The rate picked just before the current session: 11.68 percent.)
Gov. Greg Abbott joined Patrick in calling for basing the growth rate instead on the estimated combined growth in population and inflation, a figure that, more often than not in recent years, has been smaller in Texas than the growth in the economy. But the House, concerned about the impact on future Legislatures, preferred a nonbinding measure that would have factored in how different areas of government spending grow at different rates.
In the end, the two chambers remained miles apart.
Less than half of the state budget is subject to the spending cap. Large pots of money, including federal funding, are exempt. Busting the cap requires a simple-majority vote in both chambers. However, both Patrick and Straus made clear early in the session that there were no plans to ask lawmakers to make such a vote, which was widely viewed as one that would complicate re-election efforts, regardless of how the additional funds were ultimately spent.
Various conservative groups have complained for years about how the spending cap is set.

"To protect taxpayers from government growing too big, we need a constitutional amendment that limits the growth of the state budget to population growth plus inflation," Abbott said in his State of the State speech in February.
As originally proposed, Senate Bill 9, from state Sen. Kelly Hancock, R-North Richland Hills, would have done what Patrick and Abbott were proposing. But amending the constitution requires passing both a bill and a joint resolution, the latter of which needs the support of two-thirds of both chambers. Unable to meet that higher threshold in the Senate, Hancock allowed the bill to be rewritten to instead create a new, tighter spending cap in state law, rather than rewriting the one in the constitution.
"A constitutional change would have written this adjustment in permanent marker, but we didn't have the votes for that," Hancock said last month. "So we settled for writing it in pen."
In the House, Appropriations Chairman John Otto, R-Dayton, viewed the Senate's approach as unworkable. As the House's lead budget writer, he also expressed concerns about how the bill would impact future Legislatures.
"All of you know we passed a very conservative budget out of the house," Otto told House members last week. "It would have failed SB 9."
Otto opted to replace Hancock's population/inflation metric with limits for different areas of government spending, such as transportation and health care, with each one based on a combination of how spending in that category was expected to grow as well and how the population served by each category was expected to expand.
He also amended the bill so that those new spending limits were no longer mandatory, but would simply be reported to state leaders who then could choose to factor that information into setting the growth rate.
During negotiations with the Senate over coming up with a compromise version, Otto said his concerns about hamstringing future legislatures remained.
"I wanted it to be considered. I didn't want it be the mandate," Otto said. "I was happy to include what the Senate's methodology was as well as the methodology that was in my substitute."
Both Patrick and Hancock said the spending cap issue will come back in the next session.
"While spending limit reform won't pass during the 84th Legislative Session, I have every intention of continuing to fight for conservative fiscal policies that will sustain our state's position as an economic stronghold," Hancock said.
Straus pointed to budget reform measures that passed the House but died in the Senate as worthy of more attention, such as House Joint Resolution 111, which would have ended the practice of lawmakers using billions of dollars of dedicated revenue funds to help balance the budget rather than for their intended purposes.
"Transparency in the use of taxpayer dollars is and will continue to be a top priority for the House," Straus said.
---
Information about the authors
Quality journalism doesn't come free
Perhaps it goes without saying — but producing quality journalism isn't cheap. At a time when newsroom resources and revenue across the country are declining, The Texas Tribune remains committed to sustaining our mission: creating a more engaged and informed Texas with every story we cover, every event we convene and every newsletter we send. As a nonprofit newsroom, we rely on members to help keep our stories free and our events open to the public. Do you value our journalism? Show us with your support.
Yes, I'll donate today