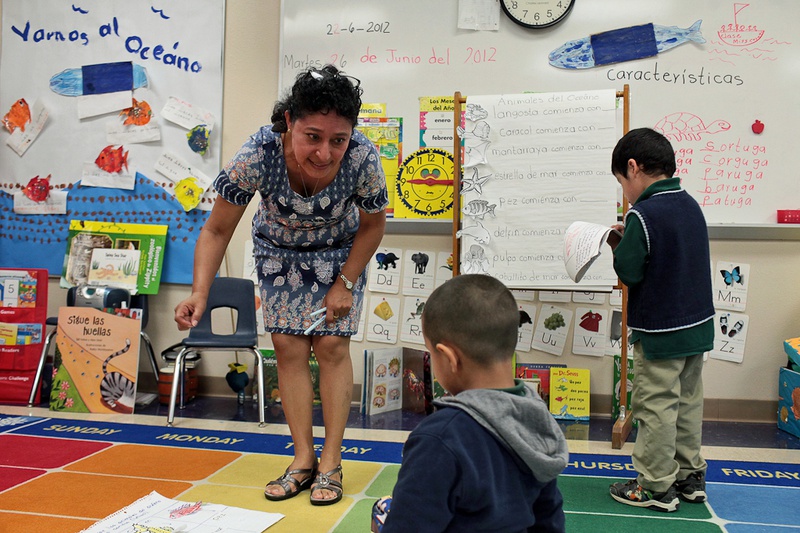 *Editor's note: This story has been updated throughout.
A week after Gov. Greg Abbott put early education reform on the legislative fast track, top House lawmakers announced Thursday what is likely to become the major pre-kindergarten bill of the session.
House Bill 4 by state Rep. Dan Huberty would provide additional funding to school districts that choose to adopt certain curriculum and teacher quality standards in their pre-kindergarten programs, as well as a "parent engagement plan."
Calling the measure "a first step in the right direction," the Houston Republican announced the legislation at a Capitol news conference where he was joined by a number of House Republicans, including Public Education Chairman Jimmie Don Aycock of Killeen, Appropriations Chairman John Otto of Dayton and State Affairs Chairman Byron Cook of Corsicana. Democrats Helen Giddings of DeSoto, Joe Deshotel of Beaumont and Sylvester Turner of Houston also attended.
The Texas Tribune thanks its sponsors. Become one.
Last Tuesday, Abbott named early education among his five "emergency items" in his State of the State address, citing the goal of having all students performing at grade level in reading and math by the third grade.
Huberty said his legislation would help support high-quality pre-kindergarten programs that provide a crucial foundation for students while ultimately saving remediation costs.
The state currently pays for half-day pre-kindergarten for students from low-income, English-language learning, military and foster families. The funding distributed via Huberty's proposal would also only apply to those children.
Just how much money that is depends on how much legislators appropriate for it in the budget they pass this session. But the amount is likely to be under the $300 million the Legislature cut from grants that helped districts expand their pre-kindergarten programs in 2011.
Huberty said House budget writers intend to put $100 million into the program, with districts standing to receive up to $1,500 per student. With 225,000 eligible students, he acknowledged Thursday that demand could exceed available resources.
"It's a numbers game," he said. "But at the end of the day, we are putting money back into the system, we are putting money back into pre-kindergarten."
The Texas Tribune thanks its sponsors. Become one.
HB 4 is among several measures lawmakers have filed targeting the state's early education system this session. Another that stands to gain traction is an incentive payment proposal from state Reps. Marsha Farney, R-Georgetown, and Eric Johnson, D-Dallas.
That legislation, HB 1100, lays out a much broader overhaul of pre-kindergarten policy. In addition to the curriculum and parental involvement requirements set forth in Huberty's plan, HB 1100 asks districts to do regular teacher training, put limits on class size and offer full-day programs.
Providing more than twice as much funding per student to districts that choose to participate, it also comes with a higher price tag. That money would be included directly in school funding formulas instead of a biennial grant in an amount determined by the Legislature.
"I'm happy to see that HB 4 operates on the same basic principle of offering optional incentives to school districts to improve and invest in Pre-K," Johnson said in a statement released on the heels of Huberty's news conference that included a collection of comments from chambers of commerce, mayors and advocacy groups around the state in support of full-day pre-kindergarten. "There is still a lot the Legislature needs to consider in terms of what research tells us makes an effective Pre-K program — including a full instructional day — and I look forward to working with Rep. Huberty and others on this important issue."