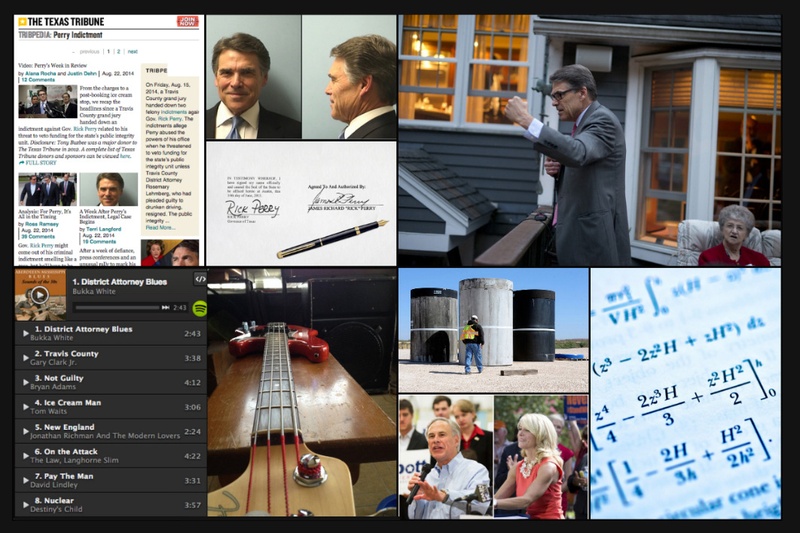 This week, much of the news coverage focused on the fallout from the indictment of Gov. Rick Perry over his dealings with the Travis County district attorney's office. So our playlist starts with Bukka White's "District Attorney Blues."
The easiest way to enjoy the playlist is to download Spotify, which is a free program. But even without it, you can still follow along. Here are the other selections for the week:
As a nod to Perry's booking at the Travis County Courthouse, our next song is "Travis County" by Gary Clark, Jr., which starts, "Travis County took my picture..."
After getting booked, Perry treated himself to some ice cream, which inspired the addition of Tom Waits' "Ice Cream Man." The governor entered a plea of "Not Guilty," which is also the name of the Bryan Adams song that serves as the fourth selection on this week's playlist.
The Texas Tribune thanks its sponsors. Become one.
His apparent presidential ambitions undeterred, Perry spent the end of the week campaigning in New Hampshire, prompting us to add "New England" by Jonathan Richman and the Modern Lovers.
In non-indictment news, Democratic gubernatorial candidate Wendy Davis released a second attack ad against her Republican rival, Greg Abbott, so we added "On the Attack" by Langhorne Slim. That's followed by David Lindley's "Pay the Man," which is included as a reference to the $1.2 million annual salary that, it was revealed this week, Admiral William H. McRaven will get as the next chancellor of the University of Texas System.
We also have Destiny Child's "Nuclear," since Texas' only radioactive waste site got permission to dramatically expand its capacity. Because the state's education commissioner announced that the state would suspend a law that requires fifth- and eighth-graders to pass end-of-year math exams to advance to the next grade level, we included Lyle Lovett's "It Ought To Be Easier."
And finally, in light of the puzzling differences between Perry's signature on court documents and his official ones, we close with Michael Bolton's "Sign Your Name."
Enjoy!