Proposed Water Supply Project Draws Praise, Concerns
San Antonio's water utility is negotiating to pipe in 16 billion gallons of water a year from Burleson County. Officials say the plan is key to securing future water needs, but others still have questions.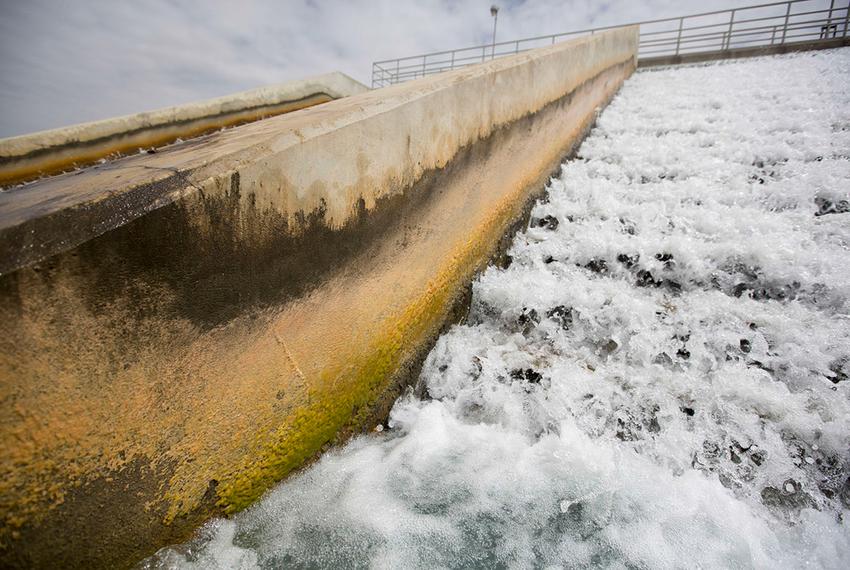 SAN ANTONIO — Depending on whom you ask, San Antonio might either be on the cusp of securing its water future at a relatively low cost, or it is pinning most of its hopes on a multibillion-dollar boondoggle that could diminish the water supply for fast-growing Central Texas and wouldn't deliver what San Antonio expects.
For decades, the city has searched for a water supply beyond the dwindling Edwards Aquifer. And now officials at San Antonio Water System, the city's water utility, are negotiating with two private companies — the Austin-based Central Texas water supplier BlueWater and the Spanish company Abengoa — to pipe in 16 billion gallons of water a year from Burleson County in Central Texas. The utility estimates that the project would cost $3 billion over 30 years and boost its water supply by about 20 percent starting in 2019.
Berto Guerra, chairman of the SAWS board, said the project would be key in ensuring the city remains a good place to do business in the coming decades.
"Somebody will say, someone way back 20 years ago had the courage and had the vision to do what was right," he said Tuesday at the Grand Hyatt hotel in San Antonio, at the first of a series of public forums the utility will have about the project.
But questions still remain about how much the project would cost ratepayers in the San Antonio metro area, its impact on the utility's business model and conservation culture, and — perhaps most significantly — whether 16 billion gallons of groundwater is really available from Central Texas' Carrizo-Wilcox aquifer.
"This is a logical move for San Antonio, but it doesn't dismiss the importance of caution," said Ron Nirenberg, a city councilman. "If our pursuit is actually to secure more water long-term, then maximum available groundwater is absolutely a top concern."
Available groundwater may indeed be a concern, even though the two water companies say they've already secured more than enough water rights from the Post Oak Savannah Groundwater Conservation District, which regulates groundwater withdrawals in Burleson County. According to the district's current groundwater models, just under 20 billion gallons of water a year are available from the Carrizo-Wilcox there.
A few billion gallons a year are already pumped from the aquifer by small towns in the county. At the same time, just across the county line in the Lost Pines Groundwater Conservation District, two water companies are fighting district officials and local landowners to pull about 15 billion gallons of water annually from the same aquifer.

Gary Westbrook, general manager of the Post Oak district, said in an interview that the groundwater withdrawals from the Lost Pines district have a significant impact on Burleson County.
"Sooner or later, any amount of water that gets used from our neighbors is going to impact what's available in our district. We've never doubted that," he said. Westbrook estimated that in 10 to 15 years, the district would have to "curtail" pumping, which could impact the availability of water to San Antonio.
Westbrook also appeared surprised that SAWS would in 2019 begin pumping the full 16 billion gallons out of the aquifer, because most of the other pumpers in the district today don't use the entirety of the groundwater that is allocated to them. "If they go to the full [16 billion gallons], obviously that's going to change a lot of our considerations. That's going to be a much different permit than we're used to dealing with, and that's okay," he said.
SAWS officials say they're protected from such concerns because the water companies that would be pumping and transporting the water have bought up extra land and water rights in excess of 16 billion gallons a year. They also say the two companies have agreed that SAWS will only pay for the maximum amount of water the companies can physically deliver. If that turns out to be less than 16 billion gallons of water per year because of pumping curtailments, the companies would lose that money, not SAWS.
Still, at negotiations between SAWS and the two companies that occurred after the public forum on Tuesday afternoon, it was still unclear how that would work. Even if the groundwater district restricted pumping by just 6 percent in one year, which means SAWS is only delivered 94 percent of the water it was promised, that means that the companies would lose $6 million — a substantial amount, said Gene Dawson, owner of a local engineering firm who is a contractor of the companies for the proposed project.
"If you talk about return on equity, I mean, that just completely wipes it out that year," Dawson pointed out. "Not being paid for the water is a significant penalty in itself."
Others worry the deal is being made with too many unanswered questions and not enough public input. Nirenberg, the San Antonio city councilman, noted that it's still unclear whether the city really needs such a large amount of water upfront and what the impact on water rates will be.
"We do need to be very careful about the public process," he said. "If we bring a done deal to the public" without answering those questions, "then we are in for a reawakening." The City Council will have to approve the rate increases needed for the project, which SAWS has said will be in the double digits, though it has not yet provided a more specific number.

The possible sudden influx of water supplies into San Antonio has caused environmental advocates to question whether the city's celebrated culture of conservation would continue, particularly because the contract being negotiated is a "take and pay" contract. That means that even if San Antonio doesn't need 16 billion gallons of water a year, for the next 30 years, as long as that amount of water is deliverable by BlueWater and Abengoa, it will pay an estimated $100 million a year for that amount regardless. Critics say that will create an incentive for the utility to sell more water and discourage conservation.
A potential solution to that, said SAWS President Robert Puente, is for the utility to become a regional water supplier. "In the beginning, and in wet years, [16 billion more gallons annually] is more than what we need," he said, but many other growing cities along the I-35 corridor between Austin and San Antonio are looking for more water supplies today. Selling them excess water "will help drive down the cost," Puente said.
Still, that will be an expensive proposition for those cities. At $100 million for 16 billion gallons, the water SAWS is buying costs $2,000 per acre-foot. That's more than 10 times the wholesale cost of water that Austin pays.
"Who's to say [other cities] want to buy this water at this very high price?" said Amy Hardberger, an assistant professor of water law and policy at St. Mary's University. "At the end of the day, if you don't find a buyer, you're the buyer. … This is a huge monetary commitment."
SAWS hopes to finish its negotiations on the project by September and then ask City Council members in October to approve the needed rate increases. Before that happens, Westbrook, the Post Oak Savannah district's general manager, said, it's premature to worry about the pipeline's impact on Central Texas' water supplies or whether it could deliver the amount of water San Antonio is counting on in the coming decades.

"How do you know that SAWS is going to get the deal done?" he asked. "If they don't, then it's a moot question." If the deal does get done, and the aquifer drops more than is planned, Westbrook said, "we can restrict [pumping] later."
Disclosure: The San Antonio Water System was a corporate sponsor of The Texas Tribune in 2012. A complete list of Texas Tribune donors and sponsors can be viewed here.
Texans need truth. Help us report it.
Independent Texas reporting needs your support. The Texas Tribune delivers fact-based journalism for Texans, by Texans — and our community of members, the readers who donate, make our work possible. Help us bring you and millions of others in-depth news and information. Will you support our nonprofit newsroom with a donation of any amount?
Yes, I'll donate today
---
Information about the authors
Explore related story topics