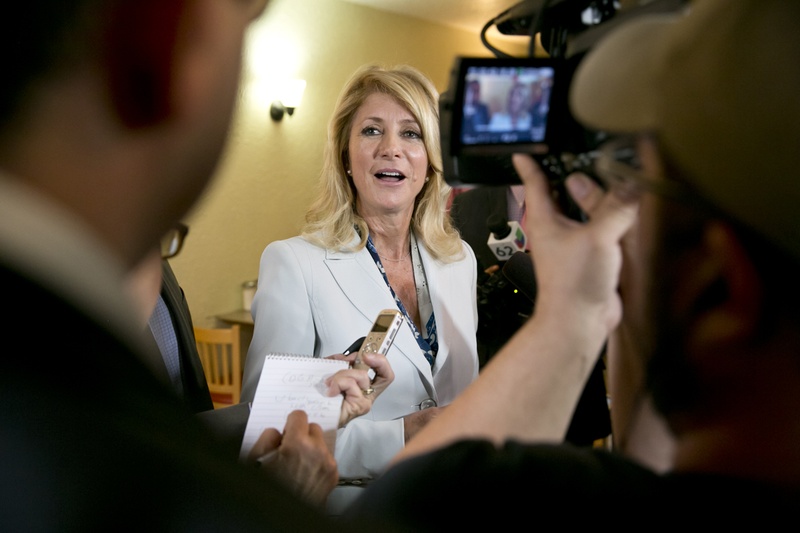 * Editor's note: This story has been updated to include a response from Gov. Rick Perry.
* Correction appended
MCALLEN — State Sen. Wendy Davis, the Democratic nominee for governor, has added her name to the list of lawmakers calling for a special legislative session to immediately address the unprecedented number of illegal border crossers into Texas.
In doing so, she joins hardline Republicans who demanded last week that the state's leadership call lawmakers back to Austin. Following those calls, Texas House Speaker Joe Straus, R-San Antonio, Lt. Gov. David Dewhurst and Gov. Rick Perry authorized the Department of Public Safety to spend $1.3 million a week to increase border operations.
In a letter to Gov. Rick Perry, Davis suggested that wasn't enough.
"You took a solid step, which I support, to address that by increasing support to the Department of Public Safety to help along the border," she wrote. "However, local counties, cities and charitable organizations are also spending already limited resources to meet the basic needs of these individuals and their families."
Travis Considine, a spokesman for Perry, said Davis had so far been "conspicuous by her absence" on the issue of border security. "If Sen. Davis truly agrees with Gov. Perry that it is the federal government's responsibility to secure the border, she should forward a copy of her letter to her friend and political ally in Washington, President Obama."
Davis isn't the only one weighing in on the border today. U.S. Sen. Ted Cruz and gubernatorial hopeful Greg Abbott held a joint press conference in San Antonio Monday morning on the rising number of unaccompanied minors, and Perry was scheduled to tour a federal facility housing unaccompanied minors on Monday afternoon.
Davis' letter reflects her most vocal stance yet on the border surge. The U.S. Border Patrol's Rio Grande Valley sector has apprehended more undocumented immigrants in the first eight months of the current federal fiscal year (over 160,000) than it did for all of fiscal year 2013.
Davis also suggested that Perry declare a state of emergency, which would allow the state to spend more resources on the border. She also suggested asking the Obama administration to send more federal immigration judges to the border
"To that end, we should call on the Obama administration to provide a sufficient number of judges so that those processed by the border patrol will receive an immediate hearing on their immigration requests and, where appropriate, be repatriated to their native country. Given the scale and scope of this emergency, I believe that this is the best approach, rather than releasing these individuals and their families at the local bus station with a hearing set several months in the future."
Davis addressed the surge again in a news conference Monday afternoon in the Rio Grande Valley — calling Perry's comments in response to her letter "really absurd."
"I am acting in my role as a senator and calling on him to do what he should have done weeks ago and that is to call us together as a Legislature so that we can appropriate necessary relief funds to local communities who are dealing with a humanitarian crisis," Davis said at a press conference in McAllen following her tour of a U.S. Border Patrol facility.
The White House announced last week that it would temporarily reassign judges to help expedite the removal of the immigrants breaching the Texas-Mexico border. Davis also suggested the state send a bill for any local or state expenditure to the federal government.
At a press conference on Monday morning at the McAllen Chamber of Commerce, local officials said they would welcome any federal assistance, but added it is not the worst crisis the area has seen.
They left it up to state officials to declare a state of emergency but said the portrayal of an influx of immigrants carrying dangerous diseases is an exaggeration. Eduardo Olivarez, director of the Hidalgo County Health Department, said officials have seen five cases of chicken pox, and had one "concern" over tuberculosis.
State Rep. Richard Peña Raymond, D-Laredo, said he understood local officials might have concerns about the "emergency" label, and that it could have a negative connotation and affect the area's image and economy. But he said the situation is obviously serious.
"We have to deal with the issue of people looking at what's going on in Nuevo Laredo, and separating that from what's going on in Laredo," he said of the violence that is tarnishing his sister city in Mexico. "You want to say everything is great but then you have a meeting like this with a packed room and everyone can see the numbers and understand it is a serious issue."
Raymond added that he was on board with calling lawmakers back for an emergency session in Austin.
"I think it's a great idea. It's spot on," he said. "You have a federal policy that is affecting us, affecting local resources."
Correction: This article originally misspelled the name of the director of the Hidalgo County Health Department. He is Eduardo Olivarez, not Olivares.