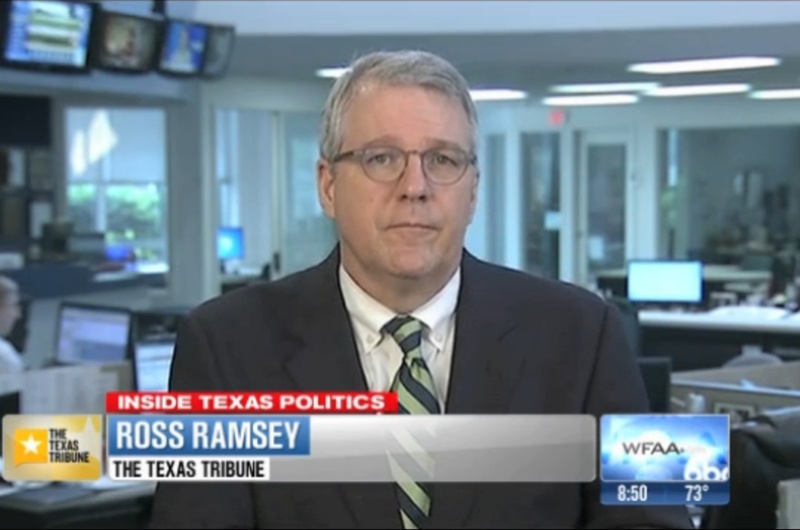 On this week's edition of WFAA-TV's Inside Texas Politics, I talked with host Jason Whitely and the Fort Worth Star-Telegram's Bud Kennedy about UT System Regent Wallace Hall, who is under unprecedented consideration for impeachement by the state House Select Committee on Transparency in State Agency Operations. This week, Gov. Rick Perry came out in support of Hall with a strongly worded statement.
We also talked about state Sen. Ken Paxton, R-McKinney, in a runoff against state Rep. Dan Branch, R-Dallas, for attorney general and the recent revelations about Paxton's unlicensed securities work and lapses in his filings to the Texas Ethics Commission. Tuesday's runoff will answer whether the damage done was fatal to his campaign.
Democratic gubernatorial candidate Wendy Davis has proposed a series of six debates around the state but so far hasn't accepted the invitation to the two — in Dallas and McAllen — that her Republican opponent, Greg Abbott, has agreed to. The defections from Chart Westcott's campaign for the HD-108 seat vacated by Dan Branch continued in a campaign that has turned increasingly nasty — and expensive, with $2 million spent competing for a state House seat. And Land Commissioner Jerry Patterson, defeated in the primary, has nonetheless kept himself in the lieutenant governor's race with relentless attacks on state Sen. Dan Patrick, but whether they've helped or hurt incumbent David Dewhurst is an open question voters on Tuesday will answer.
Also: Jason and Bud interview David Alameel, who is in a runoff for the Democratic nomination for U.S. Senate against Kesha Rogers, an avowed LaRouche Democrat who calls for the impeachement of President Obama and compares him to Hitler; political consultants Jason Stanford and Matt Mackowiak survey the runoff field and discuss Obama's nomination of San Antonio Mayor Julián Castro to his Cabinet as secretary of housing and urban development; and Dallas County Republican Party Chairman Wade Emmert talks with Jason about the rough GOP primary.
The Texas Tribune thanks its sponsors. Become one.