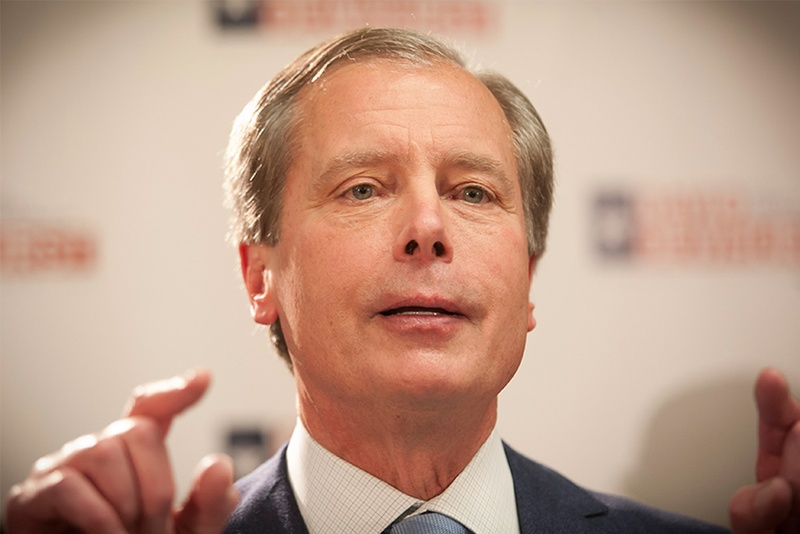 A new Texas Democratic Party social media campaign is urging voters to oppose Republican Lt. Gov. David Dewhurst in a primary runoff, targeting the incumbent for being "anti-immigrant" and "anti-woman."
"Make sure we stop him on May 27," reads the site, MountainDewhurst.com, which launched Tuesday. The site also highlights Dewhurst's support for state spending cuts to public education, Medicaid and other state programs.
Dewhurst is one of two potential Republican opponents for Democratic candidate Leticia Van de Putte, a San Antonio state senator, in November. The other is state Sen. Dan Patrick of Houston, who is favored to beat Dewhurst in a runoff after finishing first in a four-way primary race in March.
Some political observers have suggested that Patrick, a more polarizing figure, might inspire better turnout among left-leaning voters in November — which could explain the party's attack against Dewhurst in the runoff.
The Texas Tribune thanks its sponsors. Become one.
Manny Garcia, a spokesman for the state Democratic party and the Van de Putte campaign, said only that the May 27 date was chosen for the social media campaign because it was "the first opportunity for some folks to look at Dewhurst's leadership." He said the state party would also continue to attack Patrick.
Dewhurst released a statement on Tuesday saying he considered the new website a "badge of honor" because it "reflects their fear of my strong conservative record of accomplishments in the Senate and my vision for the future of Texas."
"While the Texas Democratic Party remains tone deaf about what Texas voters want, I am proud of my record of cutting spending and limiting the size and scope of Texas government," he said.
During a recent debate over immigration policy with San Antonio Mayor Julián Castro, Patrick, Dewhurst's Republican opponent, also referred to himself as a candidate feared by Democrats.
"I am the one candidate all Democrats fear," Patrick said. "That's why all of you have been attacking me, because you know I'm going to go out like I am tonight. I have the courage to talk about public policy."
Castro, a Democrat, then interuppted, saying: "Actually, you're our meal ticket back in."
The Texas Tribune thanks its sponsors. Become one.
When asked who she would prefer to face in a general election match-up, Van de Putte declined to weigh in, saying she would leave that choice to Republican primary voters.