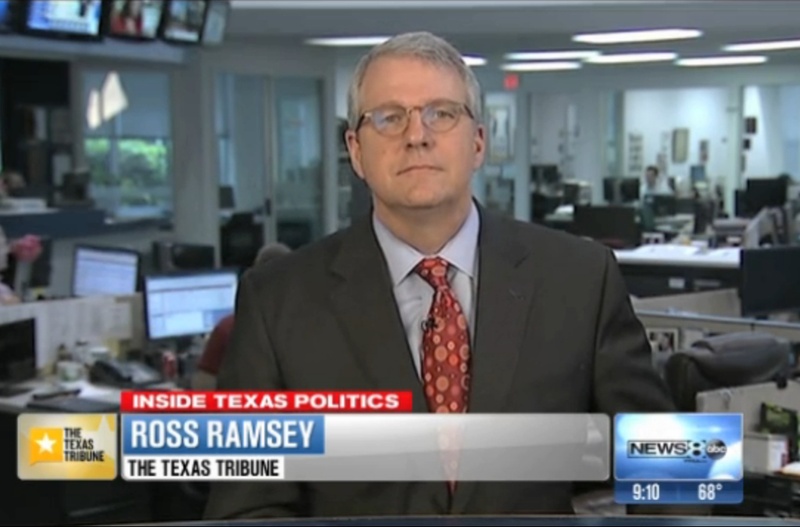 On this week's edition of WFAA-TV's Inside Texas Politics, I talked with host Jason Whitely and the Fort Worth Star-Telegram's Bud Kennedy about incumbent David Dewhurst's prospects in the May 27 runoff against state Sen. Dan Patrick, R-Houston, for the lieutenant governor seat. We talked about Dewhurst's ad last week, highlighting Patrick's name change and past financial difficulties, about whether putting TV ad buys behind it might move some voters, and about longtime Dewhurst ally Texans for Lawsuit Reform's shift to his opponent.
Patrick's debate on immigration with San Antonio Mayor Julián Castro, with his apparent move to the middle on that issue and Dewhurst's absence from the picture, was part of the conversation.
Also: Jason and Bud got the insiders' take from Matt Mackowiak and Jason Stanford, Republican and Democratic consultants, respectively; Dallas-area white collar defense attorney Victor Vital talked with Jason about the grand jury investigation of Gov. Rick Perry and explained how that process works; opinions pieces on pre-K schooling for Texas children and that standoff between the feds and Nevada rancher Cliven Bundy; and Kathleen Sebelius' resignation as health and human services secretary may explain why being thrown under the bus is covered under Obamacare.
The Texas Tribune thanks its sponsors. Become one.