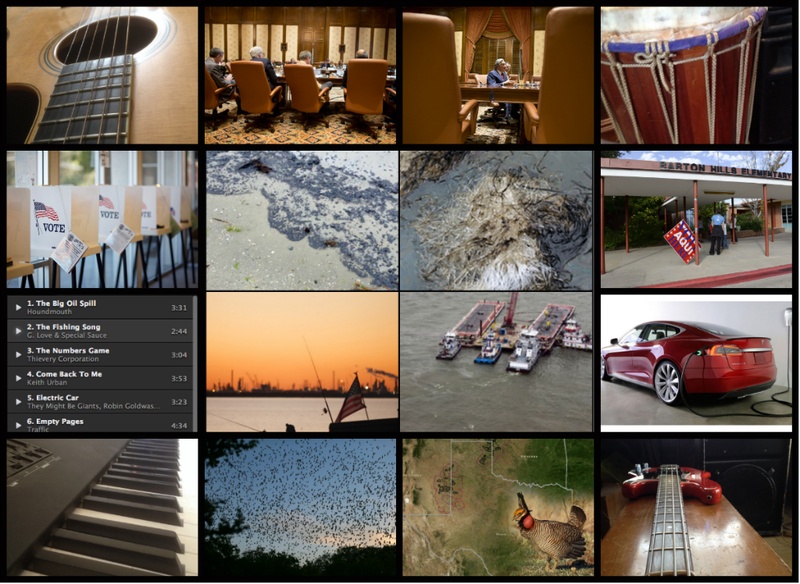 Following a spill of thousands of gallons of fuel oil into Galveston Bay, we decided to start this week's playlist of songs inspired by Texas news with Houndmouth's "The Big Oil Spill."
The easiest way to enjoy the playlist is to download Spotify, which is a free program. But even without it, you can still follow along. Here are this week's other selections:
The spill has scientists and fishermen worrying about the fishing industry, so we also have "The Fishing Song" by G. Love & Special Sauce. That's followed by Thievery Corporation's "The Numbers Game," which was added because of the past week's efforts to get Affordable Care Act enrollment totals up.
As the Trib's Ross Ramsey noted, a handful of candidates seeking election this year are trying to win the favor of some of the same voters who previously voted them out of office, so we added "Come Back to Me" by Keith Urban. Then we have They Might Be Giants and Robin Goldwasser singing "Electric Car," in light of a secret meeting between executives with the electric carmaker Tesla Motors and government officials in San Antonio
The Texas Tribune thanks its sponsors. Become one.
The University of Texas System provided reporters more than 2,000 pages of documents for inspection this week, but they were so heavily redacted that they inspired the addition to the playlist of Traffic's "Empty Pages." What they did reveal, however, was mounting frustrations and divisions within the UT community, so we also added Todd Snider's "Tension."
The mayors of Houston, Dallas, and Fort Worth announced their support of a high-speed rail line between Houston and Dallas, so we included "Fast Train" by April Wine. And because of concerns about a disease that has decimated bat colonies in the Northeast and Midwest heading toward Texas, we also have "Your Bats" by The Flaming Lips.
And finally, we close with Michael Jackson's "Threatened," which is also how the U.S. Fish and Wildlife Service decided to list the lesser prairie chicken under the Endangered Species Act this week.
Enjoy!