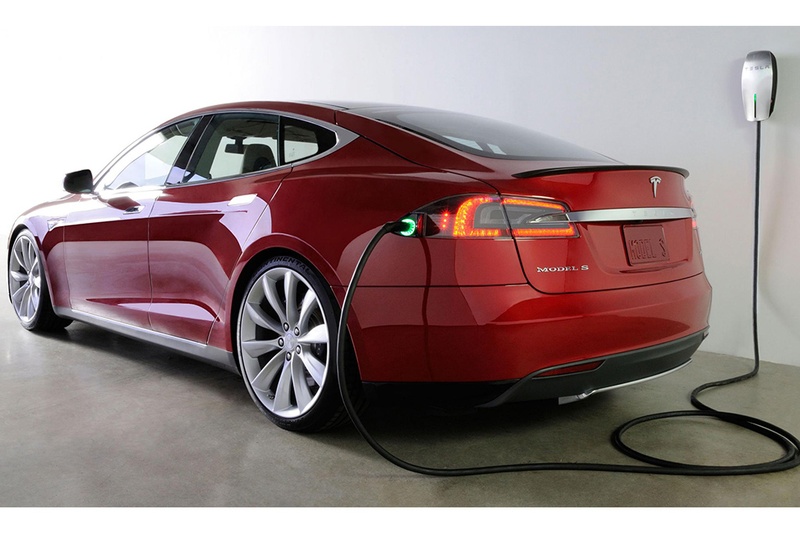 The Big Conversation
Executives with the electric carmaker Tesla Motors met on Wednesday with government officials in San Antonio, according to the San Antonio Express-News, a development sure to spur further talk about Texas' odds of landing the company's $5 billion battery plant.
The Express-News' Josh Baugh and Greg Jefferson quoted an unnamed source who said that after the secret meeting, "It appears San Antonio is back in the game for the project." The meeting comes a day after San Antonio Mayor Julián Castro took to social media to push changes in state law to make it easier for Tesla to sell its cars in Texas.
Tesla cannot sell its cars directly to consumers in this state because of existing laws protecting auto dealerships, as reported by the Tribune's Jim Malewitz. Gov. Rick Perry kickstarted a simmering debate early this week when he suggested in an interview with the Fox Business channel those laws "are antiquated protections" that should be revisited. A Perry spokeswoman clarified later in the week that Perry did not intend to call a special session to address the dealership protections.
Baugh and Jefferson wrote that it was "unclear" whether a lack of action on the dealership question would hurt the Alamo City's bid for the battery factory. They noted that lawmakers in Arizona, another state competing for the plant, are looking at ways to allow Tesla to sell cars directly to customers.
The Day Ahead
• TribLive goes to Texas A&M University in College Station for a conversation with Sen. Charles Schwertner and Reps. John Raney and Kyle Kacal. We will livestream the event beginning at 12 p.m.

• Lt. Gov. David Dewhurst is in Houston to make a lunch hour appearance at the Houston Downtown Pachyderm Club Meeting.
• The House Business and Industry Committee will hold an interim hearing at 10 a.m. in the Capitol Extension to discuss the state of the Texas economy and to hear about the impact of credit card data theft on consumers and businesses. (agenda)
Today in the Trib
Bill White: The TT Interview: "The former Houston mayor and past Democratic candidate for governor talks about his new book, a history of federal debt spending and the future of the Democratic Party in Texas."
Extension Isn't Altering ACA Enrollment Strategies: "Health reform advocates in Texas say they will continue to focus on enrolling individuals in the federal health insurance marketplace by the original Monday deadline despite an extension for certain applications that was announced this week."
Changes at Alamo Colleges Prompt Accreditor's Questions: "The accrediting body for four of the colleges in Alamo Community College District has raised questions about plans for a new mandatory 'Learning Frameworks' course designed to better prepare students for the workforce."
Must-Read
Ralph Hall, the oldest man in Congress, may be on the verge of defeat, The Washington Post
Texas gubernatorial candidate Sen. Wendy Davis touts equal pay during El Paso stop, El Paso Times
Legislation would give Border Patrol more oversight, San Antonio Express-News
Algebra 2 importance overstated, Texas higher education chief says, Austin American-Statesman
Texas improves school funding but still trails most states, The Dallas Morning News
Spilled oil may bring stiff penalties for company, Houston Chronicle
Channel traffic slows to a crawl after spill, Houston Chronicle
Quote to Note
"We have sort of code of conduct and honor in our delegation that we stick together, and Ralph's one of our dearest members, and it'd be tragic to see him lose what could be his last election."
— U.S. Rep. Michael McCaul, R-Austin, on Texas House Republicans rallying to help U.S. Rep. Ralph Hall, R-Rockwall, win re-election
Trib Events for the Calendar
• A Conversation With Mike Collier, Candidate for State Comptroller at the Austin Club, 4/17
• A Conversation With Rep. Dan Branch, Candidate for Attorney General at the Austin Club, 5/8
• A Conversation with U.S. Rep. Mike Conaway at Midland College in Midland, 5/13
• A Conversation With Steve Patterson, UT Men's Athletic Director at the Austin Club, 5/15
• Save the date for the 2014 Texas Tribune Festival: 9/19-9/21