Dewhurst to Again Appear at Lt. Gov. Debate Solo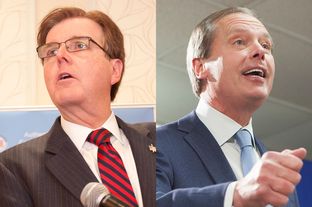 Enlarge
Daniel Kramer / Michael Stravato
After refusing to participate in a closed-door debate in the Houston area on Tuesday, Republican lieutenant governor candidate Dan Patrick will miss a chance Thursday to publicly face his May runoff opponent, Lt. Gov. David Dewhurst, because of a scheduling conflict.
Patrick on Monday withdrew in protest from the Houston forum because its organizers declined to open it to news outlets. Dewhurst appeared alone at the Tuesday forum. He will do that again Thursday, his campaign confirmed, this time at a public luncheon debate organized by the Arlington Republican Women. Patrick will not attend the event, consultant Allen Blakemore said, because he is set to appear with former Arkansas Gov. Mike Huckabee that evening in Austin at a Texas Center For Defense of Life dinner.
Arlington Republican Women Vice President of Programs Barbara Nash confirmed both candidates had been invited to attend the Thursday event. Anticipating a runoff, Nash said she made Patrick's campaign aware before the March 4 primary of the club's interest in hosting a debate.
The pair will have a third opportunity to debate, this one staged by the Republican Women of Kerr County, on Friday in Kerrville. Both campaigns have confirmed they will attend the event, which will be open to news outlets.
The C-Club, a Houston-based conservative advocacy group that focuses on fiscal issues, hosted the Tuesday event at the River Oaks Country Club.
C-Club President David Peacock told the Tribune on Monday that the debate remained behind closed doors after Patrick called to open it because of a lack of space at the venue. Peacock also said that both candidates were told the debate would be private when they accepted their invitations.
Patrick said he objected to holding debates among major candidates for statewide office in private in a statement released by his campaign when he withdrew. In the same statement, Blakemore took responsibility for the mixup, saying that the campaign had "failed to discuss the ground rules for press access" when they accepted the invitation.