Patrick Knocks Dewhurst for Leaving Finance Chair Empty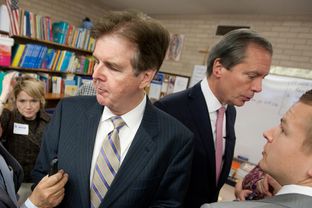 Lt. Gov. David Dewhurst fielded an attack Monday from state Sen. Dan Patrick for failing to appoint a new chairman of the Senate Finance Committee.
Patrick, R-Houston, said the delay has prevented the committee from tackling the work it needs to do before the 2015 legislative session. He is challenging Dewhurst in the March Republican primary along with two other candidates.
"The Finance Committee conducts important business during the interim. Their work is critical in the Texas Senate and at this point, we have not met and we don't even have a chairman," Patrick said in a public statement.
The chairmanship was filled until October by state Sen. Tommy Williams, R-The Woodlands. Williams, who resigned, now works as a vice chancellor of government relations for the Texas A&M University system.
When contacted by the Tribune, Dewhurst spokesman Andrew Barlow said that the lieutenant governor's office was "being deliberate in the process of replacing" the committee chairmanships that would be affected by the 2014 elections.
In his statement, Patrick named his own pick for the job: state Sen. Jane Nelson, R-Flower Mound. Nelson currently serves as chairwoman of the Senate Health and Human Services Committee.
"Senator Jane Nelson is a proven conservative leader with substantial experience in the Senate. The Texas Senate needs her leadership and history is ready for the first female Finance Chairwoman," he said.
Patrick, who serves as the chairman of the Senate Education Committee, also criticized Dewhurst for not yet approving interim charges for his committee.
Determining the charges, which dictate the topics Senate committees will study before 2015 session, is part of the lieutenant governor's duties. Dewhurst began announcing his charges in mid-November. So far those have covered policy in areas including patent troll litigation, the costs of federal health care reform, data surveillance, border security and criminal justice.
Barlow said Monday that the lieutenant governor was set to detail his education-related priorities in a Thursday speech in Dallas at a United Negro College Fund event.