TribWeek: Top Texas News for the Week of 6/10/13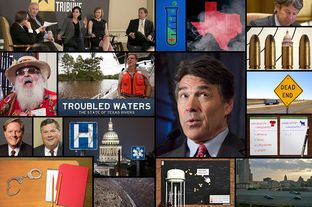 After a relatively calm regular session, Gov. Rick Perry is flexing his partisan muscles as the special session presses on. Redistricting and abortion-related issues are ratcheting up tensions.
A second University of Texas System regent has lashed out at fellow Regent Wallace Hall, following Hall's latest request for information from the University of Texas at Austin.
With legislation to ban smoking in public workplaces failing for the fourth legislative session in a row, proponents and critics say they are ready for another face-off in 2015.
The 2014 election cycle is shaping up as a busy one, with open seats across the statewide ballot. Republicans are lining up fast for those spots, but so far, the Democratic side of the ballot is empty.
The Legislature's top budget writers have penned a letter to The Wall Street Journal questioning the figures in a recent editorial that urged Gov. Rick Perry to veto the state budget.
U.S. Rep. Pete Gallego, D-Alpine, is asking the state comptroller to update a study on the fiscal impact of Texas' population of undocumented immigrants.
A complaint being filed with the U.S. Department of Justice seeks to declare that a Dallas County court's process of prosecuting truancy as a crime is unconstitutional. But officials in the county say the initiative has been a model of success.
Here's full video of Thursday's TribLive conversation about Texas Monthly's list of the Best and Worst Legislators, with Paul Burka, Erica Grieder, Sonia Smith and Brian D. Sweany.
The federal government has approved 1,100 experimental projects that could transform health care delivery to the state's poor and uninsured. But the plan has a big catch: Local health care entities have to pony up to get the federal dollars.
As the drought continues to blanket most of the state, demands for water are increasing from a growing population and industrial base. These pressures are squeezing Texas waterways, whose average streamflow remains well below normal.
Texas Tribune donors or members may be quoted or mentioned in our stories, or may be the subject of them. For a complete list of contributors, click here.