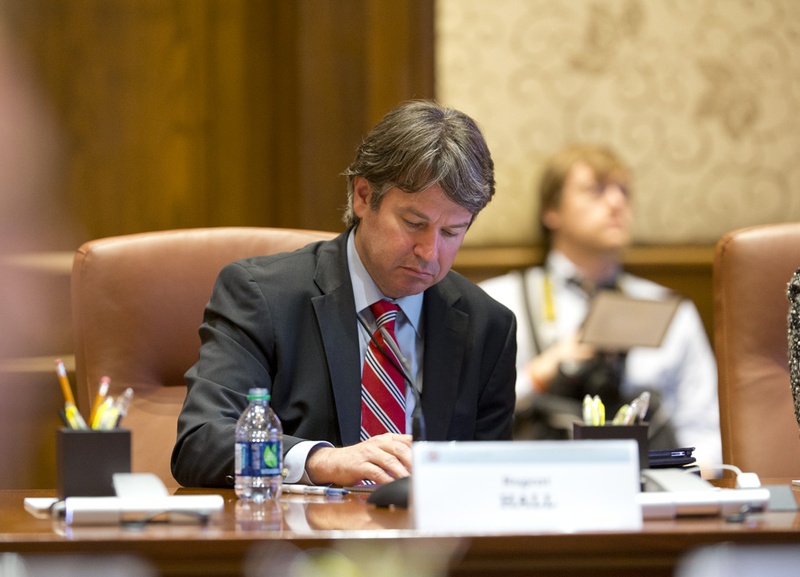 Updated, 9:35 p.m.
A second University of Texas System regent has lashed out at fellow Regent Wallace Hall, following Hall's latest request for information from the University of Texas at Austin. In an email to Gene Powell, the chairman of the UT System board, Regent Bobby Stilwell wrote that he endorsed the views expressed earlier in the day by Regent Steve Hicks, who called Hall's actions of late "an abuse of power."
Here is the full text of Stillwell's email to Powell, which was also sent to Hicks, Vice Chairman Paul Foster, Chancellor Francisco Cigarroa and General Counsel Francie Frederick:
Steve Hicks is correct, he and I have discussed this matter and others like it. I share his concerns and endorse his views. One aspect of the matter that has concerned me is our continued public reliance on "fiduciary duty " as an excuse for most anything and everything. I have practiced corporate law 50 years and have dealt with fiduciary duty cases and issues many, many times in advising corporate boards and directors. There is nothing in the fiduciary duty law or lore that trumps abuse of power or authority or excuses poor governance practices. Common sense, good judgment, discretion, fairness and a level playing field will ALWAYS prevail. There is similarly no excuse or cover provided for personal agendas or vindictive actions. The other thing we have consistently and wrongly relied on is the need for " transparency" as our motivation for most anything and everything. In my experience, transparency is typically invoked by a person against the opponent, without regard to whether that person has the same devotion to the principle in his or her own dealings.
In our context, and going back to the beginnings of this whole mess, how " transparent " was dropping Rick O ' Donnell in our midst to carry out his long-planned agenda? That seemed pretty sneaky at the time, at least to me. Little did I know what else was to follow.
I think we all deserve better than what is happening. For better or worse, we are all affected as Regents and as a Board by official ( or even unofficial ) actions by each one of us. Often that can be reflected glory. But not always.
We can and should do better. It is really not that hard.
Regards,
Bobby Stillwell
Updated, 6 p.m.:
University of Texas System Regent Steve Hicks told the Tribune he was disappointed in the response he received from Gene Powell, the chairman of the UT System board, regarding whether Powell could stop what Hicks characterized as "divisive actions" by a fellow regent.
Regent Wallace Hall has continued to ask for significant amounts of information from the University of Texas at Austin administration. The requests come despite legislators' clearly conveyed objections to what some of them have called a "witch hunt," believing Hall's objective is to find grounds to oust UT-Austin President Bill Powers.
"Is there any action that you as Chairman can take to put a stop to this witch hunt?" Hicks asked Powell in an email on Tuesday.
Powell did not answer that question directly, but replied to Hicks with a note explaining that the board office tracks and monitors all regents' requests of universities.
"Part of the updates I receive is a continuous review of all procedures to be sure that the laws of the State of Texas and the Regents' Rules are being followed," Powell wrote, adding that he had received assurances from the board's general counsel that "none of Regent Hall's new requests are in violation of law or policy."
Hall's requests for information have caused a strain between the system and its flagship university recently, prompting the system's general counsel to issue assurances in April that all future requests by the board or individual members would be processed through the system chancellor's office.
Hall's recent requests — which include "emails, documents, notes, post-it notes, and memoranda" from Powers' office regarding the university, its law school, a foundation that supports the law school, or the board of regents — have been funneled through the system. But he has also filed them directly with the university as a private citizen under the Texas Public Information Act.
Even in the requests made as a citizen, which were obtained by the Tribune through a request of its own, Hall appears to assert his privileges as a regent. He closes one request, which he sent to the university on June 6, by saying, "Because this request is made on behalf of a member of the UT System Board of Regents, we ask that you waive the assessment and collection of fees, if any, associated with responding to the request."
Original Story:
Over the objections of legislators, University of Texas System Regent Wallace Hall has added to his requests of large amounts of information from the system's flagship university, prompting one of his fellow board members to label Hall's actions a "witch hunt" and to ask the board's chairman to step in.
In an email obtained by The Texas Tribune, UT Regent Steve Hicks wrote to Board Chairman Gene Powell on Tuesday after getting a notification from the Board of Regents' general counsel Monday that Hall, using his privileges as a regent, had made three records requests of the University of Texas at Austin through the system chancellor's office. On Friday, Hall had filed the same requests as a private citizen under the state's open records laws, according to that notification.

Expressing his frustration with Hall's requests, Hicks wrote to Powell, "Is there any action that you as Chairman can take to put a stop to this witch hunt?" Hicks added that he feels what Hall is doing constitutes "an abuse of power."
"This is the first I've heard of Regent Hicks' email, but it is inconceivable to me how a request for transparency for legitimate board purposes is an abuse of power," Hall said in a text message to the Tribune.
Powell did not immediately respond to a request to comment.
Through the system, Hall asked for copies of all materials relating to open records requests regarding the University of Texas at Austin School of Law and the University of Texas Law School Foundation since 2010. The manner in which the latter used to supplement salaries of faculty at the former has been an ongoing subject of board discussion.
Hall also requested all emails from UT-Austin President Bill Powers or his deputy, Nancy Brazzil, regarding the university, the law school, the law school foundation or the board of regents sent to any Texas elected officials, trustees of the law school foundation or leaders of the Texas Coalition for Excellence in Higher Education, a group that has opposed certain actions of the board.
Hall had previously requested dozens of boxes of information from the university, and his requests caught the attention of lawmakers during the recently concluded legislative session.
In an email to the Tribune in May, Hall said of complaints by lawmakers, "I appreciate they have a job to do, and while they may not always understand our role, we are doing our best to fulfill our obligations to the students, our institutions and the people of Texas."
In his email to Powell, Hicks wrote that Hall's actions are intended "to discredit the leadership of our flagship institution." Hicks noted that he had spoken with fellow regents Paul Foster and Bobby Stillwell, who he said expressed similar concerns. Foster, currently a vice chairman of the board, is widely believed to be in line for its chairmanship.
Hicks cited legislators' desire to see such behavior stop. Leaving lawmakers' warnings unheeded, Hicks argued, "reflects poorly on the Board as a whole and might lead to more actions to limit our authority in the future."
The phrase "witch hunt" isn't new to the debate over records requests. House Appropriations Chairman Jim Pitts, R-Waxahachie, has used it to describe the actions of some UT System board members. Pitts added language to the budget creating restrictions on how the UT System board can use state money and requiring them to notify the Legislative Budget Board in advance of launching any investigations.
In the upper chamber, the Senate Nominations Committee grilled Foster, who was reappointed to another term on the board by Gov. Rick Perry, about the extent to which his fellow regents were digging into UT-Austin. Foster said: "I think in limited situations it's healthy. I think at the level that has taken place, it's unhealthy."
Texas Tribune donors or members may be quoted or mentioned in our stories, or may be the subject of them. For a complete list of contributors, click here.
Reference Material