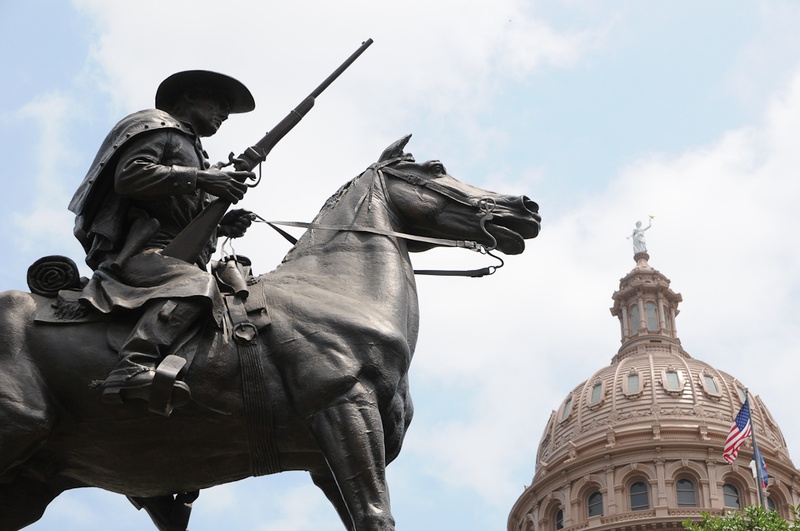 Lawyers for the Sons of Confederate Veterans have filed a motion in a state district court seeking to remove a plaque in the Texas Supreme Court building that the historical group says inadequately honors the Confederacy.
Fanning the flames of a decade-long battle with the state, the Confederate veterans group argues that the state has not gone through the appropriate channels to dedicate the plaque, which in 2000, under then-Gov. George W. Bush, replaced an older plaque that more overtly praised Confederate soldiers.
"This is on behalf on all of Texas — this is not just a Sons of Confederate Veterans issue," said Kirk Lyons, the group's lawyer. "We have an unresponsive government that doesn't care about the rule of law."
Citing a legal technicality requiring the state to register the plaque through the Texas Historical Commission, Lyons said it remains there "contrary to law."
The Texas Tribune thanks its sponsors. Become one.
Lyons — who has been called a "white supremacist lawyer" by the Southern Poverty Law Center, a nonprofit civil rights organization, a label he hotly rejects — also called for the reinstatement of the original dedication plaque installed in the 1960s that features the Confederate seal.
The new plaque in question reads, "Because this building was built with monies from the Confederate Pension fund it was, at that time, designated as a memorial to the Texans who served the Confederacy."
State Sen. Rodney Ellis, D-Houston, a longtime critic of the plaques, said the state has done enough to honor its Confederate legacy. "I believe Texas has been more than responsive to the Sons of Confederate Veterans," Ellis said in an email. "There are more than enough monuments [in] defense of slavery. How many more do they need?"
The Capitol complex contains more than a dozen monuments, markers and statues that overtly allude to the Confederacy, according to the State Preservation Board.
Debbi Head, spokeswoman for the Texas Historical Commission said no official application process is required by law but that "if we were to receive a request, [the content] would be considered."
The Confederate group has repeatedly clashed with the state over the plaques at the Capitol. Last May, the group attempted to install a historical marker at the Supreme Court building, but Lyons said the application was rejected on "bogus" grounds.
The Texas Tribune thanks its sponsors. Become one.
"The Historical Commission wet their pants when they had all the black legislators calling them," he said.
Ellis said that the plaques should be removed and replaced with nothing.
"They need to go see the movie Lincoln," he said. "I will go with them."
Texas Tribune donors or members may be quoted or mentioned in our stories, or may be the subject of them. For a complete list of contributors, click here.