In State Politics, Outsiders Become Insiders in January
Getting elected takes a particular set of skills, governing another. And some members of the incoming freshman legislative class have no experience running things.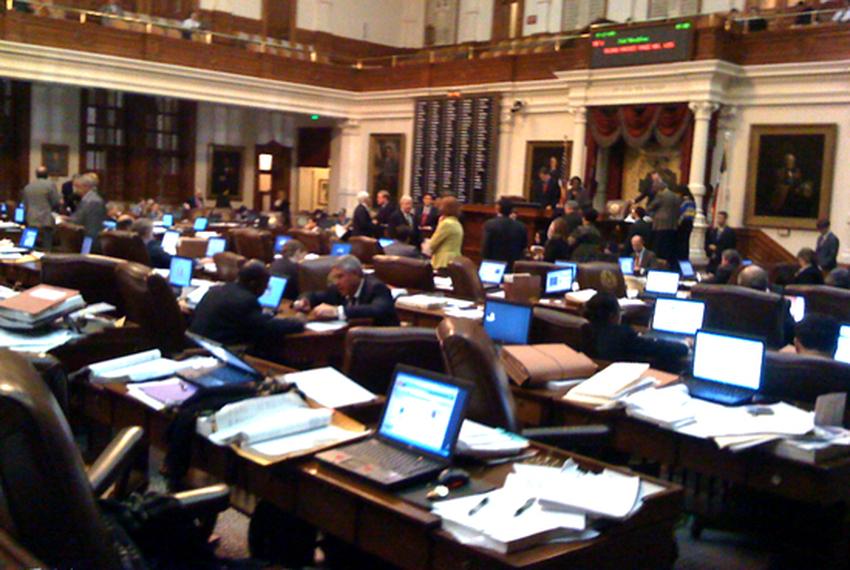 Many of the state's incoming legislators campaigned against government — or the federal government, anyway. They picked up themes that worked in recent campaigns at the top of the ballot, from Ted Cruz's beheading of Lt. Gov. David Dewhurst in this year's U.S. Senate primary to Gov. Rick Perry's win over Sen. Kay Bailey Hutchison in the 2010 Republican primary for governor.
Now they will be part of the government they complained about on the campaign trail.
Drew Darby was on the San Angelo City Council before he came to Austin as a legislator. He says that experience in local politics shaped what he does now. He has met some of the Republicans who have been elected this year — or are on their way to getting elected — and says that now they must govern as well as they campaigned.
"'No' is not a solution," Darby said.
He is talking about activist candidates elected to the House so far this year. At least 40 incumbents are not coming back, either because they decided to do something else or because the voters made that decision for them.
The replacements who have been elected — or appear headed that way — include a mix of people who have served on local city councils or school boards or some other public bodies, and people who have never sat in the big leather chairs reserved for the decision-makers.
Remember Lanham Lyne? He is a former mayor of Wichita Falls who was elected to the Texas House as a Republican in 2010. Lyne got all the government in Austin that he could stand in just one session and will not run again. Talking about his experience during last year's legislative session, he said too many decisions were based on partisan positions and did not involve any discussions of the strengths and weaknesses of a particular idea or policy. There was a lot of what he called "petty, kindergarten behavior."
He did not like the long fights that preceded known outcomes — like a 12-hour debate over a voter ID bill that everyone knew would pass easily. He did not like being told that was just the way things were and that, as a freshman, he did not understand.
And all that was before this election season was under way.
Some Republican candidates ran with "Tea Party Approved" stamps on their campaign websites this year. The post-election analyses in the Republican primaries depended on which pundit was talking, but a fair number credited the results to an anti-establishment, conservative wave that was hard on people who had been labeled either moderates or career politicians.
A few of the primary winners still have races ahead, but most do not. So they have been gathering — with other lawmakers or activists or lobbyists or others — to talk or to raise money or to get oriented about some of the things they will face when they take office in January.
The Drew Darbys of the political world are advising them to change gears. "You're no longer an outsider," he tells them. "You're now a part of the structure."
Republican primary voters in the state's most conservative areas — like Collin and Tarrant counties, to name a couple — sent very conservative candidates to Austin. Nothing wrong with that; they are probably representative of those voters. But they will have to face everyone when they get home after their first session, and some of the people who elected them might be joined by people who did not vote last time and who want to be represented, too.
Darby, a lawyer and owner of a title company, was elected to the House in 2006, having served on the City Council and on San Angelo's water advisory board. It trained him, before he got to Austin, in the face-to-face politics of getting stopped at the grocery store and questioned about a vote on the hot issue of the moment.
The current Texas Senate includes four former mayors who all turn out to be decent deal-makers. Senators who served in the House start with an advantage in getting their bills passed in both places. Getting elected is the first thing, but will not keep the freshmen in office, Darby said.
"In the end, they're going to have to vote their district," he said. "In the end, they're going to have to get some things done."
Texas Tribune donors or members may be quoted or mentioned in our stories, or may be the subject of them. For a complete list of contributors, click here.
Support public-service journalism that's always free to read.
It's been a busy year. Through it all, The Texas Tribune's journalists have not missed a beat. And with redistricting starting in earnest next week and the 2022 elections on the horizon, we know our journalism will continue to be fundamental for Texans everywhere. Support our work today so we can be there for you in 2022 and for whatever else 2021 might throw at us.
Yes, I'll donate today