TribWeek: Top Texas News for the Week of 10/3/11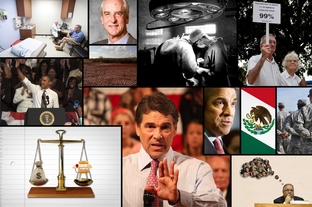 Following allegations about a racial slur on land his family leased for hunting, Gov. Rick Perry's critics are dissecting his history with race — from his early campaign ads to his defense of Confederate symbols.
Gov. Rick Perry, still bedeviled by critics, may be looking to turn the conversation back to the economy, but as Ben Philpott of KUT News and the Tribune reports, Perry has yet to unveil a detailed plan on how to get America working again.
President Barack Obama delivered an impassioned defense of his jobs plan in Mesquite — Perry territory — along with some strong rhetoric against his GOP critics.
Gov. Rick Perry's suggestion he might be in favor of sending the U.S. military into Mexico to quell cartel-related violence elicited a variety of reactions, from outright dismissal to praise that he had brought the issue to the forefront of the presidential campaign.
As the U.S. grapples with rising health care costs and a system that rewards doctors and hospitals for how sick their patients get, not how healthy they become, Texas providers are experimenting with new payment and care delivery models.
The lawsuits over public education funding that are currently taking shape will be the latest in a long history of court intervention in Texas' school finance system. But how much can the judiciary do to fix it?
Use our interactive to understand the budget hole federal lawmakers have dug by not updating the Medicare funding formula, Texas physicians' response to the problem, and the cost of varied proposals to fix it.
Next month, Texans will go to the polls to decide whether to authorize $6 billion in bonding authority dedicated to building and fixing water infrastructure. But some conservatives and Tea Party members have concerns about the measure.
After an emotional day in court, Michael Morton left prison today, almost 25 years after he was convicted of murdering his wife. His release came after prosecutors agreed his conviction should be overturned based on the results of recent DNA testing.
The concept of crowdsourcing — soliciting information from a wide range of people responding to an open call over the internet — could play a significant role in the way Texas lawmakers handle a key issue next session.
Texas Tribune donors or members may be quoted or mentioned in our stories, or may be the subject of them. For a complete list of contributors, click here.