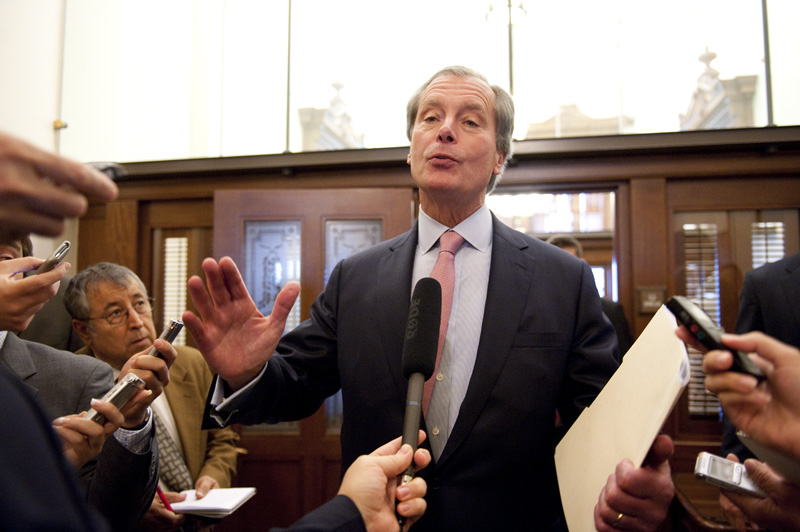 Lt. Gov. David Dewhurst dribbled out his U.S. Senate announcement Tuesday, letting a preview for a relatively small group of supporters and activists slip into wide circulation on the internet before his campaign geared up for a big public show later in the week.
He is seeking the Republican nomination for the seat now held by U.S. Sen. Kay Bailey Hutchison, who isn't seeking re-election in 2012. He sent a video announcement to early campaign supporters late Tuesday, telling them that they'd be reading about his candidacy in the morning papers. But that video was on YouTube, and the political media had reported the news and posted the announcement before his bigger rollout to a wider audience later in the week.
Supporters and the curious who went to find out more at his campaign website got just what they'd have seen last week: a quiet storefront for a lieutenant governor, and a blog with the most recent entry, on July 14, on legislative highlights. It turns out he's got a new version but hadn't flipped the switch to send visitors to the new place from the old one.
He'll spread the word via the internet for now. He's already started calling supporters and potential donors to raise money for his federal race, and he's also invested an undisclosed amount of his own money to get things started. He'll save the first round of heavy public appearances and campaign stops for September, when more people are paying attention to politics.
The Texas Tribune thanks its sponsors. Become one.
His announcement ends a long period of speculation about what he might do next. With Gov. Rick Perry looking at a White House run, Dewhurst could potentially slide into the governor's office the same way Perry did when George W. Bush was elected. But the choice of the Senate run wasn't surprising. Dewhurst is a sitting lieutenant governor (a job he'll keep if he loses this race in 2012) and is wealthy enough to self-finance. Two Republicans — former Railroad Commissioner Michael Williams and former Texas Secretary of State Roger Williams — already dropped out of the Senate race to run for Congress.
Dewhurst is the joining a field that remains fairly crowded. Among those already in: former Texas Solicitor General Ted Cruz, Railroad Commissioner Elizabeth Ames Jones, former Dallas Mayor Tom Leppert and mortician Glenn Addison of Magnolia. State Sen. Dan Patrick, R-Houston, is thinking about it and says he'll decide by mid-August or so. On the Democratic side, retired Lt. Gen. Ricardo Sanchez of San Antonio has filed papers. He was commander of the U.S. forces in Iraq during a period that included the Abu Ghraib scandal. He was cleared of wrongdoing, but it will likely be a topic of conversation in a Senate race if he's the Democratic nominee.
Leppert was the first to comment officially on the announcement, calling Dewhurst a career politician and himself the businessman in the race (that's a turn on a favorite Dewhurst line about being the only statewide officeholder with business experience).
"It comes as little surprise to me that David Dewhurst has thrown his hat into the ring," Leppert said in a press release. "Like other career politicians, he has long expressed his interest in a host of higher offices, and I'm glad he has finally settled on the job he wants next."
Earlier in the day, Leppert told Politico that he thinks Dewhurst is the toughest of the opponents in the race.
Cruz has been the most visible, concentrating his efforts on high-profile endorsements and straw polls to stir up a base of conservative support he hopes will position him to the right of the other candidates.
The Texas Tribune thanks its sponsors. Become one.
In finance reports filed this week, Leppert had the most cash on hand, having personally contributed handsomely to his campaign. Cruz raised the most during the second quarter of the year. Dewhurst filed campaign papers Tuesday but won't have to report campaign finances until after the end of the third quarter, in October.
Dewhurst's announcement prompted Land Commissioner Jerry Patterson to confirm his candidacy late Tuesday night for the lieutenant governor's post in 2014. Agriculture Commissioner Todd Staples chimed in on Wednesday morning, praising Dewhurst and promoting his own candidacy for the lieutenant governor post.
Texas Tribune donors or members may be quoted or mentioned in our stories, or may be the subject of them. For a complete list of contributors, click here.