TribWeek: Top Texas News for the Week of June 20, 2011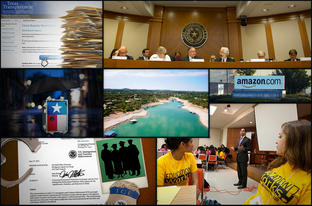 The Tribune counts down to the end of the special session with updates on where the major issues added to the agenda by Gov. Rick Perry stand.
The Legislature drew U.S. Rep. Lloyd Doggett a bad map again this year, so the veteran Democrat will run in the new CD-35 instead. But getting through March's Democratic primary could be a doozy: Doggett will face State Rep. Joaquin Castro, a 36-year-old rising star in his party who has politics in his DNA, and grew up in one of the San Antonio neighborhoods central to the new district.
Tearful testimony from students brought to the country illegally and a new ICE directive that stresses discretionary enforcement has raised more concerns over the state's pending "sanctuary cities" legislation.
Gov. Rick Perry's neon light promotion on the national stage of the $6 billion left in the Rainy Day Fund exposes a disconnect with the conservative lawmakers battling for his principles at home, where his party is working to divert negative public sentiment about the deep budget reductions.
Lawmakers and consumer groups say special interests need to butt out of the battle over the Texas Windstorm Insurance Association.
Strategists say the longer lawmakers stay in town, the more time Gov. Rick Perry has to show off his conservative credentials and appeal to a crucial bloc that could propel him into a national race: Republican primary voters.
The long-term future of two key lakes that supply water to Austin and other growing cities as well as to rice farmers a few hundred miles down the Colorado River near the Gulf of Mexico is in play. A 10-year plan for the lakes' future is currently being formulated, and it has brought out passionate arguments on all sides — particularly given the current drought.
In the wake of high-profile data breaches that left the personal information of millions of state workers exposed, state lawmakers are trying to strike a balance between promoting transparency and protecting records.
Lawmakers aren't buying Amazon's latest pitch for a sales tax break in Texas. But Rick Perry is.
Only 16 percent of Latino adults have an associate's degree or higher — compared to 33 percent of the total working-aged population in Texas. The national average is 38 percent.
Texas Tribune donors or members may be quoted or mentioned in our stories, or may be the subject of them. For a complete list of contributors, click here.