Doctor Legislation Raises Safety Concerns, Questions of Motive
Are Texas doctors hamstrung by unfounded complaints? Reps. Bill Zedler and Fred Brown think so. But the bills they've filed to address the issue are largely opposed by the state's biggest physician organization.
Are Texas doctors hamstrung by unfounded complaints? Reps. Bill Zedler and Fred Brown think so. They've filed bills that would make it tougher for the state Division of Workers' Compensation and the Texas Medical Board to keep physicians off the job who are anonymously — and perhaps wrongly — accused of misconduct.
But both seemingly doctor-friendly bills are opposed by the state's largest physician organization, which warns that, as written, they could jeopardize patient safety. And some health care observers have raised questions about the motivations of the key individuals backing the measures.
Zedler, R-Arlington, who previously has intervened on behalf of doctors under investigation by Workers' Compensation, has filed a bill that would give physicians removed or suspended from the division's Approved Doctor List an open door to get back on it. The bill would also apply to doctors suspended or punished by the Texas Medical Board.
Brown's Medical Board bill would make the process by which doctors are investigated more transparent — namely, by banning anonymous complaints. As currently filed, the bill would protect doctors who employ nontraditional prescription or treatment techniques, as long as the patient isn't in danger. The bill's key proponent is Dr. Steve Hotze, a Houston-area physician and major Republican campaign contributor who has built his career around alternative medicine, including natural hormone therapy, which has come under scrutiny by the U.S. Food and Drug Administration.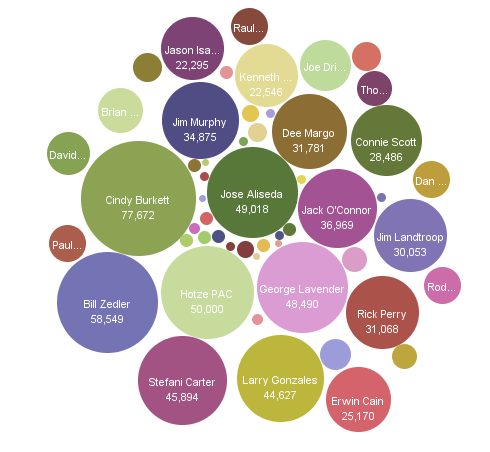 by Matt Stiles/Emily Ramshaw
Both Zedler and Brown, R-Bryan, say their proposed legislation is currently being revised to remove many of the most controversial elements. And the roughly 45,000-member Texas Medical Association says there are elements of both bills that it supports, from the elimination of confidential, anonymous complaints lodged by people other than patients, to a review process that would allow certain eligible doctors to get back on the workers' compensation doctor list.
"But the public needs to feel safe, needs to vent frustration, to whistle-blow on bad doctors," said Dr. David Teuscher, a Beaumont orthopedic surgeon and member of the TMA's Board of Trustees. "We think some of these provisions went way too far in favor of bad doctors."
Reinstating workers' comp doctors
Zedler's bill follows a Texas Tribune examination into his past involvement in cases before the Department of Insurance's Division of Workers' Compensation, as well as the lawmaker's use of his legislative authority at the end of his last term to obtain confidential records from the Medical Board. Zedler has long asserted that he was defending doctors who were being maligned by rival physicians and insurance companies, and who should never have been investigated by either board — both of which he has accused of having less-than-stellar complaint and investigation processes.
In an interview, Zedler said HB 3428 simply allows physicians removed from the Workers' Compensation Approved Doctor List an avenue to get back on. His bill, as written, opens the door for any physician booted or excluded from this list before September 2007 to treat patients who are seeking workers' compensation. In response to concerns, Zedler said he's now preparing substitute language that would make the Workers' Compensation Commission responsible for reviewing cases and deciding which doctors get reinstated.
Zedler said he filed the bill because past operations at the Division of Workers' Compensation were "pretty loose." At both Workers' Compensation and the Medical Board, he said, "there needs to be an objective standard to remove, or to discipline, a doctor." (The Texas Department of Insurance declined to comment on the bill.)
But Zedler's critics suggest he may have another motive: Of the five physicians Zedler obtained records on from the Medical Board in 2008, at least two were campaign contributors who gave him a combined $25,000. The doctors, who weren't his constituents, had been accused of "egregious" treatment violations such as injecting natural gas and jet fuel into patients to diagnose chemical sensitivities.
Dr. Bill Nemeth, the Workers' Compensation Division's former medical adviser, who has been highly critical of Zedler's involvement with such cases, sees the bill as an effort to invalidate all of the agency's previous work. "It's like he's trying to revert to aboriginal medicine," Nemeth said.
A push for transparency?
As for Brown, this isn't his first attempt to reform the Medical Board; he filed a similar bill last session but was unsuccessful in getting it passed. Brown's HB 1013 aims to ban all anonymous complaints and open up the process by which doctors are investigated, including setting statutes of limitations, providing doctors with details of the charges against them and giving them more time and legal remedies to respond or appeal.
In an interview, Brown said he's gotten tired of watching Texas doctors get pursued for minor infractions or crippled by long, drawn-out investigations based on anonymous complaints. "We want the Texas Medical Board to go after bad doctors," Brown said, "but we want it to be fair."
On the surface, the numbers don't seem to support Brown's concerns. Texas Medical Board data shows that in 2009, 43 percent of annual complaints were filed by a patient, and another 27 percent were filed by friends or family of the patient. Just 2 percent of complaints were listed as anonymous, and 1 percent were filed by insurance companies. In general, the Medical Association — whose own members are occasional targets of medical board complaints — thinks the state board is doing an effective job. "Doctors are human beings and can do the same type of stupid behavior everyone else can," Teuscher said. "If you look at the other health care licensing boards, the Medical Board is the only one doing the serious investigations."
As filed, Brown's bill also would ban the board from directing how a physician practices or prescribes so-called "non-therapeutic," or off-label, drugs and treatments — so long as the patient isn't in danger. Brown said the prescription provision, as well as several other controversial ones, will be removed altogether to meet his colleagues' concerns.
Health care observers say the bill mirrors the very public concerns of its biggest proponent, Hotze, who has built a lucrative practice in suburban Houston around nontraditional therapies and treatments for allergies, thyroid problems and yeast infections. He's best known for promoting natural progesterone replacement therapy for women, a treatment the FDA has questioned the effectiveness of. He also has a daily health and wellness show that airs on Republican Sen. Dan Patrick's Houston radio station, KSEV.
Hotze did not respond to requests for comment left with his office and with the political action committee he runs, Conservative Republicans of Texas.
Hotze contributed at least $60,000 personally and at least $640,000 via his PAC to GOP House and Senate candidates in the last election cycle (Brown received less than $2,000). In testimony before the House Public Health Committee last month, Hotze espoused the merits of alternative therapies, as well as the off-label prescribing that led the public to discover what else the medications now known as Rogaine and Viagra — both originally intended to treat high blood pressure — could be used for. "Our opponents have said this is all about snake oil. What they mean is these doctors use natural approaches to health," Hotze testified. "This is a turf war between conventional medicine and alternative natural approaches to health."
Hotze told lawmakers of his own experience several years ago when he wrote a book called "Hormones, Health and Happiness: A Natural Medical Formula for Rediscovering Youth," and then had three anonymous complaints filed against him. After a year and $100,000 in legal fees, he said, the complaints — which he believes were filed by jealous competitors — were dismissed. "Can you imagine if you had harassing and intimidating complaints and you had no idea who was filing them?" Hotze asked at the hearing, suggesting that many complaints are filed by insurance and pharmaceutical companies, disgruntled employees or even former spouses. "That's the way a physician feels."
Brown isn't the only lawmaker pushing the legislation. He's got 64 co-authors, 25 of whom also received support from Hotze or his PAC in the last election. One of them is Zedler, who received nearly $60,000 worth of web, phone and mailing services from Conservative Republicans of Texas. He's not on the Public Health Committee but he attended last month's hearing, drilling opponents of the measure with questions and offering his own observations about the Medical Board's complaint process.
"You have treatment by this current Medical Board that is nothing less than harassment, nothing less than … deals where they're being mistreated in a way that's reminiscent of a third world country," he said. "I wish they would take on the people who are really harming people."
Texas Tribune donors or members may be quoted or mentioned in our stories, or may be the subject of them. For a complete list of contributors, click here.
Texans need truth. Help us report it.
Independent Texas reporting needs your support. The Texas Tribune delivers fact-based journalism for Texans, by Texans — and our community of members, the readers who donate, make our work possible. Help us bring you and millions of others in-depth news and information. Will you support our nonprofit newsroom with a donation of any amount?
Yes, I'll donate today
---
Information about the authors
Explore related story topics