University of Texas/Texas Tribune Polls
UT/TT Poll: Texans Are Ready to Roll the Dice
A majority of the state's voters say they're ready for full-blown casino gambling, according to the latest University of Texas/Texas Tribune poll.
A majority of the state's voters say they're ready for full-blown casino gambling, according to the latest University of Texas/Texas Tribune poll.
In a range of questions on social and other issues, they say they support requiring voters to produce photo IDs, government aid to the poor, the death penalty and requiring doctors to show sonogram results to women seeking abortions.
"The thing that stands out here is that gambling has been consistent [in previous polling]," says pollster Jim Henson, who teaches government and runs the Texas Politics Project at UT. "Texans are not ideologically opposed to revenue increases."
The support for gaming has grown since we last asked the question a year ago. In the new survey, 56 percent say they would allow full casino gambling in Texas. Another 6 percent would expand it, but only to Indian reservations; 12 percent would allow an expansion only in existing locations (racetracks), and the rest would either leave the law alone, 11 percent, or ban gambling altogether, 8 percent. That's a combined "no" vote of 19 percent.
When we last checked with voters on this issue, in February 2010, casinos had the support of 40 percent of voters, and the combined leave it/ban it vote was 31 percent.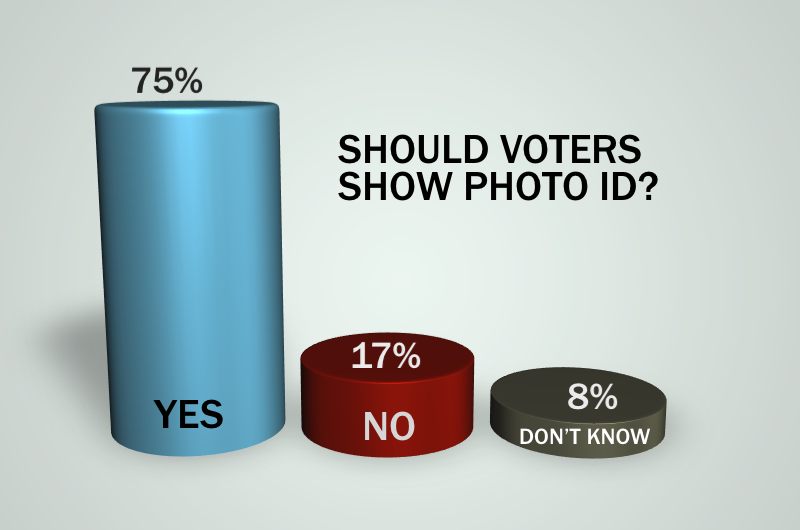 Legislators, faced with a budget shortfall of $15 billion to $27 billion, are expecting to see proposals for slot machines at race tracks to more liberal bingo laws to full casinos in the state's major cities and tourist areas on the coast. That sort of legislation requires constitutional amendments, which require two-thirds approval from both the House and the Senate and then approval from voters. Recent efforts to expand the state's gaming laws — bingo, horse and dog tracks, and the lottery are allowed now — have fallen short. But all of those existing forms were approved by legislators in the face of previous big budget shortfalls, which gives hopes to proponents this year.
An earlier part of the poll on the state budget found that 61 percent of Texans would support legalizing and taxing casinos as a way to balance the budget.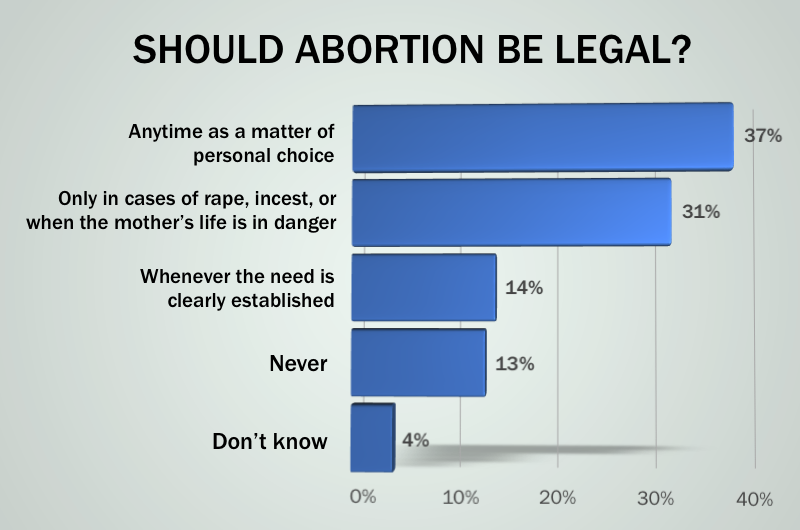 Support for requiring photo IDs for voters is overwhelming, with 75 percent in favor and 17 percent opposed. It's favored by virtually every subgroup in the survey: Republicans, independents and Democrats; whites, blacks and Hispanics; men and women; and urban, suburban and rural. Hispanics — one of the populations many fear would be disadvantaged by such a law — favor showing photo IDs by a 68 percent to 22 percent margin. Democrats favor it by a 58 to 32 percent split, independents by a 70 to 19 percent margin. The photo ID law is aimed at voter fraud; on a list of the most important problems facing the state, Texas voters put the voting system and electoral fraud at the bottom.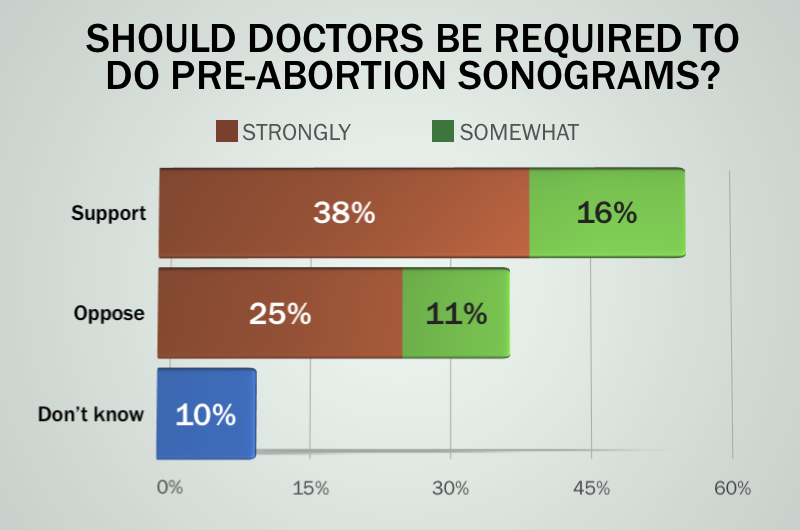 Texans are divided when asked under what conditions abortion should be legal, with 37 percent saying women should always be able to obtain abortions as a matter of personal choice. The next biggest group, at 31 percent, would allow abortions only in cases of rape, incest and when the life of the mother is in danger. Another 14 percent would allow abortions for other reasons but only after the need for the abortion has been clearly established. And 13 percent say state law should never permit abortions.
Republicans were most likely to approve of abortion only with the three exceptions. A majority of Democrats would make it a matter of personal choice. Hispanics, at 18 percent, were more likely than whites, 13 percent, or blacks, 8 percent, to say it should never be permitted.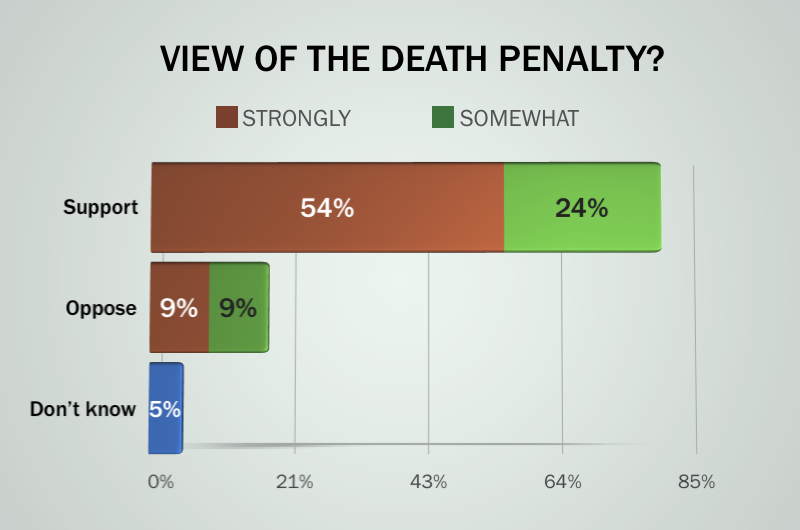 Requiring doctors to conduct sonograms and to make the pictures and sounds available to the women before performing abortions has the support of most Texans, with 54 percent in favor (including 38 percent strongly in favor) and 36 percent opposed (including 25 percent strongly opposed). It's favored by a majority of Republicans and independents and opposed by a majority of Democrats. Both men, at 56 percent, and women, at 53 percent, support the idea.
Republican politicians watching the influence of the Tea Party won't find much in social issues to worry about, says pollster Daron Shaw, a professor of government at UT. "The notion that the Tea Party is comprised of a bunch of social issues is overstated," he says. "Nothing appears to divide them from rank-and-file Republican voters on these issues."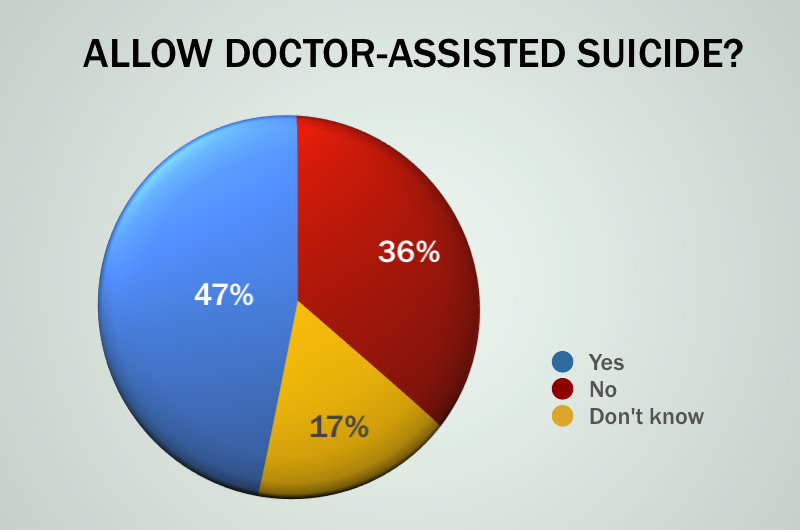 Support for capital punishment remains strong in Texas, with 78 percent in favor and only 18 percent against. Both Democrats and Republicans, churchgoers and non-churchgoers, voters in various ethnic groups, and men and women all favor it.
Physician-assisted suicide for people with terminal illnesses has the support of 47 percent of Texas voters, with 36 percent opposed and 17 percent undecided. Voters aged 65 and over were most opposed to the idea, with 45 percent in opposition; every other age group had more support than opposition for it. Those who attend church once a week or more were also opposed to the idea.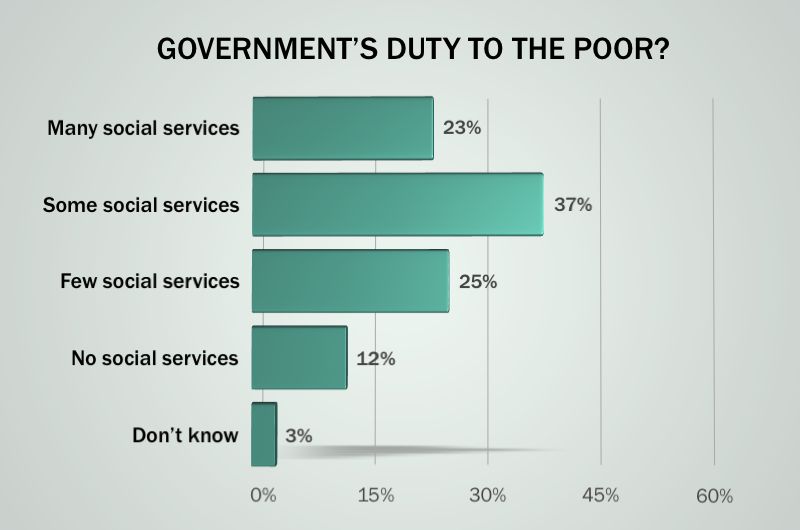 Ask Texans whether the government has a responsibility to provide social services for the poor and 12 percent say no. The rest are split, with 23 percent saying the government should supply many social services, 27 percent saying some social services and 25 percent saying few social services.
Pollsters also asked whether Texans want to take redistricting away from the governor and the Legislature and hand it over to an appointed independent commission. More like that notion than oppose it, but it doesn't have majority support: 44 percent would favor the change, 24 percent would oppose it, and 32 percent don't have an opinion. Democrats, who are out of power in state government, want to give the map-making to an independent panel. Republicans, who are in, don't. The independents are with the Democrats on this one.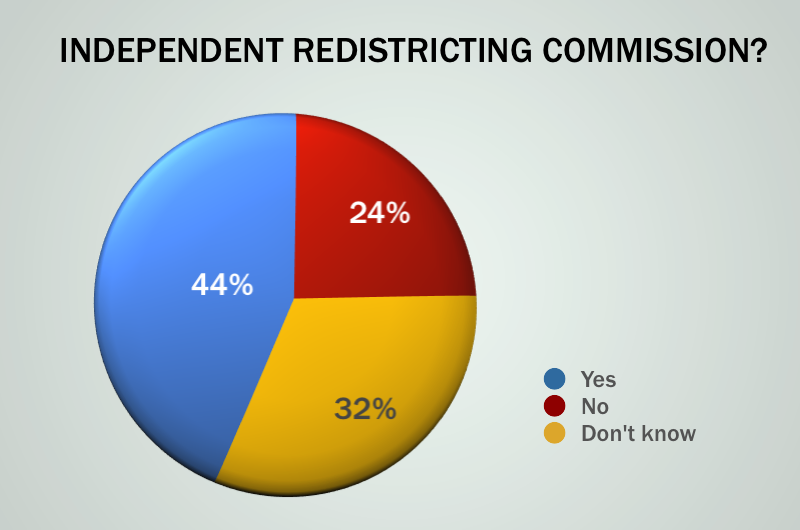 This University of Texas/Texas Tribune poll is an internet survey of 800 registered voters conducted Feb. 11-17 and has a margin of error of +/- 3.46 percent.
Coming tomorrow: A look at Texans' views on immigration.
Texas Tribune donors or members may be quoted or mentioned in our stories, or may be the subject of them. For a complete list of contributors, click here.
Texans need truth. Help us report it.
Independent Texas reporting needs your support. The Texas Tribune delivers fact-based journalism for Texans, by Texans — and our community of members, the readers who donate, make our work possible. Help us bring you and millions of others in-depth news and information. Will you support our nonprofit newsroom with a donation of any amount?
Yes, I'll donate today
---
Information about the authors
Explore related story topics