University of Texas/Texas Tribune Polls
UT/TT Poll: Voters Want Budget Cuts but Don't Like Options
By more than 2 to 1, Texas voters believe lawmakers should solve the state's shortfall by cutting the budget, according to the latest University of Texas/Texas Tribune poll, but they're divided on specific cuts.
By a margin of more than 2 to 1, Texas voters believe that lawmakers should solve the state's massive shortfall by cutting the budget, according to the latest University of Texas/Texas Tribune poll, but their enthusiasm dissipates when asked if they support specific cuts.
"We really want to slash the budget, but not anything in it," says pollster Daron Shaw, a professor of government at UT.
On a sliding scale of 0-10, poll respondents were asked whether they would prefer to balance the state's next budget through budget cuts, by raising revenues, or something in between. Only 4 percent proposed doing it all with new revenue, while 17 percent would do it all with budget cuts. Another 22 percent landed right in the middle. But the rest leaned more toward cuts than toward raising new money for the state government.
Still, when asked specifically what should be cut, voters were more divided. Given a list of things that could be cut to balance the budget and asked to check each that they'd consider, the voters were protective of state programs, and overwhelmingly so. They oppose cuts to public education, 82 percent; pre-kindergarten, 62 percent; state grants to college students, 73 percent; state contributions to teacher and state employee retirement programs, 69 percent; the Children's Health Insurance Program, 87 percent; to state environmental regulation that could be picked up by the federal government, 65 percent; cuts to Medicaid providers like doctors and hospitals, 86 percent; state funding for nursing home care, 90 percent; prisons for adults or for juveniles, both 67 percent; new highway construction, 63 percent; border security, 85 percent; or for closing four community colleges, 77 percent.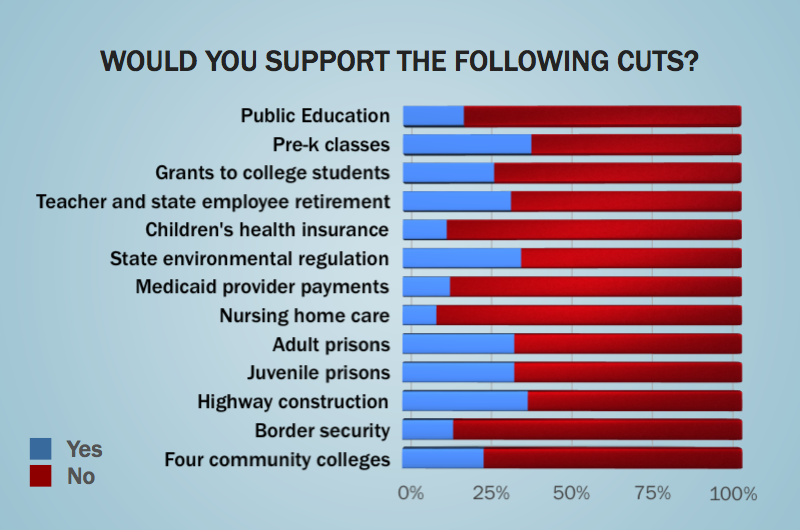 Many of the items on that list are among the prime cuts made in proposed budgets from the House, the Senate and the governor.
"Frankly, if you're assuming the results of the last election mean you should cut and that people meant government should completely go away, you're overreaching," says pollster Jim Henson, who teaches government and runs the Texas Politics Project at UT.
Republicans and independents were more likely than Democrats to prefer spending cuts over revenue increases. Men were more likely than women, and whites more likely than blacks and Hispanics, to lean toward cuts. Those trends were evident in the questions about specific cuts, too, but with only a few exceptions, each of those subgroups was against the specific cuts in the poll. Those who identified themselves as "strong Republicans" and "lean Republican" support cuts to pre-K classes, as do voters over 65. Republican-leaning independents would narrowly support cuts in public employee retirement plans. But the overwhelming result is the same in all groups: Support for specific cuts is dramatically lower than the general support for a smaller state government.
The poll explored some ways to raise money for state government and with a couple of exceptions, they're not popular, either. A majority — 61 percent — would support legalizing and taxing casinos. A smaller majority — 52 percent — would support higher taxes on alcoholic beverages.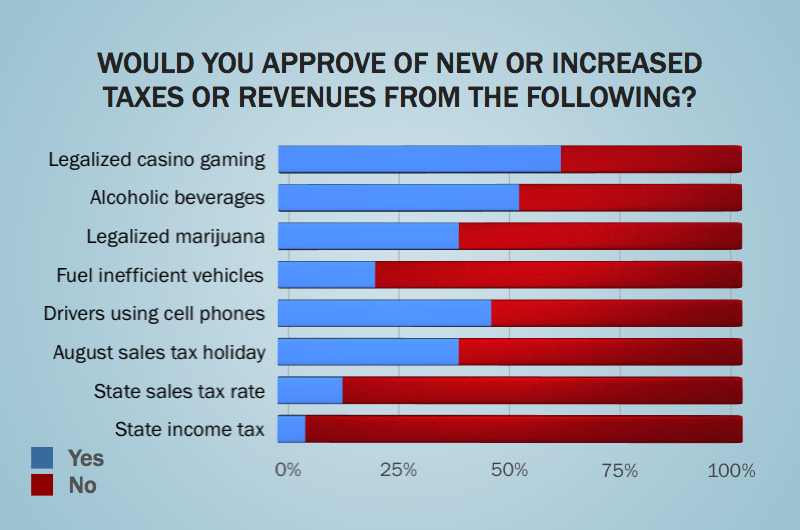 Then there's the list of things they don't like, along with the percentages of the opposition: surcharges on gas-guzzlers, 80 percent; banning cell phone use by drivers and fining the violators, 54 percent; legalizing and taxing marijuana, 61 percent; eliminating August sales tax holidays if the outlook doesn't improve, 61 percent; increasing state sales tax rates, 86 percent; or imposing a state income tax, 94 percent.
The state will have $9.4 billion available in its Rainy Day Fund, according to Comptroller Susan Combs. Only 9 percent would use all of that money, and 24 percent would use none of it. Most — 55 percent — would spend some, but not all of it to avoid budget cuts.
"If you're a purely craven and political weasel, you have to pay some lip service to cutting and then take a strong look at gambling and other options," Shaw says. "What it says, basically, is that if you are interested in cutting, you have to either ignore or lead on public opinion.
"If you want [to shrink government], you have to make it about cutting the deficit. If you don't want it, you talk about specific programs," he says.
Both pollsters say state leaders will have to pick a way through the public's split opinion — cut government but don't cut anything dear — to stay out of trouble in the next political season. Henson says the numbers don't offer a road map to anyone looking for a way out of the state's budget swamp.
"It's no surprise that people talk about wanting a better outcome without having a well-developed idea about how to get there," he says. "It's interesting to see the legislators and the voters both in a state of muddling."
This latest University of Texas/Texas Tribune poll is an internet survey of 800 registered voters conducted Feb. 11-17 and has a margin of error of +/- 3.46 percent.
Texas Tribune donors or members may be quoted or mentioned in our stories, or may be the subject of them. For a complete list of contributors, click here.
Texans need truth. Help us report it.
Independent Texas reporting needs your support. The Texas Tribune delivers fact-based journalism for Texans, by Texans — and our community of members, the readers who donate, make our work possible. Help us bring you and millions of others in-depth news and information. Will you support our nonprofit newsroom with a donation of any amount?
Yes, I'll donate today
---
Information about the authors
Explore related story topics