Medina: Straus Preferable to "Iron Fist" Leadership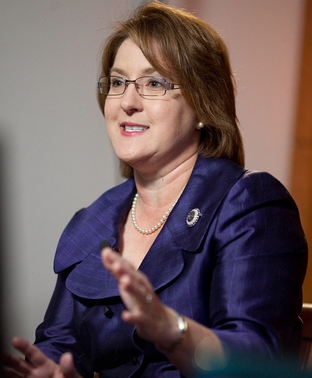 Republicans might not all like House Speaker Joe Straus, but he's got a better chance than his predecessor to lead the House to "fiscally responsible, limited and just government," according to Debra Medina, the conservative activist and former Republican gubernatorial candidate. And she says the race for speaker is a distraction from important business ahead.
In an opinion piece sent to media organizations on the eve of a GOP Caucus vote on speaker preferences, Medina urges her fellow Republicans to ignore the campaigns against Straus and to pay attention instead to the issues ahead. "The inflammatory rhetoric lobbed by a handful of lobby-fueled and out-of-state critics aimed at defeating Speaker Straus in his bid to serve a second term as Speaker of the House has ignored some basic political truths," she writes, going on to say conservative legislation did as well under him as under Tom Craddick before him. The budget doubled, and state debt grew, she writes. And she puts the blame for the campaign against Straus at the feet of people who supported Craddick and who lost their clout when he did.
Republicans in the Texas Legislature have a long road ahead to realize the expectations of TEA Party activists and Texas citizens, who sent a huge majority to the Texas House for the 2011 session. Red shirts are no guarantee of limited government.
The full letter is attached. The House GOP Caucus will meet tomorrow to talk about, and maybe vote on, the candidates for speaker. The official vote will come on Tuesday, after the Legislature convenes for its 140-day regular session.
Texas Tribune donors or members may be quoted or mentioned in our stories, or may be the subject of them. For a complete list of contributors, click here.