Under Law, Lobbyist Conflicts Stay Private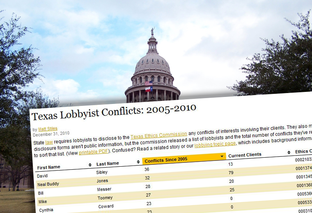 When Texas lawmakers begin grappling with the state's massive budget shortfall next month, they will not be working alone: Cities, counties and other public entities — and, of course, corporations and special-interest groups — will send hundreds of lobbyists to the Capitol to preserve and defend their interests.
With such a diverse group of interests and so much at stake, conflict is inevitable, which is why lobbyists are required by law to notify their clients if they represent two or more groups with clashing agendas. Lobbyists are also required to notify the Texas Ethics Commission about any possible conflicts. Scores of lobbyists have done so in recent legislative sessions.
What is not required is for the public or elected representatives to be informed. That is because the law, passed in 2001, prohibits the release of the conflict disclosure forms filed by lobbyists to the state ethics commission.
The intention was to maintain private business relationships between lobbyists and their clients, but open-records advocates question whether these relationships, which ultimately affect public policy in a state where lobbyists hold much sway, should remain secret.
"Lobbyists are acting in the public realm. They're acting to try and influence legislation," said Joseph Larsen, a Houston media lawyer and expert on open-records issues. "The motives of the lobbyists who are actually doing the communicating with lawmakers should be public knowledge."
The Professional Advocacy Association of Texas, a lobby trade group in Austin, said a conflict is a private matter for lobbyists and their clients to resolve. "It doesn't really involve the state or the public," said Jack Gullahorn, the group's president.
Though the specific conflicts cannot be released, The Texas Tribune, under the Texas Public Information Act, obtained a list of more than 70 lobbyists who have filed the forms since 2005. It shows that dozens of lobbyists have acknowledged multiple potential conflicts.
"It's the ethical thing to do," said former state Sen. David Sibley, now a lobbyist, who has filed 36 conflict forms since 2005, more than any of his colleagues. "I want clients to know who they've hired, so that they can keep an eye on things."
His clients have included Lorillard Tobacco Company and the Texas Dental Association, which in theory could have divergent points of view on nicotine regulation. Sibley said he filed the forms out of caution and that no conflicts actually arose.
Other well-known lobbyists top the list, including Buddy Jones (32 conflicts) and Bill Messer (28 conflicts), both former lawmakers, and Mike Toomey (27 conflicts), the former chief of staff to Gov. Rick Perry.
The total number of conflicts reported annually is declining, perhaps because lobbyists maintain the same clients over the years who have previously waived any concerns, insiders say, and because lobbyists have begun including provisions in their contracts that formally remove potential conflicts by carving out certain activities as off limits.
"The purpose of the law is to protect clients, to make sure lobbyists weren't two-timing them," said Craig McDonald, executive director of the watchdog group Texans for Public Justice.
He believes the law works, even though the public cannot see the disclosure forms. "On the other hand, as long as lobbyists are reporting to a government regulatory body, there's no compelling reason why they shouldn't be made public."
Texas Tribune donors or members may be quoted or mentioned in our stories, or may be the subject of them. For a complete list of contributors, click here.