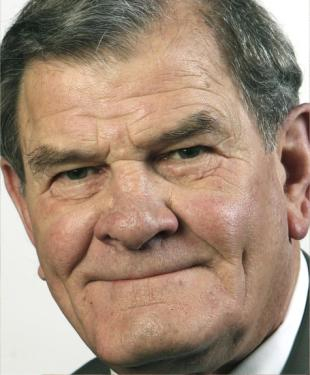 State Rep. Edmund Kuempel, R-Seguin, died this morning of an apparent heart attack. He was taken to Austin's Brackenridge Hospital with heart problems; an aide in his Capitol office said his defibrillator went off and said he was taken to the hospital.
Sources at the Capitol confirmed his death a short while later.
The Central Texas lawmaker was 67 years old. He took office in 1983 and ranks fifth in seniority in the 150-member House. He was in the running for Speaker in late 2008 and was one of 11 Republicans who met on a Friday night in January 2009, chose from among themselves and elevated Joe Straus in what turned out to be a successful challenge to Speaker Tom Craddick.
Kuempel chairs the Licensing and Administrative Procedures Committee, a blandly named panel that oversees gaming and other high-octane legislation. He's also a member of the agenda-setting Calendars Committee. Kuempel had a heart attack near the end of the 2009 legislative session, collapsing in a Capitol elevator during a late-night session of the House. He made a full recovery and has been active this year, appearing at legislative and related events, and heading hearings on gaming and other issues likely to arise during the next session.
The Texas Tribune thanks its sponsors. Become one.
"The House lost an irreplaceable friend and colleague this morning," said state Rep. Larry Taylor, R-Friendswood and the chairman of the House Republican Caucus. "Edmund Kuempel dedicated 27 years to his community and this State. Our thoughts and prayers are with his family."
Straus issued this statement: "Julie and I are profoundly saddened by the sudden loss of our longtime friend Edmund Kuempel, and we extend our deepest condolences to Birdie and the entire Kuempel family. Edmund was a dedicated public servant, a family man, and a true statesman who loved Texas and the Texas House. He will be truly missed by everyone who knew him. The Kuempel family remains in our prayers during this very difficult time."
Flags at all state buildings have been lowered in Kuempel's honor.
Kuempel's colleagues and friends have also begun releasing statements remembering his life. We'll post them here as we receive them.
From Gov. Rick Perry: "In one moment, our state lost a pillar of the Legislature, a family lost a loving husband and father, and I lost a great friend. Edmund Kuempel was truly one of a kind. He was already making a name for himself in the House when I got there, so I've never known an Austin without him. His persistent cheerfulness overlaid a passion for Texas and a concern for those he represented unlike any I've ever seen. Anita and I are praying for his wife, Birdie, their children and twin grandchildren as they go through this tough time. Texas is a better place for his having been here."
From state Sen. Rodney Ellis, D-Houston: "It was an honor and a pleasure to serve alongside him in the Texas legislature. When you have the privilege of occupying the Texas Capitol as long as Representative Kuempel, you learn a thing or two about the great things one can accomplish with kindness, diplomacy, and an unwavering work ethic. Representative Kuempel was the embodiment of all those qualities. My sincere condolences go out to his wife, Roberta; his children, John and Margaret; and grandchildren, Rose, Will, and Sam. Texas lost a great statesman today. He will be missed."
The Texas Tribune thanks its sponsors. Become one.
From Texas Republican Party Chairman Steve Munisteri: "I am very shocked and saddened to hear the news of the passing of State Representative Edmund Kuempel. Only a few weeks ago, we had a very nice visit, and I will always be grateful for his kindness. He was a strong supporter of our State Republican Party and of our values and principles. I am very appreciative for the friendship we enjoyed, and I extend my deepest condolences to his family. Our thoughts and prayers are with them in this difficult time."
Texas Tribune donors or members may be quoted or mentioned in our stories, or may be the subject of them. For a complete list of contributors, click here.