Prolific Donor Has Given $66 Million Since 2000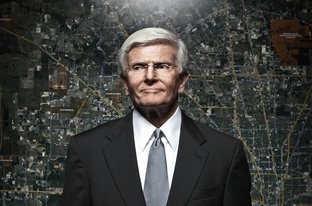 Over the last decade, two Republicans with the last name Perry have dominated the Texas political landscape. One is Rick, the state's longest-serving governor. The other is Bob (no relation), the state's largest individual political donor during that time. There is no close second.
Since 2000, Bob Perry, the wealthy Houston home builder, has contributed about $28 million to more than 400 candidates and political action committees in Texas, according to an analysis of campaign-finance data by The Texas Tribune.
Perry has been involved in campaigns at all levels, from gubernatorial races ($2.5 million to Rick Perry since 2000) to nonpartisan local contests ($30,000 to the former Houston mayor Bill White from 2003 to 2007). He has backed some Democrats, but he gives overwhelmingly to Republicans, who control state government.
"He plays big, and he plays often," said Bill Miller, a principal in the Austin lobbying firm HillCo Partners, which represents Bob Perry's interests at the Capitol. "'Small' is not a word that's in his vocabulary."
Since 2000, Perry has also contributed at least $38 million more to candidates and groups outside of Texas, including $10 million to the Republican Governors Association. He gave $4.4 million to the Swift Boat Veterans campaign that attacked the Vietnam War record of John Kerry, the 2004 Democratic presidential candidate. Last week, he made headlines by giving $7 million to American Crossroads, a group founded by Karl Rove, the political strategist and fellow Texan, that has attacked, among other incumbent Democrats, U.S. Rep. Chet Edwards, D-Waco.
The American Crossroads gift pushed Perry's 2010 nationwide total past $15 million, about $4.5 million of which made its way directly to state-level candidates and committees. The largest recipients this year: the governor ($1.1 million); the tort-reform advocacy group Texans for Lawsuit Reform ($250,000); the PAC established by Miller's firm ($200,000); and Larry Gonzales, the Republican Texas House candidate ($200,000).
Perry's generosity — and impact — is possible because Texas law does not limit donations by individuals to candidates, unlike at the federal level. More than a dozen recipients of his contributions got more than $50,000 in the aggregate as of late October. The average amount is about $34,000, the data showed.
While Perry, who turns 78 on Saturday, is a high-level player in GOP politics, he is something of an enigma to insiders, many of whom decline to talk about him publicly. He shuns the limelight, never granting news media interviews (including for this article), and he rarely appears at political events. The causes he has supported include the successful movement to limit damages from tort claims and the creation of a state agency to handle complaints against home builders.
Unlike some big givers, Perry is known for not directly asking candidates and elected officials for anything in exchange for his donations. "He's an honorable man," said Cathie Adams, a former national GOP delegate and state party chairwoman. "Candidates look at the donations as a strong message that they're doing a good job."
But to some, his end goal includes self-interest. Andy Wilson, a campaign-finance researcher at the liberal watchdog group Public Citizen Texas, said he believes Perry's largesse is about creating a climate in which businesses — including his own — can thrive. "Bob Perry gives to specific kinds of conservatives, and no one, outside of maybe Karl Rove, has helped shape the 'ideal' conservative Republican candidate in Texas," Wilson said. "He certainly is getting something that's helping him protect his bottom line as a home builder."
Bobby Jack Perry was born in rural Bosque County, the son of a high school principal. After earning a history degree at Baylor University, Perry taught high school and coached football before moving into construction, settling in Houston during the late 1960s. He earned his fortune by founding Houston-based Perry Homes. Among the nation's largest residential builders, the company had more than $560 million in revenue in 2008, according to Builder, a trade publication. He and his wife, Doylene (whose name often appears on the political checks), have four grown children.
Perry became a fixture in Texas politics during the mid-1980s. He began spending large sums of money, and gaining more notice, in the last decade. His influence grew as Republicans took over the Texas House for the first time since Reconstruction in 2003, and his desire to fight the power of trial lawyers continued. His political spending peaked in 2006, when he devoted nearly $20 million to campaigns and committees in Texas and nationwide.
Perry does have competition on the other side of the ideological spectrum. Trial lawyers have spent more than $13 million this political cycle, according to an analysis by Texans for Lawsuit Reform. Much of that cash, about $7 million, came from Steve Mostyn, a wealthy Houston trial lawyer, records show.
Mostyn, now the Democrats' top donor, said Perry's spending prompted him to get more involved. He created the Back to Basics political action committee, which has attacked the governor in advertisements during this campaign. "There's got to be a counterbalance," Mostyn said.
Tort-reformers counter that lawyers like Mostyn want to roll back efforts to restrict lawsuits and limit damages — reforms they said help keep the economy in Texas humming.
Perry's critics most often point to his involvement with the Texas Residential Construction Commission, a state agency created in 2003 to regulate the home building industry. His corporate counsel helped craft legislation that endowed the commission with its powers, and the governor later appointed that attorney to help manage the agency, which was shuttered last fall after lawmakers failed to finance it. Consumer groups had attacked the commission — which had been presented as a venue for protecting home owners — for lacking the power to address shoddy construction complaints.
Supporters of Perry said his legacy is that of a charitable donor who has devoted tens of millions of dollars to educational causes and to helping children — not politics. His official biography notes his sponsorship of facilities like Casa Hogar, an orphanage in Matamoros, Mexico, that houses more than 100 abused, abandoned or neglected children. Perry's political donations, supporters said, arise from a similar sense of civic duty.
"He believes in being active, in both voting and aiding where one can, but also in charitable concerns and the electoral process," said Perry's spokesman, Anthony Holm. "He loves the republic and believes it's a duty."
Whatever his motivation, Perry is a force. In 2002, he gave at least $300,000 in direct contributions to the 20 most-competitive legislative races, and most of those candidates won.
His record since has been mixed. In the 2008 cycle, for example, Perry spent more than $700,000 in the highest-profile legislative races. Some of those candidates did not succeed.
"People like him are just going to chalk that up to the cost of doing business," said Harold Cook, a Democratic political consultant.
This cycle, Perry and groups he has financed have spent similar sums on the hottest races, such as Gonzales' effort to unseat State Rep. Diana Maldonado, D-Round Rock, a freshman in a swing district.
Gonzales has worked for tort-reform advocates in the past as a political consultant, but he said he has never talked to Perry. He appreciates the support. "It's confirmation for me," Gonzales said, "that I'm the pro-business candidate."
Texas Tribune donors or members may be quoted or mentioned in our stories, or may be the subject of them. For a complete list of contributors, click here.