The 100 Most Congested Roads
A new Texas Department of Transportation study names Texas' 100 most congested roadways, which are heavily concentrated in Houston and the Dallas Metroplex; Bexar is the only one of the big five counties without a top-10 trouble spot. Policymakers hope the study will focus the public and lawmakers on the state's problem areas.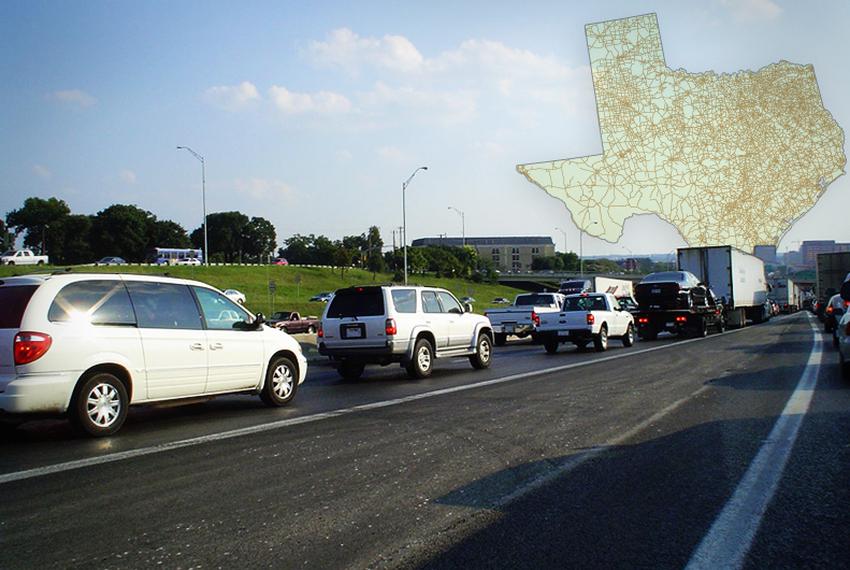 Each weekday, Darby Theilen leaves his Lake Conroe home at 6:30 a.m. and drives to southwest Houston, where he works as an operations manager for an automobile dealership, and where his 3-year-old son, Harrison, attends private school.
He makes the round-trip commute — about 120 miles — in a full-size Dodge pickup, along Interstate 45, the city's North Loop and U.S. Highway 59. But the distance is only half his trouble: He crosses several of the state's most-congested roads, according to a new study expected to be released today by the Texas Department of Transportation. And so the journey consumes up to three hours out of every day.
"They all think I'm nuts," says Theilen of friends and family members when they hear about the commute. "My wife thinks I'm crazy."
The TxDOT study, slated for release Wednesday, examined the number of vehicles on the state's roads and, for the first time, used private-sector traffic data to help calculate the annual costs and delays experienced by motorists such as Theilen. Nine of the top 10 most-congested roads were in Houston or Dallas-Fort Worth, a trend that holds throughout the top 100: Harris County tops the list with 35 clogged roads, followed by Dallas with 24, Bexar with 11, and both Tarrant and Travis with 10.
The agency, aided by Texas A&M University's transportation institute, then ranked the road segments. Ninety of the 100 most-congested segments are in the major metropolitan counties: Harris, Dallas, Bexar, Tarrant and Travis.
| Rank | County | Road Name | From Road | To Road |
| --- | --- | --- | --- | --- |
| 1 | HARRIS | IH 45 | SL 8 North | IH 610 |
| 2 | HARRIS | US 59 | IH 610 West | SH 288 |
| 3 | DALLAS | IH 635 | IH 35E | US 75 |
| 4 | TRAVIS | IH 35 | SH 71 | US 183 |
| 5 | DALLAS | SS 366 | IH 35 | US 75 |
| 6 | HARRIS | IH 45 | IH 10 | IH 610 South |
| 7 | HARRIS | IH 45 | IH 610 North | IH 10 |
| 8 | TARRANT | IH 35W | IH 30 | SH 183 |
| 9 | DALLAS | US 75 | IH 635 | SS 366 |
| 10 | HARRIS | US 59 | IH 10 | SH 288 |
View and download the full list.
The study, mandated by the Legislature in 2009, comes three months before a session in which lawmakers must tackle decennial redistricting and a $15 billion to $18 billion budget shortfall — but also consider how to finance and maintain Texas' aging and stressed road network.
Lawmakers could consider raising the state's gas tax, which finances much of the state's highway operations and hasn't changed since 1991. The Legislature could also extend the agency's ability to privately finance construction with tolled lanes, a controversial practice.
Toll critics, such as Terri Hall, executive director of Texas Turf, a nonprofit advocacy group critical of the state's reliance on toll roads, calls the practice "irresponsible and unsustainable." But the agency says its budget woes, complicated by state's growth rapid growth and the increased costs for construction, require new methods of financing roads.
"We're in a significant hole," Deirdre Delisi, who chairs the Texas Transportation Commission, told The Texas Tribune in April, noting a study predicting that the state would need to invest $315 billion in roads to maintain current congestion levels by 2030.
The agency already uses toll lanes to address several roadway segments on the list, including a $2.7 billion project with Spanish toll firm Cintra to relieve congestion along Lyndon B. Johnson Freeway, between the Stemmons Freeway and Central Expressway — a stretch ranked No. 3 on the most-congested list. The expanded freeway, when completed, will feature additional lanes that require motorists to pay, but current lanes will be free.
map by Matt Stiles, The Texas Tribune
Like the Dallas freeway, many of the roads on the list aren't a surprise. But TxDOT officials believe the rankings will help focus public understanding on the state's transportation problems.
"This is a good tool for us to use, for the public to use, for our planning organizations and professionals to use — for the Legislature to use — to help us focus on our problems," says John Barton, the agency's assistant executive director for engineering services. "This helps us understand the magnitude of the issues and helps all of us as a society to determine if we're able to and willing to continue to fund solutions for them."
This is the second year the agency conducted the study, which was managed by Tim Lomax, a researcher at the Texas Transportation Institute. Last year, the study relied largely on traffic count totals — an incomplete measure, officials say. This year, though, the agency spent $27,500 to purchase state-of-the art traffic speed data from a private company.
The company, Washington-based Inrix, collects massive amounts of real-time traffic data by tracking travel direction and speeds of more than 2.5 million vehicles in its network, which consists of commercial partners — taxis, delivery trucks and tractor-trailer rigs, among others — that have agreed to share global positioning system details on their fleets.
Inrix also uses data collected by traditional freeway traffic sensors and consumers using traffic-related GPS devices and applications. It analyzes all the records while keeping in mind outside variables like weather, sporting events, holidays and other factors.
"We get a very detailed view into what traffic looks like that extends into city streets and arterials, not just major interstates and highways, so you get a more complete picture," says company spokesman Jim Bak.
The company also uses tools to identify outliers — so, for example, a vehicle that stops on a freeway doesn't skew average speeds for the all vehicles around it. The collection and analysis gets even trickier on interior streets, which have traffic signals and stop signs. The company has developed algorithms that understand each street's traffic patterns at intersections to improve accuracy.
Says A&M's Lomax, a traffic congestion expert: "This year's list will make a little more sense."
The list certainly came as no surprise for Theilen, who chuckled when he learned a 9.3-mile segment of I-45 he drives each morning tops the congestion list. He isn't happy with the commute — his diesel truck gets 22 miles per gallon, on average — but he knew it would be necessary when he moved away from his job and Harrison's school. He wishes he had more options, such as a commuter rail line: "We need a more sophisticated public transportation system."
Texas Tribune donors or members may be quoted or mentioned in our stories, or may be the subject of them. For a complete list of contributors, click here.
Texans need truth. Help us report it.
Independent Texas reporting needs your support. The Texas Tribune delivers fact-based journalism for Texans, by Texans — and our community of members, the readers who donate, make our work possible. Help us bring you and millions of others in-depth news and information. Will you support our nonprofit newsroom with a donation of any amount?
Yes, I'll donate today
---
Information about the authors
Explore related story topics