The Map: The Giant Still Sleeps
Nearly 37 percent of the state's population of nearly 25 million is Latino, but only about 1.2 million Latinos who were registered to vote in 2008 cast ballots. Pinpointing when the emerging majority group in Texas will begin wielding its power at election time is no small feat. Scores of campaigns, party activists and interest groups spend millions of dollars each year trying to determine what will happen when that day comes.
This is the second of three stories on the political map of Texas going into the November elections — a collaborative reporting effort between The Texas Tribune and the El Paso Times. The first centered on the race for governor and what would have to change for Democrats to win in the Republican stronghold of Texas; the third, which will be published tomorrow, offers a look at the parts of the state that the politicians pay attention to and how that has more to do with voting patterns than with the size of the populations.
Latinos are the "sleeping giant" of Texas politics — a phrase repeated so often that it has become a cliché.
Nearly 37 percent of the state's population of about 24.8 million people is Latino, but almost any political expert will tell you that the group does not fully exercise its strength in elections. Pinpointing if and when Latinos will begin wielding their voting power is a challenge.
"It's the $64,000 question," says Bob Stein, a political science professor at Rice University. "If you're biblical, it's like the [coming of the] messiah."
Politicians often speak of the Latino population as a mystical group that must be captured before it awakens. The prize is a massive number of votes for the person who can figure out how to move the group to the polls. Scores of candidates, political parties and interest groups spend millions of dollars each year trying to determine what would happen if the group decided to exercise its strength in the next election.
In the current gubernatorial race between Republican Gov. Rick Perry and Democrat Bill White, analysts and others wonder what might happen if more of the state's registered Latino voters turned out at the polls.
Latinos in Texas tend to vote for Democrats. Republicans get a smaller share of the Latino vote, yet they continue to win statewide elections. The general consensus is that Democrats in Texas would have an edge over their Republican counterparts if more Latinos voted. But wondering about the possibilities has not proved fruitful for Democrats in past election cycles.
One reason Latinos are not flexing their muscle at the polls is that some may be too young to vote. Steve Murdock, a sociology professor at Rice University who is a former state demographer and a former U.S. Census Bureau director, says nearly 36 percent of the state's 6.7 million Latinos were not of voting age a decade ago.
Latinos will be the largest ethnic group in Texas in five years. In 2029, they will be a majority of the state's population, but they will not dominate the voting-age population until 2033, Murdock says. In 2015, about 30 percent of the state's expected 11.8 million Latinos will still not be old enough to vote, he says.
Hispanic Surname Voters: 2008 Presidential Race
| County | Voters |
| --- | --- |
| Bexar | 194,745 |
| Harris | 166,288 |
| El Paso | 120,947 |
| Hidalgo | 98,112 |
| Dallas | 79,596 |
| Tarrant | 56,850 |
| Cameron | 52,441 |
| Travis | 50,710 |
| Nueces | 42,770 |
| Webb | 40,498 |
Source: Texas Secretary of State
But age is not the only issue. Registered Latino voters lagged behind other ethnic groups in voter turnout during the last presidential election. A little more than 40 percent of nearly 2.9 million Latino voters registered in 2008 actually cast ballots. By contrast, about 60 percent of about 10 million registered non-Latino voters turned out at the polls.
Experts say various circumstances contribute to the lower turnout. Latinos, for example, may meet the age qualifications but still be too young to fully engage in politics. A 30-year-old registered voter is more likely to cast a ballot than a 20-year-old. Other factors include higher rates of poverty among Latinos and lower levels of educational attainment.
Activists have cited low Latino voter turnout as one reason why immigration reform is not at the top of the to-do list for lawmakers. A lack of Latino voter participation is often considered a culprit when Democratic candidates in Texas cannot topple their Republican counterparts. Leaders from counties with large Latino populations and low voter turnout also say that if the group turned out in higher numbers, the communities would get more money from the state and neighborhoods would see more investment from city government.
James Aldrete, a Democratic consultant, says it is unfair to place the blame on Latinos. Aldrete says Latino voters face obstacles to voting that include working long hours or multiple jobs to provide for their families. He says it is up to the candidates and communities to drive those voters who feel disenfranchised to the polls.
"The real annoying thing is when they call it a sleeping giant or when they make any insinuation that it's lazy Mexicans," Aldrete says. "What they need to understand is if you want that vote, you have to make it front and center to providing for their families, because that's what people are doing."
Wooing Latinos
Since Texas does not require residents to declare their ethnicity when they register to vote, the best way to measure the tally of Latino voters is by surname. An El Paso Times/Texas Tribune study of the 2008 voting rolls shows that about 17 percent, or nearly 1.3 million, of the state's 7.6 million voters had Latino surnames.
Nearly 1.6 million of the state's about 2.9 million registered Latino voters did not cast ballots in 2008, according to an analysis based on the statewide voter file maintained by the Texas secretary of state. The list does not contain some overseas voters or voters who have been removed for various reasons. (No similar list of voters was available for the 2006 gubernatorial election.)
Political analysts warn that 2008 was an anomaly. They say the average turnout for Latinos in the state ranges from 11 to 15 percent. Still, though Latinos are not voting in numbers equal to their population, the group remains too large to ignore.
Perry and White each say they have their eye on Latino voters. Perry says he plans go after 50 percent of the Latino vote this election. The governor has picked up about a third of the Latino vote in past elections, according to his campaign. White will be looking to increase Latino turnout and trying to maintain the larger voting margins typically afforded to Democratic candidates.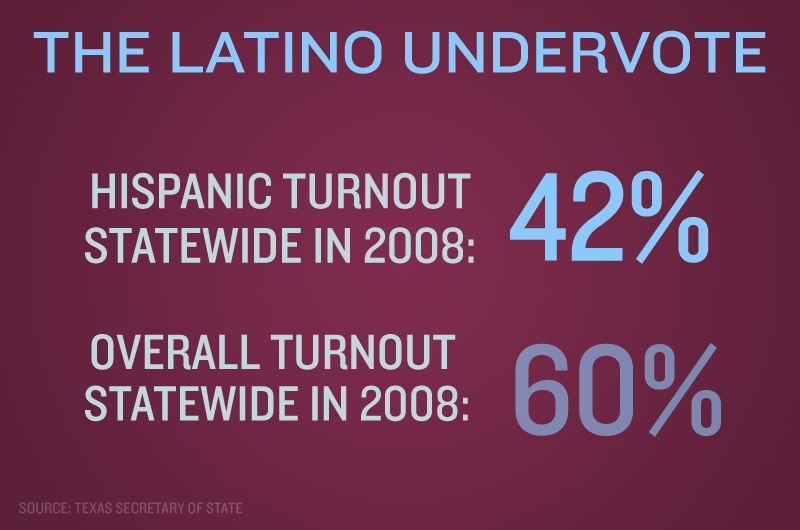 "If Bill White loses the Hispanic vote to Rick Perry, then it's all over," Stein says. "He needs to get 65 to 70 percent of a good turnout of the Hispanic vote. If he doesn't hold his margins, it won't matter what the turnout is."
Perry says outreach will focus mostly on translating his message into Spanish through social media like Facebook, YouTube and Twitter. He says that could mean a few commercials that feature him speaking Spanish, a language he still struggles with. Perry says his record speaks to Latinos, who like all other Texans care about the state's economic stability, education and feeling safe in their communities.
"The Democrats were in control of the state for 150 years," Perry says. "It was a Republican who put the first African-American on the Supreme Court. It was a Republican who named the first Latina secretary of state. It was a Republican who put the first Latina on the Supreme Court. What's not to like about these Republicans, or this Rick Perry Republican?"
White, who has already run his own commercials in Spanish, says he is focused on working with Latinos who may feel ignored by the state's leadership. He plans to touch on many of the same issues as Perry but will try to persuade voters that the governor has been ineffective.
"Latino voters, like all voters in our state, should have their support earned by performance and a lifetime commitment to progress, not simply by a slick television ad," White says. "You don't start nine and a half years into office deciding you are going to appeal to a group."
With that message, White hopes to increase Latino turnout in Democratic counties like El Paso and Hidalgo. Only about 46 percent of the nearly 262,000 El Paso Latinos who were registered to vote in 2008 made it to the polls. About 40 percent of the more than 242,500 registered Latino voters in Hidalgo County cast ballots.
Democrats believe that Latino candidates like Linda Chavez-Thompson, who is running for lieutenant governor, and Hector Uribe, who is running for land commissioner, will help draw Latino voters to the polls.
Republicans, on the other hand, are still battling an image of a party that is hostile to minorities — a point revisited this year in public comments made by Railroad Commissioner Victor Carrillo after he lost to political newcomer David Porter in the March GOP primary. Carrillo made headlines when he told supporters that he lost the race because of a party bias against Latinos.
Former Republican gubernatorial candidate Clayton Williams, who lost to Ann Richards in 1990, says Carrillo's defeat in the primary could be a blow for the party. "If we cannot have more Hispanics become a part of our conservative effort, then we don't have a future," Williams says. "That's a setback, and we've got to work on that."
Latinos in Texas often choose the Democratic Party at the ballot box, but that is not always the case at the national level. Mark Lopez, associate director for the Pew Hispanic Center, says that until 2008, a majority of Latinos nationally did not believe either party had more concern for them. That year, a majority identified with the Democratic Party, and only 6 percent chose the Republican Party.
"For the most part, the majority of Hispanics prior to 2008 were saying there was no difference between the parties," Lopez said.
Understanding Latino issues
Democrats have normally enjoyed an edge with Latino voters in Texas, but experts say they have done little to engage and excite that base. Republicans often point out that they share conservative and religious values with many Latinos, but the party's platform is sometimes at odds with them. For instance, Republicans generally push against reform efforts that would provide a legal path to citizenship for undocumented immigrants.
"It's not that Hispanics aren't probably pro-life. It's not that they aren't pro-choice," Stein says. "But those are not things that will motivate them to vote Republican when they are unemployed, don't have health insurance and their schools are terrible."
Pia Orrenius, a research officer and senior economist at the Federal Reserve Bank of Dallas, says education will be the key for Latino progress over the next decade. "In Texas, it just so happens that we have some of the most segregated high schools in the nation, so over half of Latino students tend to go to high schools that are 90 percent Latino or minority," Orrenius says, explaining that more needs to be done to level the playing field.
But analysts say that until Latinos show politicians that they cannot be appeased at a superficial level, candidates will continue to do just enough to get the vote each election year.
Lydia Camarillo, vice president of the Southwest Voter Registration Education Project, says that day is coming. In the meantime, she says, Latinos must be reminded what is at stake in each election. "Go to our neighborhoods. We are not seeing any progress," she says.
Many candidates still have a hard time pushing issues that drive the group to the polls. Eight years ago, Democratic gubernatorial candidate Tony Sanchez relied too heavily on the idea that he could increase Latino turnout and that the group would vote for him because of his surname, political analysts say. Sanchez lost to Perry by more than 800,000 votes.
Those analysts say current candidates who travel to the border to discuss security or complain that Latinos are not represented in history books are also not doing enough to engage the population in a meaningful way.
Camarillo says underestimating Latino voting power is a mistake. She says candidates have missed the mark when tackling important concerns for Latinos. "The questions should be, what are we going to do to make sure that the Latino community has better resources, better jobs and better opportunities?" she says.
But, Camarillo says, Latinos also continue to pay attention to how candidates respond to immigration issues. "Even though it is a federal issue, the immigration issue has become increasingly a litmus test for how we will be treated," she says.
Both White and Perry are playing it safe on immigration and border security. White, who is trying to appeal to moderate Republican voters and keep his base Democratic voters, has leaned more conservative toward those issues. He treads lightly when discussing national immigration reform efforts and has joined Perry in criticizing the federal government's response to border security needs.
Perry, on the other hand, is also trying to play both sides. Aldrete says the governor doles out money to sheriffs and provides grants along the border, while presiding over a Republican Party convention that talked about eliminating federally sponsored pre-kindergarten and passing an Arizona-like bill in Texas.
Perry has said publicly that he disagrees with portions of the Arizona law, which would not be right for Texas. Meanwhile, some of his fellow Republicans in the Legislature have promised to pass similar bills in the state.
White says he would veto legislation that resembles the controversial law. Perry would not commit to a veto without a review of such legislation.
Analysts say both parties have to step up efforts to reach Latino voters by talking about issues like closing the wage gap with Anglos, reducing the dropout rate for Hispanic children and raising the college graduation statistics for the minority group.
"For the majority of Hispanics, the Republican Party is just not a choice," Aldrete says. "The choice is, 'Is it worth my time to get involved?'"
Texas Tribune donors or members may be quoted or mentioned in our stories, or may be the subject of them. For a complete list of contributors, click here.
Texans need truth. Help us report it.
Independent Texas reporting needs your support. The Texas Tribune delivers fact-based journalism for Texans, by Texans — and our community of members, the readers who donate, make our work possible. Help us bring you and millions of others in-depth news and information. Will you support our nonprofit newsroom with a donation of any amount?
Yes, I'll donate today
---
Information about the authors
Explore related story topics