Texas GOP Incorporates Some Tea Party Positions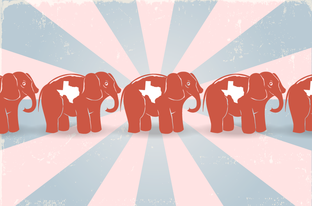 Enlarge
Graphic by Jacob Villanueva
If the rainbow flavors of the Tea Party feature a common taste, it's that of fiscally restrained government — and the anti-Washington and pro-state fervor that comes along with it. Not coincidentally, that was the overwhelming theme of the Republican Party of Texas' recent convention, setting the tone — as the Democrats did in their state gathering — for the November general election.
Gov. Rick Perry railed against the "shameful excesses" of Washington in his opening address. U.S. Rep. Michele Bachmann of Minnesota, a keynote speaker, praised a limited government that acts within its "jurisdictional boundaries" and excoriated the "unlimited credit card people" that make up the "cabal" of the nation's Democratic leadership. And Attorney General Greg Abbott's constant assurances that he was defending the state's rights against the overreach of the federal government were characteristic of all the statewide officials' nods toward the Constitution and states' rights. Does all this rhetoric mean the Tea Party's growing influence within the state GOP has initiated a shift in focus from social to fiscal issues?
It's easy to read the ascendancy of Steve Munisteri as party chairman as a token of that movement. Munisteri campaigned on his business bona fides and the contemptible state of the party's finances. Cathie Adams, a former leader of the Eagle Forum and Perry favorite who came of age politically prior to the Tea Party's insurgency, is known for her ferocious social conservatism, not her fiscal know-how. Debra Medina, the self-appointed flag-bearer of grassroots conservatism who has a history of scrapes with state party leadership — and of alliance with U.S. Rep. Ron Paul, the former libertarian presidential candidate and a hero to some Tea Partiers — is claiming Adams' defeat as part of her legacy.
Still, Munisteri's victory was as much about organization as it was ideology. His supporters were visible and vocal at the convention, swarming the place in their "STEVE" shirts and rising early Saturday morning to distribute campaign swag. They were also youthful, a telling characteristic that amplified perception that Adams wasn't receptive to the concerns of young Republicans.
If there is a tidal change under way, it's not one completely dominated by an increased focus on fiscal issues. Immigration continues to be a flashpoint, and the far right wing of the party won that war in the platform committee. The 2010 platform includes a plank that calls for the adoption of an Arizona-style law that would require local police to check legal residency when making arrests, even as Perry has said such a law would not be right for Texas. Antagonism at the convention toward Speaker of the House Joe Straus, who grapples with accusations of RINO-ism (Republican In Name Only) from far-right elements of the party, concentrated on his perceived weak stance on life issues. (A resolution that was drafted calling for his removal as speaker and accompanied by a letter from David Barton, a former party vice chairman and current WallBuilders activist, also cited his appearances at fundraisers for Democrats. It also went absolutely nowhere at the convention.)
All this could reflect an absorption into mainstream Republicanism of the Tea-fueled anti-incumbency rancor that claimed state Reps. Tommy Merritt, R-Longview, and Delwin Jones, R-Lubbock, in GOP primaries in March. The first indication of what the army of Republicans that descended on Dallas took away with them might be the outcome of the special election runoff between David Sibley and Brian Birdwell in SD-22. Sibley, who earned 45 percent of the vote to Birdwell's 37 percent in the first round of that special election, used to represent the district and has been lobbying in Austin ever since leaving office. Birdwell, a Christian motivational speaker who was injured in the 9/11 terrorist attack on the Pentagon, plays well with the Tea-sipping crowd — and his supporters were out in throngs at the convention. And Birdwell won the election handily, knocking off the former incumbent with 58 percent of the vote.
But Republicans will surely do their best to ensure these internal machinations stay just that — internal — and don't become an issue in November. As Mississippi Gov. Haley Barbour, a former head of the national GOP, urged the crowd: "We cannot forget unity because some people will let purity be the enemy of unity. It's a big party, and we need everybody who is on our side."
Texas Tribune donors or members may be quoted or mentioned in our stories, or may be the subject of them. For a complete list of contributors, click here.