Judgment Day
Will gubernatorial contests that have already cost more than $51 million last another six weeks? Will there be runoffs in judicial, legislative, or other down-ballot races? Will Texas voters go for the smart ones, the rich ones, the kooks, the old pros, the kids, or the insurgents? We'll soon know the answers to these and other pressing primary questions.
Spending in the Texas governor's race is approaching $55 million (or more). The last poison letters in judicial, legislative and other down-ballot races should have landed in mailboxes by now. It's all over but the phone callers and door-knockers asking Texans to get out to vote, and then the voters themselves.
It's Election Day.
The governor's race generated most of the attention, and Republicans have been outvoting Democrats so far, probably as a result of that. Almost twice as many people voted early this year as in the last governor's race in 2006. Through the end of early voting last Friday, 491,116 Texans had cast ballots in the state's 15 biggest counties. During the same period four years ago, 251,432 voted. Voting in the GOP primary was up 135 percent over four years ago; Democratic primary voting rose 53 percent. What does it mean?
"Does that mean that more people are taking advantage of the convenience of early voting, like we saw in the November 2008 presidential election, or does it mean there is actually going to be a larger turnout on Election Day?" asks Randall Dillard, a spokesman for the Texas Secretary of State. "At this point, we don't know."
The ballot they'll be voting on is top-heavy this year, with a blockbuster race for governor but only scattered contests of statewide consequence below it. A couple of dozen legislative races have attracted interest — some because they're competitive, some because they're just noisy. And several races for the State Board of Education, usually a political backwater that doesn't attract much attention, have heated up.
Gov. Rick Perry, who will have served 10 years in that office when his current term is over, wants four more. He's been fending off a sustained attack from inside his own Republican Party in the person of U.S. Sen. Kay Bailey Hutchison, and a shorter insurgent campaign from Debra Medina, a former Wharton County Republican chair who's gained significant traction — especially from conservatives who aren't happy with current officeholders of any stripe. Most trackers have the governor in the lead; the real questions are whether there will be a runoff and, if it's between Perry and Hutchison, will she be able to reboot her campaign and get some momentum for the six weeks between now and April 13?
Perry has pressed hard at the end — keeping negative ads going against Hutchison while airing another to court Medina voters who might be willing to come home to him. He hopes to widen the gap between him and Hutchison and to keep Medina's support too small to cover it. He has to break 50 percent to win; no public poll to date has had him at or above that number.
The winner will face one of seven Democrats in November — probably former Houston Mayor Bill White, who's way behind in spending but way ahead in the polls. White's biggest threat, such as it is, comes from Farouk Shami, who emigrated from Palestine with virtually nothing and made a fortune in the hair products business.
It's been a long and colorful road, as you can hear in this audio report from Ben Philpott, who covers the race for governor for KUT News and the Tribune.
Those five candidates report spending $51.8 million through February 22, and surely spent more in the last eight days of the campaign, which aren't covered in the latest reports. If money was the measure instead of votes, this would be the order: Hutchison, Perry, Shami, White, Medina.
Matt Stiles compiled the records for all of the races in a searchable database; click here or on the image below: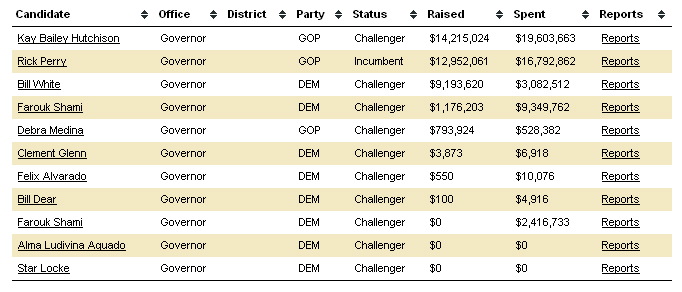 The race at the top of the ticket has overshadowed other contests, including Democratic primaries for lieutenant governor, land commissioner and agriculture commissioner. Republicans have two busy primaries for the Texas Supreme Court — one featuring five judges and a former legislator chasing an open seat, the other featuring a Perry appointee seeking election in her own right and a judge who wanted but didn't get that same appointment.
Most members of the Texas congressional delegation are expected to win reelection this year. March was supposed to be the least of their problems, but a number of them attracted Tea Party challengers who want something new out of their officeholders. The Republican primary will provide a window into the strength of that insurgency.
And for all of the noise in the races for Legislature, the overall stakes — at least in the primary — are relatively low. If a large number of incumbents lose their spots, it could weaken freshman Speaker Joe Straus' hold on the House. That's a relative long shot. Control of the House won't really be at issue until the interparty fights in November between the Democrats, the Republicans and the Libertarians.
Texas Tribune donors or members may be quoted or mentioned in our stories, or may be the subject of them. For a complete list of contributors, click here.
Texans need truth. Help us report it.
Our Fall Member Drive is underway, and we need your support. The Texas Tribune is a critical source of truth and information for Texans across the state and beyond — and our community of members, the readers who donate, make our work possible. Will you join as a member with a tax-deductible donation of any amount?
Yes, I'll donate today
---
Information about the authors
Explore related story topics