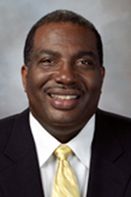 Industry

Lawyer
Education

B.A., University of Texas at Arlington; M.A., University of Texas at Arlington; J.D., University of Houston
Spouse

Carol
Committees

Administration
Education
Finance
Financial Statements
Sources of Income
West is an attorney at his own law firm, West & Associates LLP. He is also president of Royce West & Associates PC.

West has a stake in Reach Media Inc., which produces the Tom Joyner Morning Show, a radio program. He also owns Skyview Development LLC, the company that owns his office building.

West reported annual 2011 income in excess of $25,000 from Desmond Bryant. The senator told the Tribune the payments were for rent, but he wouldn't confirm if it's the same Desmond Bryant, a wide receiver for the Dallas Cowboys, whom he represented in a domestic violence case.
Property
Residence in Dallas valued at $223,000

Residence in DeSoto valued at $494,000

Vacant lot in DeSoto valued at $121,000

Dallas residence valued at $69,000
Analysis
West was fined $3,000 by the Ethics Commission in 2010 for multiple violations, ranging from improper staff reimbursements and failures to identify donors to a finding that he made improper payments of campaign money to a company he owns, Skyview Development Corporation. West had made payments totaling $12,800 for rent and to lease a sign. The commission suggested he had paid himself too much. West said he accepted full responsibility for the mistakes and used personal funds, not campaign dollars, to pay the fine.

West has earned millions for his law firm doing legal work, largely related to bond financing, for public entities in Dallas County. Among them: Dallas County, the city of Dallas, Dallas Area Rapid Transit, Dallas Community College District, the Dallas Independent School District and others. Critics allege West has an unfair advantage because of his role as a senator, and say his legislation impacting DISD in particular leaves the impression he is going to bat for the district — a lucrative client — in the Legislature. West says he has no conflict and notes that he is not the only lawmaker to work for public entities.

Texas Watchdog reported West earned at least $1 million from five public-sector clients in 2008, and nearly $4 million from DISD alone from 2002 to 2008.