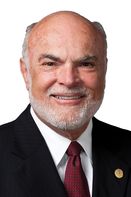 Industry

Business Owner, Engineering/Manufacturing
Education

B.S., Lamar University, 1968
Spouse

Donna
Committees

Finance
Intergovernmental Relations
Natural Resources and Economic Development
Transportation (Chair)
Financial Statements
Sources of Income
Nichols, an industrial engineer, has worked in plastics manufacturing. He has earned 32 U.S. patents and built four manufacturing facilities.

His business entities are Drip Rock Ranch in Jacksonville and Robert Nichols Enterprises, which he describes as a sole proprietorship. Nichols is a director at Austin Bank, Jacksonville Green Foundation, Lon Morris College, East Texas Medical Center and the Nan Travis Foundation.

Nichols' investments include American Electric Power, Centerpoint Energy, Chevron, Conoco, Exxon Mobil, Altria, Merck & Co., Pfizer, Philip Morris International, AT&T, Verizon, Waste Management Inc. and Xcel Energy.
Property
748 acres in Garfield County, Colo., valued at $12.325 million

Six rental properties in Jacksonville with a total value of $271,140

A 13,975-square-foot home on 87 acres in Jacksonville valued at $840,080

Business property in Jacksonville valued at $93,540

178 acres of land, much of it with agricultural timber tax exemptions, valued at $230,920

Lake house in Cherokee County valued at $134,940
Analysis
Some of Nichols' investments are in companies that are regularly involved with the state as contractors, regulated industries or companies that lobby lawmakers.