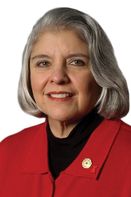 Industry

Marketing/Public Relations
Education

B.S., University of Texas at Austin; M.A., University of Texas at Austin; Ph.D., University of Texas at Austin; University of Houston (attended); Laredo Junior College (attended)
Spouse

Carlos
Committees

State Affairs
Agriculture, Water and Rural Affairs (Co-Chair)
Health & Human Services
Natural Resources and Economic Development
Financial Statements
Sources of Income
Zaffirini runs Zaffirini Communications, which provides services like consulting, workshops, seminars and speechwriting.

Her husband, attorney Carlos Zaffirini Sr., earns income from his practice; Zaftex Corporation, where he is president and director; and WebbCo LC, of which he is a member and a manager. He has represented the Laredo Medical Group on matters related to the cost of indigent care, according to the Laredo Morning Times.

On her April 2011 financial statement, Zaffirini reported receiving more than $25,000 for services rendered to Compass Bank.
Property
Residence in Laredo valued at $339,650

Office building in Laredo valued at $271,460

Carlos Zaffirini Sr. owns 719 undivided acres in Webb County and numerous mineral interests on thousands of acres in Webb, Duval, Zapata and Jim Hogg counties.
Analysis
Since 1997 the Zaffirinis have had three federal tax liens filed against them in the amounts of $8,231, $100,373 and $182,279, all of which have been resolved. According to a report in the Laredo Morning Times, Carlos Zaffirini Sr. maintained that he and his wife had paid their taxes. "I'll tell you what I told the San Antonio Express-News," he said. "There must be somebody at the IRS that does not like us. We've paid our taxes."

In August 2005, Scripps Howard reported that Zaffirini had spent $12,000 in campaign money on expenses related to her Lincoln Navigator. State law allows legislators to pay for vehicles with campaign funds.

Zaffirini has a history of sponsoring efforts meant to prevent conflicts of interest, including a 2005 measure requiring companies bidding for state contracts to report whether any of their employees were state workers within the previous two years and bills to prevent collusion between lenders and school financial aid officers. In 2011, she questioned the leaders of the University of Texas and Texas A&M on what they'd done to prevent conflicts of interest.

Her son is businessman and attorney Carlos Zaffirini Jr., president of Austin-based Adelanto HealthCare Ventures, a firm that consults for major Texas hospital systems on Medicaid and public-private partnerships.