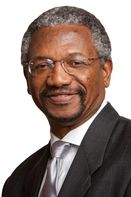 Industry

Lawyer
Education

B.B.A., Texas Southern University; J.D., Texas Southern University
Committees

Juvenile Justice & Family Issues (Chair)
Public Education
Public Education - Subcommittee on Educator Quality
Financial Statements
Sources of Income
He operates the Law Offices of Harold V. Dutton Jr. and Associates, which specializes in the areas of civil rights, employment discrimination and personal injury.

He is an adjunct professor at the Texas Southern University Law School.
Property
Residential property in Houston valued at $165,000

Lot in Houston valued at 14,890

Lot in Houston valued at $17,000
Analysis
Dutton, who practices family law, has filed dozens of bills related to child support. Among his proposals were bills that would have made it easier for the government to collect child support, some that would have limited the collection of child support from those who were wrongfully convicted, and others meant to ensure that child support orders from the court did not unfairly put a larger burden on either of the parents. It is not clear whether any of those measures would have specifically affected Dutton, who did not return multiple phone calls requesting comment.

Dutton used his campaign account to cover rent at the Monarch in Austin, and to fund a hotel stay for a convention in South Africa. He also used it to make payments on a Cadillac "campaign truck." All of these expenses are permitted by state law.

In 2005, he had a fully probated suspension from the State Bar of Texas.

According to a Dec. 12, 2007, Houston Chronicle report, a Harris County family court found that Dutton was in arrears on court-ordered child support and awarded his ex-wife nearly $16,000. Dutton said he fell behind on the payments because the original court order was "ambiguous" and failed to stipulate how his payments would change when his sons turned 18 years old or if they moved in with him.