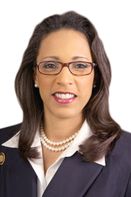 Industry

Consultant
Education

B.S., Texas A&M University
Committees

Appropriations
Appropriations - Subcommittee on Article II (Vice-Chair)
Emerging Issues In Texas Law Enforcement, Select (Vice-Chair)
International Trade & Intergovernmental Affairs
Financial Statements
Sources of Income
Dukes is president of DM Dukes & Associates, Inc., an Austin-based business consulting firm.
Property
Residential property in Pflugerville valued at $216,447
Analysis
In 2010, Dukes was sued by creditors who said she owed $13,961 on a credit card issued by Chase Bank and $18,500 on an account opened through Bank One. Dukes told KXAN-TV that the debt was being resolved, and that it was the result of business struggles and the extensive time she was dedicating to her legislative duties.

The Texas Ethics Commission fined Dukes' campaign $2,800 in 2008 for failing to disclose details of campaign credit card purchases. Her campaign was fined $800 in 2010 for incorrectly reporting contributions and expenditures. Dukes said that both instances involved technical errors and that there was no malicious intent.

In 2004, Dukes was scrutinized for voting in favor of a toll project when her sister, Stacy Dukes-Rhone, was a subcontractor for the Central Texas Regional Mobility Authority. She was never investigated for any wrongdoing.