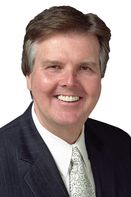 Industry

Broadcasting
Education

B.A., University of Maryland Baltimore County
Spouse

Jan
Financial Statements
Sources of Income
Patrick is a broadcaster who owns and operates talk radio stations in Houston and Dallas. He hosts a daily afternoon show on those stations, KSEV AM700 in Houston and KVCE 1160AM in Dallas.

Patrick and his wife are partners in several businesses: Houston Broadcasting, Dallas Broadcasting, Patrick Broadcasting, Pat-Rich Management, Dan & Jan Management, Plaid Shirt Pictures; and Goeb Investments.

He owns stock in General Motors, Ram Energy, Apple, Motorola, Oracle, Power Shares, Spyder, JP Morgan and Vanguard Index.

After several years in the Texas Senate, Patrick was elected lieutenant governor in 2014.
Property
Residence in Houston valued at $441,896

Residence in Cypress valued at $898,535
Analysis
Patrick's son, Ryan, is an assistant district attorney in Harris County.

On his 2010 personal financial statement, Patrick, an ardent abortion opponent, revealed ownership of stock in the company that makes Plan B One-Step, the so-called "morning after" pill. The investment was made by Goeb Investments, an investment partnership held by Patrick and his wife. (Goeb was the senator's last name before he changed it to Patrick.) Patrick told The Texas Tribune that the stock was both purchased and sold by a broker without his knowledge.

Patrick, a fiscal conservative, walked away from $800,000 in debt and filed for personal bankruptcy during the 1980s following the failure of his chain of sports bars. Patrick told The Dallas Morning News that he has never tried to hide his bankruptcy.

Despite his determination to halt illegal immigration across Texas' southern border, the sports bars Patrick owned in the 1980s hired at least four undocumented immigrants. Though workers described him as a compassionate boss, Patrick told The Dallas Morning News that he had nothing to do with the hiring and that managers at each establishment made those calls.

Though his predecessor and his general election opponent have both released their tax returns, Patrick has not.

The Dallas Morning News reported that Patrick "took over a Houston radio station years ago with funds borrowed from a businessman later convicted of looting tens of millions of dollars from a Louisiana savings and loan." Patrick told the newspaper he had no knowledge of the businessman's financial behavior when he asked him to become the lead investor.

Ahead of his initial bid for Texas Senate, Patrick used his radio show to promote his candidacy. He signed off the air once he filed for the seat because Federal Communications Commission rules would've required him to give equal time to his opponents. But The Houston Chronicle reported at the time that Patrick's son and several other "favorable" talk show hosts took his place.