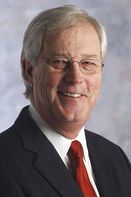 Industry

Business Owner, Real Estate, Nonprofit/Community Service
Education

B.B.A., Southern Methodist University
Committees

House Administration (Chair)
Calendars
Licensing & Administrative Procedures
State Affairs
Financial Statements
Sources of Income
Geren is a self-employed real estate broker and the president of Railhead Smokehouse, a barbecue restaurant.

He receives compensation for serving as a director of two Fort Worth-based nonprofits: the Southwestern Exposition & Livestock Show and the Brown Lupton Foundation.

Geren has interests in a landfill in Fort Worth; LGS Godly Ranch, a ranch in Johnson County; and Venture Capital Partners, a real estate investment firm.

He has reported receiving "Interests, dividends, royalties or rents" from several oil and gas companies, including E.O.G. Resources, Exxon Mobil, Cholla Petroleum, Blakemore and Sunoco.

Geren is a board member with Worthington Bank.

He is a founder and past partner of Kelly, Geren, & Searcy Commercial Real Estate.
Property
Residential property in Fort Worth valued at at $675,250

Residential property on South Padre Island valued at at $311,681
Analysis
In 2011, Geren filed a bill that would have allowed Fort Worth to raise hotel occupancy taxes to pay for a new rodeo venue that would have been used by the Fort Worth Stock Show. Geren sat on the Stock Show board at the time he filed the bill. The bill never made it to a vote.

Geren, a real estate broker, has filed bills relating to how the state regulates real estate brokers.

Geren, who owns a restaurant in Tarrant County, filed a bill in 2007 that would have lowered fees that restaurants in large counties including Tarrant would have to pay for alcoholic beverage permits. The bill passed but was vetoed by Gov. Rick Perry.