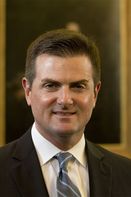 Industry

Lawyer, Business Executive
Education

B.A., University of Texas at Austin; J.D., Oklahoma City University
Spouse

Fawn
Committees

Criminal Justice
Agriculture, Water and Rural Affairs
State Affairs
Business & Commerce (Vice-Chair)
Financial Statements
Sources of Income
Creighton serves as general counsel and executive vice president of acquisitions at Signorelli Co. of Conroe, a residential and commercial development company.

Creighton's wife, Fawn, works for the Hospital Corporation of America (HCA) in Conroe and is on the board of the Greater Conroe/Lake Conroe Area Chamber of Commerce.

He owns stock in PTX, Best Buy, AT&T and Pfizer.
Property
Residence in Conroe valued at $312,000