Righting the Rule of Law
How the Texas AG's office became a pipeline for conservative federal judges
In just a few decades, the Texas attorney general's office became a powerhouse in national legal fights over abortion, health care and immigration. Here's a timeline of how it happened.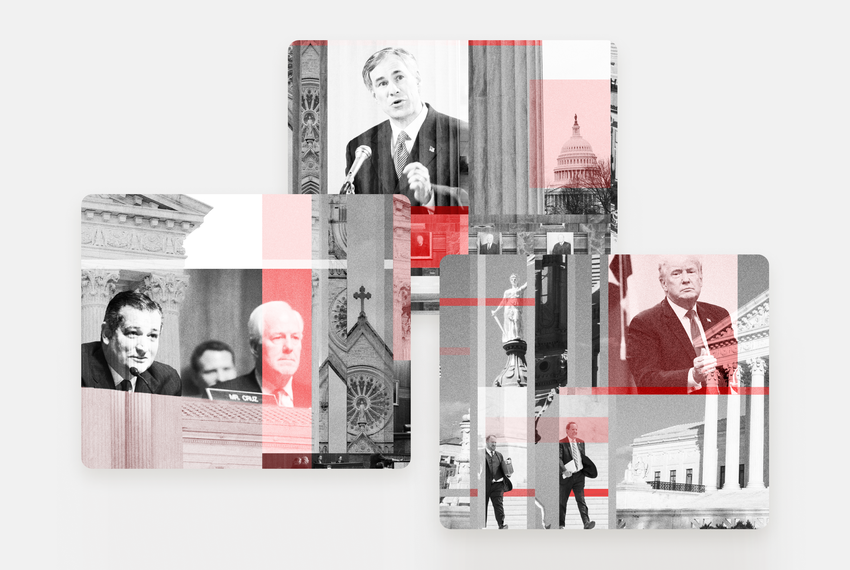 Sign up for The Brief, The Texas Tribune's daily newsletter that keeps readers up to speed on the most essential Texas news.
---
The Texas attorney general's office is often in headlines representing a conservative voice in legal fights over health care, abortion and immigration — and more recently, regarding suspended Attorney General Ken Paxton's impeachment.
But it was once a quiet state agency that mostly collected child support and defended the state in bureaucratic lawsuits.
Over the course of more than two decades, the office has become a well-known champion of a strict interpretation of the U.S. Constitution and a pipeline for conservative federal judges. Nine federal judges appointed by former President Donald Trump had worked in the Texas attorney general's office beginning in 1999, according to a Texas Tribune review of the office's recent history.
These judges have been key in deciding cases in favor of conservatives on a wide range of issues, including abortion, COVID-19 vaccine requirements and immigration policies, through the framework of constitutional originalism. This framework argues that judges should rely solely on the text of the nation's founding documents, and how it was publicly understood at the time of their writing, to answer essential questions about applying the law to modern life.
Here's a timeline of how the office transformed under the leadership of now high-profile Republicans Sen. John Cornyn, Gov. Greg Abbott and Paxton. For an in-depth history of the office, you can read the Tribune's three-part series here.
1998: John Cornyn elected attorney general
John Cornyn became the first Republican to win an election to the Texas attorney general's office since the Reconstruction era of the late 1800s. He left his seat on the Texas Supreme Court for the role.
He stepped into the job just as attorneys general across the country began to gain more power, working across state lines on issues like suing tobacco companies for the public health costs associated with smoking.
In Texas, Cornyn created the solicitor general's office, an elite, specialized unit of lawyers to handle state and federal appeals all the way up to the U.S. Supreme Court. The office drew young, smart lawyers with the promise of courtroom experience. The office also began to slowly wade into more political lawsuits over topics like abortion laws and religion in schools.
2002: Greg Abbott elected attorney general
Like Cornyn, Greg Abbott left the Texas Supreme Court and was elected attorney general. But Texas Republicans now controlled the state Legislature and every statewide office. Under Abbott, the attorney general's office more clearly championed conservatism.
Lawyers who felt politically aligned flocked to the office, including Ted Cruz, who was hired by Abbott as solicitor general and is now one of Texas' two U.S. senators. Under Abbott and Cruz's leadership, the office defended conservative principles in federal cases about abortion, voting and guns — even if they did not directly involve Texas.
Read more about how the agency came to draw conservative lawyers and leaders in the first part of our series here.
2008: President Barack Obama elected
Republicans had lost the White House and Congress, but they found power in the Texas attorney general's office. Under Abbott, Texas brought more than 30 lawsuits against the Obama administration in six years.
Texas's federal legal fights, which often argued that Obama had overstepped the power granted to the president in the U.S. Constitution, included attempts to:
Stop the Affordable Care Act, the federal expansion of government-subsidized health care.
Block Deferred Action for Childhood Arrivals, protections for young people who entered the country illegally with their parents.
Guard businesses against environmental regulations intended to stave off climate change.
2014: Ken Paxton elected attorney general
Paxton, a former Republican state lawmaker, quickly pushed the office further to the right.
Paxton, who found early support among advocates of religious liberty, joined a conservative Christian legal movement against federal LGBTQ+ protections, which gained traction after the U.S. Supreme Court's 2015 landmark ruling establishing protections for same-sex marriage.
His office began strategically filing lawsuits in remote areas of Texas where just one judge hears most cases, ensuring any cases would be heard by a conservative judge.
Read more about how Texas took on the Obama administration in the second part of our series here.
2016: President Donald Trump elected
After Obama failed to prioritize judicial appointments, Trump entered office with more judicial vacancies than almost any president in U.S. history.
By then, Cornyn and Cruz had gained influence on the U.S. Senate Judiciary Committee and nominated a class of young, conservative lawyers to become judges, many of whom had worked in the Texas attorney general's office.
Nine federal judges appointed by the Trump administration from 2018-20 had previously worked in the Texas attorney general's office under Cornyn, Abbott or Paxton.
Trump also appointed seven conservative judges to single-judge divisions in Texas, hugely expanding the number of venues where Paxton could file cases and effectively handpick the judge who would hear it. And with four former Texas attorney general employees appointed to the 5th U.S. Circuit Court of Appeals, Texas also increased its odds of getting favorable appeals rulings.
Lawyers like Jonathan Mitchell, a private lawyer and solicitor general under Abbott, have also taken advantage of the increasingly conservative roster of judges. Mitchell, for example, scored a victory with a Trump-appointed judge in a case that blocked confidential contraception access for minors in Texas.
2020: President Joe Biden elected 
The Texas attorney general's office has continued barraging the federal government with lawsuits over issues such as environmental protections and immigration policies.
The office now sees itself as at war with "the forces that want to destroy the American order, root and branch," as Aaron Reitz, former deputy attorney general, said in November 2021. "Our soldiers are lawyers, and our weapons are lawsuits, and our tactic is lawfare. This is the project that we're engaged in."
Although conservative judges have not always taken up or supported the cases, the office has succeeded in delaying the rollout of federal policies amid ongoing lawsuits.
2023: Paxton impeached
In June, the Texas House of Representatives voted to impeach Paxton after he asked the Texas Legislature to fund a $3.3 million settlement in a lawsuit brought on by former employees.
A House committee launched an investigation into the matter, resulting in 20 articles of impeachment listing a yearslong pattern of alleged misconduct. Paxton was suspended from his role and is awaiting a Senate impeachment trial scheduled to begin Sept. 5.
Paxton has faced criminal investigations, legal battles and accusations of wrongdoing for years. But he had eluded consequences and remained popular with Texas voters.
A handful of top agency employees took leaves of absence to defend Paxton. But the office has continued launching legal challenges against new federal smog regulations and protections for transgender student athletes under interim attorneys general appointed by Abbott.
And if a Republican is elected to the presidency in 2024, Texas conservatives could make further inroads in the judicial system, including in the U.S. Supreme Court.
Read more about how Trump helped cement Texas' influence in federal courts in the third part of our series here.
Eleanor Klibanoff contributed to this story.
---
More than 200 speakers are now confirmed for the 2023 Texas Tribune Festival in downtown Austin from Sept. 21-23. Each year, the Festival engages, challenges and surprises attendees with unexpected talent mashups, must-see interviews and more, curated by the award-winning journalists at The Texas Tribune. See the lineup and get tickets today.
Texans need truth. Help us report it.
Independent Texas reporting needs your support. The Texas Tribune delivers fact-based journalism for Texans, by Texans — and our community of members, the readers who donate, make our work possible. Help us bring you and millions of others in-depth news and information. Will you support our nonprofit newsroom with a donation of any amount?
Yes, I'll donate today
---
Information about the authors
Explore related story topics