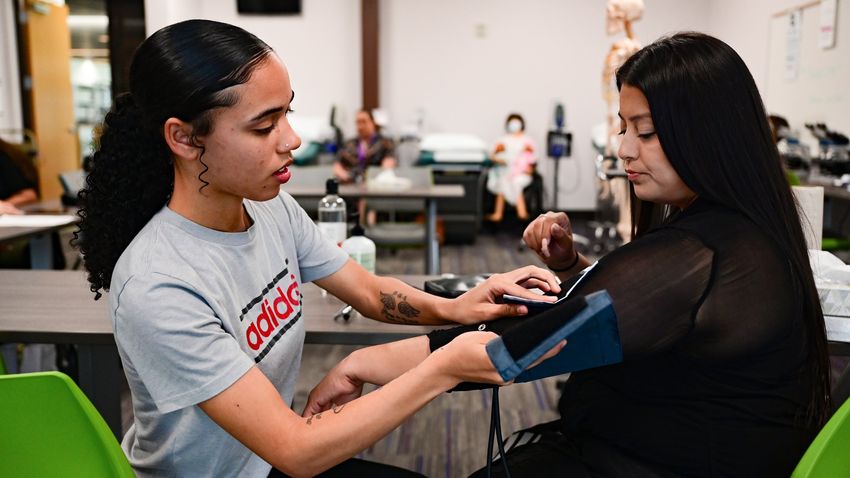 Texans have many educational credentials to choose from to begin a career. Here's how to navigate them.
Texans who aren't sure about college have several pathways to well-paying jobs. Here's how those programs prepare people for careers when a four-year degree may not fit.
Sign up for The Brief, The Texas Tribune's daily newsletter that keeps readers up to speed on the most essential Texas news.
---
From certificates and degrees offered by colleges to industry-recognized certifications and government-issued licenses, specialized credentials can help workers gain skills and higher pay.
And a traditional four-year degree is not the only option. More than half of jobs in the state require a credential higher than a high school diploma but lower than a bachelor's degree, according to a report from July 2022.
Today, there are various pathways for Texans to get a credential and enter all kinds of jobs, from electro-mechanic technicians to medical assistants, aircraft pilots and human services workers. This can be through a college, an apprenticeship or a job training program offered by public and private colleges, companies and other organizations.
Federal, state and other financial assistance may also be available to help cover part or all of the costs for these educational or work programs.
How do you know which is the right pathway for you? Here are factors and resources to consider while deciding on a college or career program.
What are your options?
All credentials are meant to show a person's competence in an area or field, but they can vary in value and purpose. Here's a breakdown of what each type of credential typically means.
The programs through which you can earn credentials also vary. Here are some examples.
Associate degrees, certificates and workforce training: Associate degrees are typically two-year degrees, and an associate degree of applied science means it focuses on technical education.
Workforce training programs and certificates typically require shorter paths to attainment than associate degrees, and a workforce training program can lead to a certificate from an education institution or an industry certification.
Adults in job training programs may also qualify for help covering the costs of the program if it is approved by the Texas Workforce Commission. Qualifying for this assistance depends on income or other eligibility requirements.
Associate degrees and certificates are available at community colleges across the state and through private, for-profit and nonprofit institutions.
For example, the public Texas State Technical College offers degrees and certificates in many high-demand job fields such as cybersecurity, which can lead to an average salary of about $83,340 in Texas. The number of such jobs is expected to grow by 20% by 2030.
Its 2023 cybersecurity programs range in length from four to 20 months long and in cost from about $3,000 to $16,000. They allow students to study online on their own schedule.
Workforce training programs and certificates are also available for students with disabilities. For example, the University of Texas at Austin and Texas A&M University offer job training programs designed to accommodate students with disabilities and focus on jobs in caretaking or working with children. Learn more about programs for students with disabilities in our guide.
Apprenticeships: Apprenticeships give individuals the opportunity to learn and work toward a career, similar to an internship. But apprenticeships are typically longer than internships, include paid work and provide individuals with specialized skills and credentials. There are also registered apprenticeships recognized by the U.S. Department of Labor or a state agency that must also provide mentorship and a "portable, nationally-recognized credential within their industry."
They can be offered by colleges such as Austin Community College, which has apprenticeship programs for technician jobs in the veterinary, health care and information technology fields. ACC also partners with companies that have apprenticeship programs such as Baylor Scott & White, Applied Materials, Samsung, Honda and Toyota.
For example, ACC works with Honda and Toyota to train auto technicians who can work on cars of those particular brands. The students can earn an associate degree in applied science and are sponsored by local dealerships, said Gretchen Riehl, associate vice chancellor for workforce education. And with Samsung, students interested in manufacturing get work experience while they pursue an associate degree in engineering technology, she said.
The programs require tuition, but financial assistance through grants or employer sponsorships may be available.
Apprenticeships can also be offered by companies on their own, unions, business associations, nonprofits and other organizations.
How to choose the best option for you
The payoff of a credential: Generally bachelor's degrees have a greater payoff than certificates and associate degrees, but it depends on the area of study, according to research from Georgetown University's Center on Education and the Workforce. Most bachelor's degrees can take four years to earn, sometimes making them more expensive than other credentials, such as certificates and associate degrees, that often require less time.
In highly technical and in-demand fields such as engineering and computer technology, people with two-year associate degrees can earn more than people with bachelor's degrees in lower-paying industries, said Martin Van Der Werf, director of editorial and education policy for the center.
"We find that about 20% of people with associate's degrees earn more than half of workers with bachelor's degrees," Van Der Werf said.
Workers with certificates in engineering technologies out-earned those with certificates in other fields, with median earnings from $75,001 to $150,000. Workers with certificates in construction trades and other "blue-collar fields" also had median earnings as high as those with bachelor's degrees in liberal arts and humanities — $40,001-$50,000.
But it's also important to consider the shelf life of a credential, Van Der Werf said. A bachelor's degree is seen as "more timeless." Associate degrees and certifications often capture what skills are in demand at the moment, but, in rapidly changing fields, some shorter credentials may require more updating.
"In some cases, laws might change, regulatory things might change, and so the certification or the certificate that you're earning, might be out of date three years from now," he said.
You can try to gauge the relevance of a credential by talking to people in the industry, looking at the descriptions and requirements in related jobs and asking the leaders of a program how they keep up with the industry, Van Der Werf said.
Costs: Credentials like associate degrees generally cost less than a bachelor's degree because they require fewer courses. But credential costs can depend on the program and financial assistance available.
For-profit colleges may market themselves for quick-turn programs, but programs at community and public colleges are usually more affordable, Van Der Werf said.
You may also be able to earn a credential while working in a field through an apprenticeship program, but apprenticeship programs can be harder to find in the U.S. and may have less flexibility or more requirements than a traditional college program, Van Der Werf said.
Your goals and needs: It's helpful to see what jobs and credentials are in demand, but you should also consider your personal plans.
"People should really pursue what they're passionate about," Van Der Werf said. "When you're given a choice between different career paths and seemingly similar sounding credentials, it pays to do some research."
Van Der Werf said in such cases people should consider which credential or program is getting more traction in an industry. Looking at job demand by geography and time frame can also be helpful. For example, if you're looking to settle down, you probably want a credential with more demand in the long run and in a particular area.
If you'd like to move, you may gain more from a credential that would also be in demand elsewhere. And if you're willing to switch careers later on, you could still benefit from pursuing a career in a high-paying field, such as in oil fields, that may see less demand in the future, Van Der Werf said.
And exploring programs that offer credits or pathways for other degrees or credentials could help you more easily move up to a higher position or related field down the road.
How to get financial help
If you don't have the resources to pay for college or a job training program, you may be able to get financial assistance.
The federal government provides financial aid for U.S. citizens with financial need pursuing an eligible degree program and, in some cases, certificates. This can include grants, which you usually do not have to pay back, work-study jobs and student loans. Here's more information about requirements and the different types of financial aid. To apply, you must fill out a Free Application for Federal Student Aid, or FAFSA, form. For certificates, look at program details or ask program administrators if it is eligible for federal financial aid.
Texas also provides financial assistance for college through state grants and higher education loans. Undocumented immigrants or DACA recipients who graduated from a Texas high school and lived in the state for at least three years may qualify for in-state tuition and state aid. To apply, they must fill out a Texas Application for State Financial Aid, or TASFA, form.
There are also tuition waivers, tuition rebates, tax credits, and work-study and loan forgiveness programs (for teachers and public service employees) that may help qualifying individuals with college costs. Here's more information on these forms of financial assistance from the Texas Higher Education Coordinating Board, which also offers low-interest loans for students completing degrees or certificates in certain high-demand job fields. Colleges and nonprofits may also have scholarships for different programs and qualifying students.
Financial assistance may also be available for certificates and job training programs approved by the Texas Workforce Commission, including programs designed to support people with disabilities.
"It sounds complicated and can be overwhelming. But there is money out there for students. There are a lot of opportunities, regardless of their age, regardless of the programs," said Jaime Ayala, the college and career manager for Foundation Communities' College Hub.
The College Hub helps Texans across the state navigate and apply for college and financial aid. Students may need to apply for financial aid as early as a year before beginning a program, so it's important to begin the process early.
Historically, people could begin applying for state and federal financial aid in October, and the state's priority deadline was Jan. 15. This year, the release of the FAFSA application has been delayed until December because of changes to streamline the form, so people won't be able to apply for federal financial aid for the 2024-2025 academic year until then. But information and a preview of the changes to the form are expected to be shared ahead of time.
The Texas Higher Education Coordinating Board is looking at aligning the release of the TASFA with the new FAFSA timeline for students, according to an agency spokesperson. More information is expected to come after the board's July quarterly meeting. So people applying to college and in need of financial aid, should also look out for possible changes to priority deadlines from the state and colleges. You can still apply for financial aid after the priority deadline, but more state financial aid may be available the earlier you apply.
People applying for both state and federal financial aid usually only need to submit the FAFSA form. To prepare for the rollout of the new FAFSA, Ayala said students and adults in need of financial aid should make sure they have a Federal Student Aid ID, which is needed to quickly apply and view their FAFSA information online, along with a secure password. Their account should also be tied to an email and phone number they can later access in case they need to reset their password. It's also important for people to have their 2022 tax transcripts ready to apply as soon as possible, Ayala said. Students still claimed by their parents should also ensure their parents have tax documents and FSA IDs ready, he said.
You can find more information about the College Hub or make an appointment online to get help here.
Where to start looking
Still not sure about what career or industry you would like to pursue? You can learn and explore more through the following websites:
The Texas Higher Education Coordinating Board's website, My Texas Future has several resources to explore college and career options and apply for college programs in Texas, including connections with enrollment advisers. The board's new website Tomorrow Ready Texas also provides tailored action plans for teens in grades 8-12 and their parents to prepare for college.
Texans interested in exploring certificates, associate degrees or another college degree can look at median wages by credential and institution through the Texas CREWS website in addition to federal wage and job demand data. The Georgetown Center on Education and the Workforce also reports data about the value of certificates and associate degrees.
You can search for apprenticeships through a college, a local job center such as Workforce Solutions or the Department of Labor's website apprenticeship.gov.
You can also contact your local Workforce Solutions office to explore other job training programs and financial assistance. The Texas Workforce Commission has a list of approved job training providers and programs and more information on its resources. It also has directories of public community colleges and licensed private career schools to view options across the state.
You can also look at privately issued credentials in Texas through this database from Texas 2036, a data and research group, and the nonprofit Credential Engine.
Other resources
The following nonprofit organizations and initiatives also help qualifying Texans pay for degrees or certifications:
This reporting was supported by the Higher Ed Media Fellowship, which is run by the Institute for Citizens and Scholars and funded by the ECMC Foundation.
Disclosure: Texas 2036, Texas A&M University and the University of Texas at Austin have been financial supporters of The Texas Tribune, a nonprofit, nonpartisan news organization that is funded in part by donations from members, foundations and corporate sponsors. Financial supporters play no role in the Tribune's journalism. Find a complete list of them here.
---
Go behind the headlines with newly announced speakers at the 2023 Texas Tribune Festival, in downtown Austin from Sept. 21-23. Join them to get their take on what's next for Texas and the nation.
Texans need truth. Help us report it.
Independent Texas reporting needs your support. The Texas Tribune delivers fact-based journalism for Texans, by Texans — and our community of members, the readers who donate, make our work possible. Help us bring you and millions of others in-depth news and information. Will you support our nonprofit newsroom with a donation of any amount?
Yes, I'll donate today
---
Information about the authors
Explore related story topics