Families Divided
For Texas ranchers living along border fence, talk of an illegal crossing crisis is exaggerated
Many Rio Grande Valley residents have farmed land along the border fence for decades. On hot summer days, they mow their lawns and repair trucks, take care of ailing relatives and sip coffee at local convenience stores. What they don't do, they say, is worry about a crisis at the border.
Families Divided

The Trump administration's "zero tolerance" immigration policy, which led to the separation of children from adults who crossed the border illegally, has fueled a national outcry. Sign up for our ongoing coverage. Send story ideas to tips@texastribune.org.
More in this series
BROWNSVILLE — Crisis. Siege. Chaos.
These are words the president and some of his supporters have used to describe the situation at the United States' southern border, where every day migrants illegally cross into the country from Mexico.

Jaime Portillo, one of the ranchers who farm the land near the U.S.-Mexico border, uses a different word to characterize the last few months in the Rio Grande Valley: "igual" — the same as ever.
To the people living on the Old Military Highway, which stretches for 100 miles along the border fence from Brownsville to Rio Grande City, the Trump administration's portrait of a dangerous frontier rocked by increasing numbers of illegal crossings feels foreign.
Politicians "kind of exaggerate the whole thing," said Arnoldo Farias Sr., 85, a retired schoolteacher who lives down the road from Portillo outside Brownsville. "They want to see action, you know. And there's not so much around here."
Portillo and Farias are among the ranchers, truck salesmen and retirees who live on the Old Military Highway. Many of these border residents have farmed land along the fence for decades, working on ranches their parents owned before them. They lead peaceful lives that only occasionally intersect with the undocumented immigrants crossing the border from Mexico. On hot summer days, they mow their lawns and repair machinery, take care of ailing relatives and sip coffee at local convenience stores.
What they don't do, many of them say, is worry about a crisis at the border.

As he sat in his orange lawnmower one afternoon this week, Portillo, 67, said he was saddened to see children separated from their parents as a result of the Trump administration's "zero tolerance" policy, in which immigration authorities refer all adults who enter the country illegally for prosecution.
Every week, Portillo said, he sees immigrants cross the fence and hide in the trees and bushes near his property. But before the "zero tolerance" policy went into effect, Portillo, who grows sorghum and sugar cane on either side of the border fence, said he had not noticed any uptick in the number of immigrants crossing from Mexico. That observation was echoed by six other border residents, most of whom also live on the Old Military Highway, next to the tall metal fence and the border patrol agents who guard it.
Over the course of the 2000s, the number of apprehensions at the border has declined precipitously, from more than 1 million in 2005 to fewer than 400,000 in 2017, according to U.S. Customs and Border Protection data.
George Garcia, 54, a school security guard who still lives in his childhood home on the same stretch of the Old Military Highway, remembers seeing many immigrants crossing into the U.S. in the 1970s and 80s, sometimes in groups as large as 30. "This area over here used to be very popular," he said.
In 1986, one of the busiest years on record, more than 1.6 million people were apprehended at the border. But since the end of the 1990s, annual apprehensions have only occasionally surpassed the 1 million mark. In recent months, border residents said, the number of Customs and Border Protection agents patrolling the area around their homes on the Old Military Highway appears to have increased.
Customs and Border Protection is one of several local and national law enforcement organizations that supervise the region, where crime rates are lower than in many of the state's major cities. Houston's violent crime rate — a metric that includes murder, non-negligent manslaughter, rape, robbery and aggravated assault — stood at 1,026 per 100,000 residents in 2016, according to the most recent FBI Uniform Crime Report covering an entire year. By contrast, the border communities of Brownsville, Laredo, El Paso and Edinburg each recorded fewer than 450 violent crimes per 100,000 residents in 2016.
Farias said his closest brush with border crime came years ago when he discovered two immigrant girls on his patio, spraying themselves with a hose. No one has ever broken into his home, he said, and he feels safe, even with the border fence cutting through his property.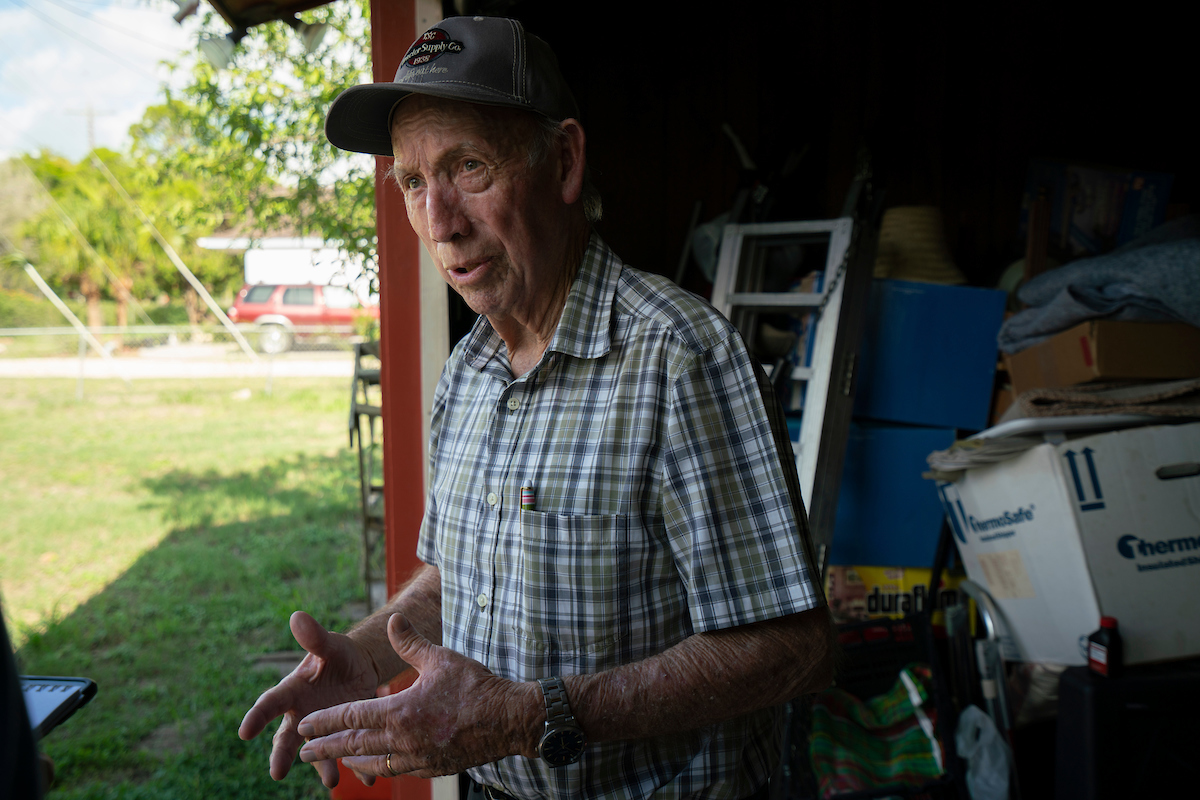 Trump's "zero tolerance" policy created "a humanitarian crisis, a moral crisis for the country," said Jared Hockema, Democratic Party chairman in Cameron County, which includes Brownsville. "But it's not a crisis here in the Rio Grande Valley. It's just fundamentally a safe area. We don't have the violent crime that a lot of people think we have."
The locals who live along the Old Military Highway expressed a wide range of opinions on Trump's immigration policies. One farmer said that the children separated from their parents still "have it made" because they receive three meals a day in detention. Portillo called the family separations a "crime," even as he acknowledged that "the law is the law."
The Texas Tribune's reporting on the Families Divided project is supported by the Pulitzer Center, which will also help bring discussions on this important topic to schools and universities in Texas and across the United States through its K-12 and Campus Consortium networks.
During the 2016 presidential campaign, Trump said the U.S. was in the middle of "a border crisis." Last month, he tweeted that the country was "under siege." Despite the area's low crime rates, that dark view of the border has adherents in the Valley.
"It's what I call a quiet crisis," said Ross Barrera, who chairs the Republican Party in Starr County. "We people who live out on the border, we see it every day. We see the National Guard helicopters, vehicles all over."
And even with the heavy law enforcement presence along the border, he said, "In my town, we've had murders."
Barrera lives in Rio Grande City, where the gruesome homicide of two school district employees in 2016 left local residents shaken, he said. Two years later, the murders remain unsolved.

Such periodic reports of violence are not enough to trouble Leticia Rodriguez, 68, a retired teacher from Rancho Viejo, who attended a rally in Brownsville this week to protest family separations.
Rodriguez grew up in Mercedes, where her aunt still owns a ranch near the Rio Grande, which separates the property from Mexico. Rodriguez has seen immigrants cross the border her whole life. But she has never sensed that her hometown was in crisis.
"Things are fine," she said. "Unless you live here, you don't know."
Texans need truth. Help us report it.
Independent Texas reporting needs your support. The Texas Tribune delivers fact-based journalism for Texans, by Texans — and our community of members, the readers who donate, make our work possible. Help us bring you and millions of others in-depth news and information. Will you support our nonprofit newsroom with a donation of any amount?
Yes, I'll donate today
---
Information about the authors
Explore related story topics